Mr Peter J POND
President
Forest Hill Stud,
PO Box 12, Wyong,
NSW 2259
AUSTRALIA
Dr Marek TRELA
Vice-President
Werchlis 52B
21-505 Janow Podlaski
POLAND
Mrs Valerie BUNTING
Secretary
Boisdemen
996, Route Du Lac
47380 Tombeboeuf
FRANCE
Mrs. Caroline SUSSEX
Treasurer
Binley Arabian Stud
Binley House Farm
Binley, Nr Andover
Hampshire SP11 6HA
UNITED KINGDOM
Mr. Sami Jassim AL BOENAIN
PO Box 15895
Doha
QATAR
H.R.H. Princess Alia AL HUSSEIN
Royal Jordanian State Stud
The Royal Palace
11100 Amman
JORDAN
Mr Robert J FAULS Jr
The Estates at Bay Colony,
9714 Niblick Lane,
Naples, Florida 34108,
UNITED STATES OF AMERICA
Mr Xavier GUIBERT
9 Rue Edouard Vaillant
87000 Limoges
FRANCE
Mr Basil JADAAN
P.O. Box 6041
Damascus
SYRIA
Mr Howard W PIKE
76 Grande Fairway,
Englewood,
Florida 34223,
UNITED STATES OF AMERICA
Mr Ali SHAARAWI
6 Mohamed Mazhar Street
11211 Zamalek Cairo
EGYPT
Consultants
Mr. Karsten SCHERLING
Al Tair Stud
Dreikronen 77
29664 Walsrode
GERMANY
Mrs. Nathalie WEEMAELS
372 John Weaver Rd
Columbus
North Carolina 28722
United States of America
Mr. Mohamed Ahmed ALHARBI
PO Box 26888
Abu Dhabi
United Arab Emirates
Executive Committee Emeritus
Dr. Hans-J. NAGEL
WAHO President Emeritus
Contrescarpe 65
D-28195 Bremen
GERMANY
Mr Sami Bin Suleiman AL NOHAIT
PO Box 286343
Al Worod District
Riyadh 11323
SAUDI ARABIA
Mr. Brian BLAKE
Casa Amor,
Cas Metge Nou, Buzon 6,
Marratxi,
Majorca 07141
SPAIN
Mrs Claudia CARABALLO DE QUENTIN
Ricardo Levene 980
1425 Buenos Aires
ARGENTINA
Mr Denis CHARPENTIER
Le Vieux Logis, Grez – Neuville
49220 Le Lion d'Angers
FRANCE
Mr Federico GARCIA BRUM
El Oasis
Misiones 1442 Esc. 4
11.000 Montevideo
URUGUAY
Mrs Annette HEDLEY
The Tarn House, Middlerigg
Windermere,
Cumbria,
LA23 1LG
UNITED KINGDOM
Lady Georgina PELHAM
Hipolito Yrigoyen 571, 2do.B
(1638) Vicente Lopez,
Provincia de Buenos Aires
ARGENTINA
The WAHO Office
KATRINA MURRAY
Executive Secretary, WAHO
Newbarn Farmhouse, Forthampton
Gloucestershire GL19 4QD, United Kingdom
Tel: +44 (0) 1684 274455
Fax: +44 (0) 1684 274422
E-Mail: wahoexecsec@gmail.com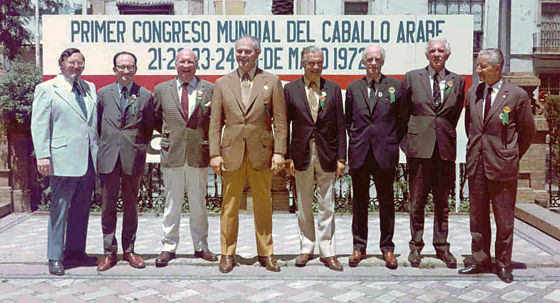 The First Executive Committee of WAHO, 1972
L-R: Yale Freed, Pesi Gazder, John Wyatt, Jay Stream, Herman Van Der Vorm, Ronald Kydd, John Kettlewell, Andrzej Krzysztalowicz (Dr. Ameen Zaher was absent when this photo was taken).
Last updated 11 September 2023.