THE WAHO CONFERENCE BAHRAIN 2017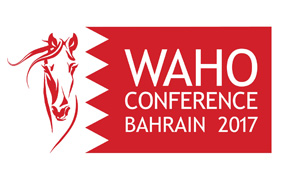 Dear WAHO Members and Prospective Members,
Plans are now well under way for the 2017 WAHO Conference, generously hosted under the patronage of HH Sheikh Isa Bin Salman Bin Hamad Al Khalifa and the Royal Arabian Studs of Bahrain.
The detailed WAHO Conference Bahrain 2017 brochures are now en route by airmail to our current WAHO Members. The package includes the Conference Programme, the Pearls of Bahrain Tours brochure, the Pre & Post-Conference Tours (Dilmun Days) brochure and of course a set of registration forms.
We are also very pleased to invite you to visit the new Conference website at: www.wahobahrain2017.com. Here you can browse through the information relating to the tours and you can also download the registration forms. We are not offering online registration at this time. We will welcome your registrations whether you prefer to send them to us by airmail, fax or scanned as email attachments.
We would also like to take this opportunity to extend a warm invitation to those of you who are not yet WAHO members to come and join us in the Kingdom of Bahrain in February 2017. Please contact the WAHO office for further information on how to become a WAHO member. WAHO membership will give you the right to take part in this unique and important event on the international Arabian horse community's calendar. We can promise you not only several interesting talks by acclaimed speakers on a variety of topics, as well as private visits to unique Arabian breeding farms, but also the chance to reunite with old friends and make new ones from all over the world. All those who attend have one special common interest: The Arabian Horse.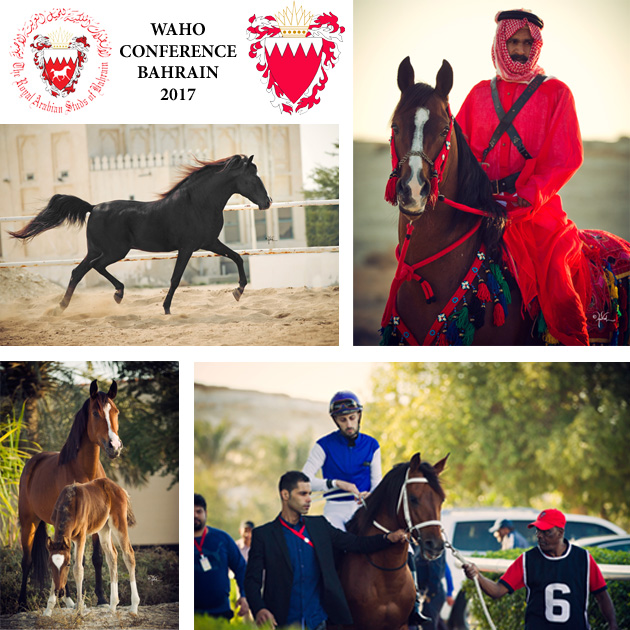 We look forward to welcoming many Conference participants to the Kingdom of Bahrain. For further information or assistance, please feel free to contact:
Mr. Subin Abubaker, WAHO Conference Coordinator Bahrain 2017, at email: wahobahrain2017@gmail.com
We can also provide information and assistance from the WAHO Office, please contact: Katrina Murray, WAHO Executive Secretary, at email: waho@btconnect.com or Joanne Minter, WAHO Administrative Assistant, at email: thewahooffice@gmail.com
2017 WAHO CONFERENCE, MANAMA, KINGDOM OF BAHRAIN
6-15 February 2017
Venue: The Ritz-Carlton Hotel, Seef District, Manama
WAHO General Assembly: 9-11 February
WAHO World Registrar's Meeting: 8 February
Pearls of Bahrain Days: 12 – 15 February
With optional Pre Conference Tours on 6 – 8 February
and optional Post Conference Tours on 14-15 February
Almost 20 years since the last time the WAHO 'family had the pleasure of meeting in Bahrain in 1998, you are cordially invited to attend the next WAHO Conference. The detailed Conference brochures and registration forms are automatically sent to all WAHO members, but WAHO is always delighted to welcome new members at our Conferences.
Monday 6th February
09:00 – 20:00 h
Conference Registration Desk open at the Ritz-Carlton Hotel
Choice of local Pre-Conference tours available for registered participants
Tuesday 7th February
09:00 – 20:00 h
Conference Registration Desk open at the Ritz-Carlton Hotel
Choice of local Pre-Conference tours available for registered participants
09:00 – 18:00 h
WAHO Executive Committee meeting.
Wednesday 8th February
09:00 – 18:00 h
Conference Registration Desk open at the Ritz-Carlton Hotel
Choice of local Pre-Conference tours available for registered participants
09:00 – 17:30 h
WAHO Executive Committee Meeting.
09:00 – 17:30 h
WAHO World Registrars Meeting, full day with lunch
19:30 – 22:30 h
Welcome reception and Dinner hosted by The Royal Arabian Studs of Bahrain
Thursday 9th February
09:00 – 17:30 h
WAHO General Assembly starting with Opening CeremonyFull day with lunch
19:30 – 23:00 h
Evening social event and Dinner hosted by Bahrain Royal Equestrian & Endurance Federation
Friday 10th February
09:00 – 13:00 h
WAHO General Assembly with guest speakers (morning only)
14:00 h
Lunch at the Racetrack hosted by Rashid Equestrian & Horseracing Club
Race Meeting with the featured WAHO Cup race and Traditional Desert Sports
19:30 – 22:30 h
Dinner at the Memorial Museum hosted by the Court of the Crown Prince
Saturday 11th February
09:00 – 17:30 h
WAHO General Assembly with guest speakersFull day with lunch
19:30 – 23:30 h
Gala Dinner at The Ritz-Carlton Hotel with private horse parade and traditional attractions hosted by The Royal Arabian Studs of Bahrain
Sunday February 12th
Pearls of Bahrain Special Days
Morning
Royal Stud PresentationLunch
Afternoon
Visit to Desert Stable and Endurance Stable of HH Sheikh Nasser bin Hamad Al Khalifa
Monday February 13th
Pearls of Bahrain Special Days
Morning
HRH Prince Mohammed Bin Salman Al Khalifa Stud Presentation with lunch
Afternoon
Presentation of horses at Al Rashediah Stud with dinner
Tuesday February 14th
Morning
Choice of local post conference tours for registered participants
Afternoon & Evening
Bahrain National Championship Show, at the Rashid Equestrian & Horseracing Club
Wednesday February 15th
Morning
Choice of local post conference tours for registered participants
Afternoon & Evening
Bahrain National Championship Show, at the Rashid Equestrian & Horseracing Club
———————————————————————————————————————————————————————————-STATEMENT FROM THE WAHO EXECUTIVE COMMITTEE
26th February 2016
DISTURBING EVENTS IN POLAND
Some of our WAHO Members are already aware of what has happened in Poland in the past week. For those of you who are not, a quick summary is that due to the rapid and sweeping changes brought in by the recently elected Polish government, several hundred directors or managers of state enterprises at all levels and professions have already been replaced in their posts. This is in accordance with a new law which allows that more than 1,600 civil service directors, who are apolitical, can be sacked and replaced without the need for a competitive board.
It had been hoped this would not affect the Arabian State Studs, which have always been protected by Poland's previous governments, whatever their politics, as they were considered as National Treasures because of their importance to the nation as a whole.
Unfortunately, on Friday 19th February 2016 this hope was destroyed. In the late afternoon, Dr. Marek Trela (Director of Janów Podlaski Stud and WAHO Vice President), Mr. Jerzy Białobok (Director of Michałów Stud) and Mrs. Anna Stojanowska (Inspector of Horse Breeding at the Agricultural State Property Agency) were simultaneously dismissed from their posts with no warning and no reasons given to them by the authorities. Since then, the Agricultural State Property Agency (ANR) has appointed a new individual at both Janów Podlaski and Michałów to take over the management, but from available information neither appears to have the level of experience necessary for such an important task.
This action, which has quickly reverberated around the world, is of immense concern to WAHO, as we believe that the safe future of these iconic State Studs with their long history and continuity of breeding has been put at risk. We therefore felt it imperative to act by expressing this concern to the authorities in Poland. The letter reproduced below was sent respectively to the President of Poland Mr. Andrzej Duda, to the Prime Minister Mrs. Beata Szydło, to the Minister of Agriculture Mr. Krzysztof Jurgiel, to the Minister of Foreign Affairs Mr. Witold Waszczykowski and to the President of the Agricultural State Property Agency Mr. Waldemar Humięcki.
Download our Letter to HE The President of Poland from the President of WAHO here.
WAHO would like to reassure our Members that Dr. Marek Trela of course continues in his position as our highly valued and internationally respected Vice President, with our full support.
The WAHO Executive Committee is also sure we can rely on all our WAHO Registering Authority Members, Associate Members and Individual Associate Members to support not only Dr. Marek Trela, but also Mr. Jerzy Białobok and Mrs Anna Stojanowska, who have been largely responsible for continuing to raise the international reputation of the Polish State Studs' Arabian horse breeding programmes. Between them have over 100 collective years experience of working at and with the Polish Arabian State Studs, and as such they are rightfully held in the highest regard around the world. To lose this wealth of wisdom overnight, without allowing them the opportunity to pass on their knowledge to their successors, would create a great risk to the successful breeding programmes of Poland and thereby to the many WAHO Members around the world who rely on incorporating Polish Arabians into their breeding programmes. WAHO sincerely hopes the Government of Poland will reconsider their decision.
THE WAHO EXECUTIVE COMMITTEE
WAHO EXECUTIVE COMMITTEE NEWS
February 2016
Mrs. Caroline Sussex. In February 2016 the WAHO Executive Committee voted unanimously to elect Mrs. Caroline Sussex from the United Kingdom as a Consultant. We are delighted to welcome Caroline to the WAHO Executive Committee.
WAHO EXECUTIVE COMMITTEE NEWS
January 2016
Mr. Sami Suleiman Al Nohait: We are very sorry to inform you that Mr. Sami Suleiman Al Nohait, our WAHO Vice-President and Executive Committee colleague, who has been such a great friend and supporter to WAHO for so many years, was taken seriously ill in December. This necessitated emergency surgery and a period in intensive care. Although we understand that his condition has improved slightly, at the time of writing he remains in hospital under the expert care of his doctors.
Eng. Abdulaziz Al Ghamlas, Deputy Supervisor General now responsible for the King Abdul Aziz Arabian Horses Centre in Riyadh, has recently advised us that it is likely to be many months before Mr. Sami Al Nohait can return to work. As it is clear that he will also not be able to travel for some time, it has regrettably been necessary for him to step aside, at least temporarily, from his position as WAHO Vice President. We feel sure that you will all join us in sending Sami Al Nohait our best wishes and prayers for a full recovery to health and fitness.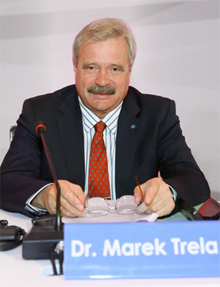 Dr. Marek Trela: The Executive Committee has therefore unanimously agreed to appoint Dr. Marek Trela as Acting Vice President of WAHO in the meanwhile. The President and Executive Committee of WAHO would like to express their thanks to Dr. Trela for agreeing to step into this important position in our Organization, they are confident that he will have the full support of all our members.
Mr. Ali Shaarawi: At their meeting in November 2015, the WAHO Executive Committee voted unanimously to move Mr. Ali Shaarawi from the post of Consultant to full membership of the Executive Committee.
DATES FOR YOUR DIARY. 2017 WAHO BAHRAIN CONFERENCE: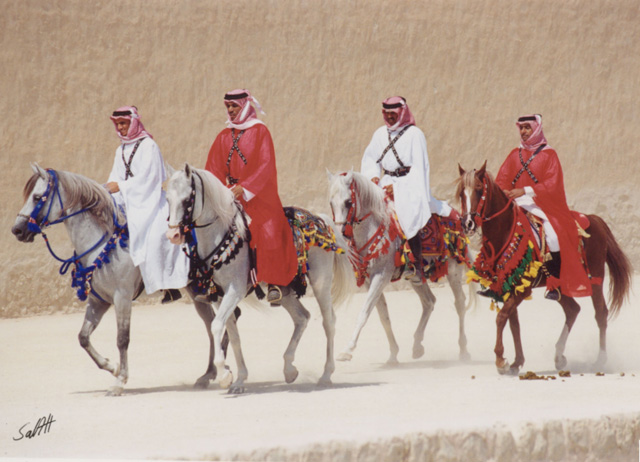 Thanks to the very gracious invitation from the Kingdom of Bahrain to host the next WAHO Conference, under the Patronage of HH Sheik Isa Bin Salman Al Khalifa, we are delighted to inform you that plans are now well under way for this important event to be held in February 2017 (details see below). After much consideration of suitable dates, and in order to do our best to avoid clashing with other important international Arabian horse events, we have agreed the following initial schedule of events with our generous hosts. The Conference venue and choice of hotels will be confirmed soon. We will of course ensure all our members are kept up to date with the plans and itinerary as these become more detailed. Please check back here from time to time for more news.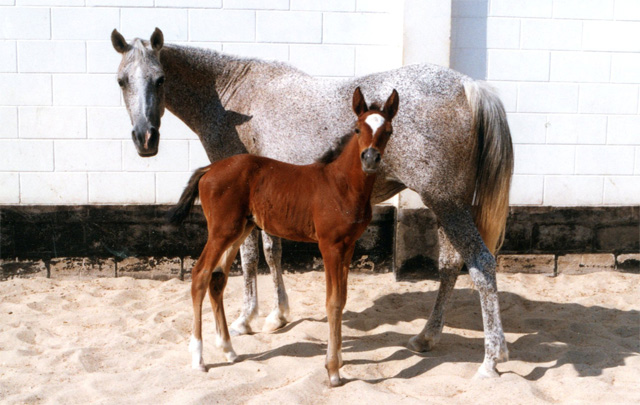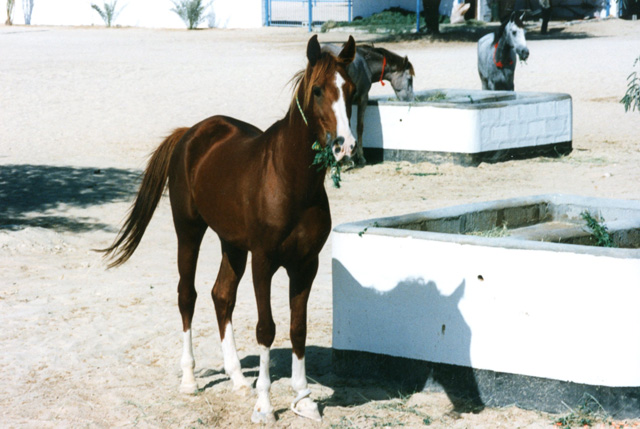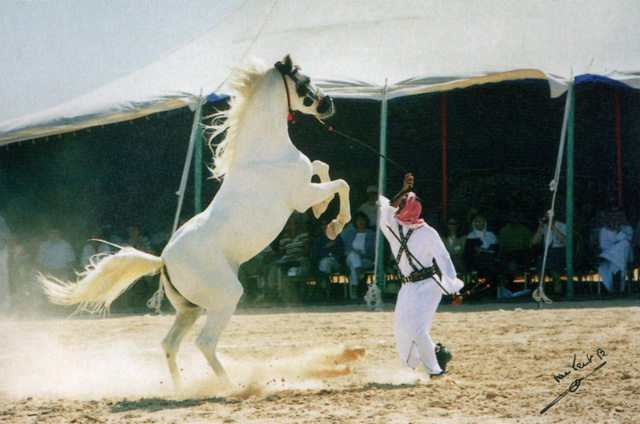 2014 CONFERENCE REPORT
Please visit our extensive 2014 Conference Report with lots of photos.
PARTICIPATION SOUGHT IN STUDY ON JUVENILE IDIOPATHIC EPILEPSY (JIE) IN ARABIAN HORSES
The Brooks Equine Genetics Laboratory at the University of Florida in America is working to identify the genetic cause of Juvenile Idiopathic Epilepsy (JIE) in Arabian horses. The project is led by Assistant Professor Samantha Brooks, who many of you will remember as one of our excellent Guest Speakers at the 2011 WAHO Conference, and is funded in part by the Arabian Horse Foundation (AHF) which is a WAHO Associate Member. The researchers are seeking to identify the mode of inheritance, identify the mutation(s) associated with JIE and ultimately develop a diagnostic test to assist owners and breeders in identifying carrier breeding stock.
To advance this research project, assistance from the Arabian horse community is requested. DNA samples are needed from horses that have been previously diagnosed with JIE, as well as horses that have had an offspring with JIE. All studies are confidential, so participant and horse identity will not be released.
"This project is an expansion of the Arabian Horse Foundation's support of research into genetic disorders of particular interest to the Arabian horse breed," stated Beth Minnich, chair of the AHF's Research Advisory Panel. "While JIE is thought to be a genetic disorder, no extensive work has been done to identify the exact genetic mode of inheritance or the proposed relationship with lavender foal syndrome."
Juvenile idiopathic epilepsy is a seizure disorder and affected foals usually begin exhibiting clinical signs between two days and six months of age. The seizures exhibited by affected foals generally begin with muscle stiffness all over the body and the foal might fall over. After the stiffening ceases, rapid muscle contractions then begin all over the body. The seizures can last from only a few seconds up to about five minutes. During this time the horse could lose consciousness or possibly injure itself either falling over or thrashing on the ground. Once the episode has ended the foal usually exhibits some temporary post-seizure signs including blindness, lethargy, and disorientation. Once the horse has outgrown the seizures it can usually go on to live a normal healthy life. Anti-seizure medications have been effective in reducing frequency and severity of the seizures and are helpful in decreasing risk of injury during an episode.
Interested Arabian owners can contact the Brooks Equine Genetics Laboratory, Department of Animal Sciences, PO Box 110910, Gainesville, Florida 32611, U.S.A. for more information on participating in this study. Telephone number: +1-352-273-8080; email: equinegenetics@ifas.ufl.edu
Further information about the Arabian Horse Foundation can be found at their website.
NEW WAHO REGISTERING AUTHORITY MEMBERS:
WELCOME to ECUADOR and to SERBIA: It gives us great pleasure to announce that, during the 2014 WAHO Conference, two new countries – Ecuador and Serbia – were warmly welcomed to full Registering Authority Membership, with their horses accepted into the WAHO Definition, having completed all necessary requirements during their time as Applying Members, and having published their first WAHO approved studbook.
NEWS FROM THE 2014 WAHO QATAR CONFERENCE
The 2014 WAHO Conference in Qatar was well attended and much enjoyed by all the participants. We extends our grateful thanks to the Qatar Racing and Equestrian Club for hosting this important event for the second time in succession, under the patronage of HH Sheikh Abdullah bin Khalifa Al Thani, Special Adviser to HH The Emir. A more detailed illustrated report can be found here, together with extracts from the many fascinating talks we had from our very interesting panel of Guest Speakers. To summarise the main items of WAHO business during the WAHO Executive Committee meetings, WAHO World Registrars Meeting and the WAHO General Assembly, in brief these were as follows:
WAHO EXECUTIVE COMMITTEE CHANGES:
During the WAHO Executive Committee meetings, following the retirement of Dr. Hans-J. Nagel, Mr. Peter Pond was elected as President. Dr. Hans Nagel was granted the honorary title of President Emeritus. Mr. Sami Suleiman Al Nohait was elected to the position of Vice-President. Lady Georgina Pelham was elected to full Executive Committee membership. Mr. Xavier Guibert was also named as WAHO's Stud Book and Registration Consultant. In addition, two new Consultants were elected, and as such we are delighted to welcome HRH Princess Alia Al Hussein Al Saleh and Mr. Sami Jassim Al Boenain to the WAHO Executive Committee.
WAHO WORLD REGISTRARS MEETING:
This significant meeting over one and a half days, chaired by Mr. Xavier Guibert, was very busy and productive. The first afternoon was devoted to matters relating to the new European Union directives which directly affect studbooks and registries. The second day was mainly taken up with complex discussions on a number of proposed WAHO registration rule changes and updates. The contribution of those present was extremely important in ensuring that any such changes to our internationally accepted rules are appropriate and suitable for all WAHO Member registries to follow. The recommendations made by the Registrars Meeting were passed directly to the Executive Committee for their further discussion and decisions, and then presented to the floor of the General Assembly for vote of the members.
WAHO CONFERENCE REPORT IN BRIEF:
The WAHO Qatar Conference 2014 started with the Welcome Reception and Dinner, hosted by the Qatar Racing & Equestrian Club in the beautiful grounds of the Museum of Islamic Art. A wonderful display by grey and bay Arabians richly caparisoned in traditional saddlery charmed the guests.
The following morning, in front of an audience of invited VIP guests and many press representatives, as well as all the delegates and observers, the WAHO Conference was opened by HE Sheikh Mohammed Bin Faleh Al Thani, Chairman of the Qatar Racing and Equestrian Club. A beautiful short film called "Heartbeat of Qatar", about the host country's Arabian horses, was shown to much acclaim.
This was followed by a ceremony to mark the retirement of Dr. Hans-J. Nagel, during which a specially commissioned watercolour painting of his famous mare Hanan, by the well known artist Peter Upton, was presented to Hans on behalf of the WAHO Executive Committee and WAHO Membership. A film and photo compilation prepared by Dr. Monika Savier was shown as part of the tribute to Dr. Nagel's great contribution not only to WAHO, but to the Arabian horse worldwide.
Peter Pond's opening speech highlighted several of WAHO's main achievements over the past 40 years and emphasised the strong bond and high level of cooperation between all WAHO's member countries. A minute's silence was held in memory of those WAHO members who have passed away since the last Conference. Two new countries, Ecuador and Serbia, were warmly welcomed to full Registering Authority Membership, with their horses accepted into the WAHO Definition, having completed all necessary requirements and published their first WAHO approved studbook. We were then treated to a most illuminating and thought-provoking talk by our first Guest Speaker, Cynthia Culbertson, who took as her subject "Bedouin Traditions and their Relevance Today". The rest of the first day of the General Assembly was taken up with the always interesting reports from the Members' Delegates.
The day concluded with a visit to the magnificent Al Rayyan Racecourse, where the QREC hosted a most entertaining evening of racing, with dinner. It was particularly appreciated that two special races, the WAHO Cup and the Jay Stream Cup in memory of WAHO's first President, were run in honour of the Conference.
On the second morning, and after giving his report on the Organization's annual accounts, the WAHO Treasurer David Angold announced that all WAHO membership fees had been increased slightly, the first such increase for many years. Mr. Xavier Guibert also made his report on the WAHO World Registrars' Meetings. Our guest speaker from Poland, Professor Tadeusz Majda, then gave a most interesting and richly illustrated talk on the Count Rzewuski Manuscript and its translation into English & Arabic sponsored by the Qatar Foundation. Professor Majda also later gave a short but equally well illustrated talk on the Arabian Horse in Polish Painting. We were also very fortunate to have Professor Douglas F. Antczak, from Cornell University in USA, who gave his overview of the new research project on the genetics of the Arabian horse, sponsored by the Qatar National Research Fund.
The afternoon was given over to one of the highlights of the week. Al Shaqab Stud, Member of the Qatar Foundation, generously hosted a dinner which was preceded by a parade of some of their most promising young horses, many of them the product of several generations of Al Shaqab breeding. Their famous grey stallion Al Adeed Al Shaqab, now 20 years old, was also shown to the appreciative audience.
On Friday, after going through and voting on the updates and changes to the WAHO registration rules, this last day of the WAHO Conference was mainly given over to our Guest Speakers, with the main general overall theme being equine welfare. During the morning session, Dr. Jean-Louis Leclerc from France spoke with feeling on the topic of "Improving the welfare of endurance horses in training and competition".
In the afternoon, two complementary talks were given by Dr. Martine Hausberger and her colleague Dr. Clémence Lesimple, from the University of Rennes in France, on "How our perception of horse behaviour affects their welfare" and "Improving horses' health & welfare through adapted management practices" respectively. This was followed by two speakers from the United Kingdom. Mrs. Elizabeth Launder spoke about the rider or trainer's influence, negative and positive, on horse performance. Mr. Roland Owers, C.E.O. of World Horse Welfare, gave a very well balanced and inspiring talk on "Horse Welfare: A Global View".
It was announced that the next WAHO Conference 2017 will be hosted by the Kingdom of Bahrain.
The final event of the main WAHO Conference days was the magnificent Gala Dinner, hosted by the Racing and Equestrian Club at the Four Seasons Hotel. With speeches and gift presentations, and a delicious meal, everyone agreed it was the perfect ending to a particularly positive and friendly event. We look forward to welcoming you all to Bahrain in 2017.
THE PRIDE OF QATAR DAYS: The WAHO Conference was followed by 4 special days filled to the brim with activities, generously hosted by some of Qatar's best known stud farms. You can find a full illustrated report here.
WAHO EXTENDS ITS SINCERE THANKS TO ALL THE FOLLOWING PEOPLE, WHOSE GREAT EFFORTS, HARD WORK, EXCEPTIONAL GENEROSITY AND WARM HOSPITALITY ALL COMBINED TO MAKE THE 2014 WAHO QATAR CONFERENCE SUCH A RESOUNDING SUCCESS.
WAHO 2014 QATAR CONFERENCE ORGANIZING COMMITTEE AND TEAM
From the Qatar Racing & Equestrian Club:
HE Sheikh Mohammed Bin Faleh Al Thani, Chairman
Mr. Sami Jassim Al Boenain, General Manager
Mr. Tariq Al Siddiqi, Assistant General Manager, Head of Racing Section
Mr. Abdul Aziz Al Boenain, Head of Horse Registry and Show Section,
Mr. Abdul Aziz Al Subaie, Show Section
Eng. Ahmed Mamdouh
Mrs. Hannie Maasdijk, Conference Co-Coordinator
Mrs. Elise Yue, Assistant Conference Co-Coordinator
Miss Cherelle Maasdijk, Conference Assistant
Mr. Nabeel Shekhani, IT and Accounts Support
From CIMGlobal, The Netherlands:
Mr. Rob Eskes, Mr. Bas Van Der Velde, Mr. Nicholas Tissot Van Patot, Mrs. Patricia Bannier
And all the support staff from QREC and all the hostesses.
HOSTS & ORGANIZERS OF SOCIAL EVENTS & OF VISITS TO STUD FARMS.
Al Shaqab Stud, Member of Qatar Foundation.
Mr. Fahad Saad Al Qahtani, Director
Mr. Mohamed M. Al-Sulaiti, Manager, Breeding & Show Dept.
Mr. Majid Al Kaabi, Assistant Manager Breeding & Show Dept.
Umm Qarn Farm.
HH Sheikh Abdullah Bin Khalifa Al Thani
Brigadier Abdullah Mohammed Al Yafaee, General Manager
Mr. Alban de Mieulle, Manager/Trainer
Al Shahania Stud.
HH Sheikh Mohammed Bin Khalifa Al Thani
Mr. Abdulrahman Al Mansour, Director
Miss Alexandra Newman, Manager
Mr. Dean Lavy, Assitant Manager
Mr. Julian Smart, Race Trainer
Al Nasser Stud.
HE Sheikh Nawaf Bin Nasser Al Thani
Sheikh Mohammed Bin Nawaf Al Thani
Mr. Hendrik Mens, Manager
Sheikh Faisal Bin Qasim Al Thani Museum & Al Samariyah Stud.
HE Sheikh Faisal Bin Qasim Bin Faisal Al Thani
HE Sheikh Turki Bin Faisal Bin Qasim Al Thani, Al Samariyah Stud
Mrs. Pegi Jones, General Manager, Ms. Sian Jones, Show Manager & Ms. Megan Jones, Riding School Manager, Al Samariyah Stud
Qatar Camel Racing Federation & Al Gharafa Stud:
HE Sheikh Hamad Bin Qasim Bin Faisal Al Thani, Chairman, Camel Racing Organizing Committee
Al Wabra Wildlife Preservation & Al Maha Stud
Dr. Abdi Arif, Manager Al Wabra Wild Life Sanctuary
Mr. Ahmed Abdelhak, Manager Al Maha Stud
Camel Race Training Farm of HH Sheikh Tamim Bin Hamad Al Thani, The Emir of the State of Qatar.
Mr. Ahmed Al Khalfan, Manager
We also thank all the veterinarians, staff, handlers and grooms at all the farms for their involvement and assistance.
ASSOCIATED COMPANIES:
Mr. Hisham Al Jammal, Zoom Art and Design
Mrs. Nevena Tabakova, Gulf Adventures Tourism LLC
Mr. Ziad Chemaitelli, Al Sanabel Transportation Company
Mr. Rene Nijhof, Mr. Ziad Mallah, & Mr. Mohamed Amine Arfaoui, The Ritz Carlton Hotel