WAHO Conference
1ST NOVEMBER – 8TH NOVEMBER 2011 With optional Pre and Post
Conference Tours on 30th & 31st October and 9th & 10th November
VENUE: THE RITZ-CARLTON HOTEL, WEST BAY LAGOON, DOHA
Photographs copyright Sharon Meyers, Juhaim Parambil, Emma Maxwell, Monika Savier and Karsten Scherling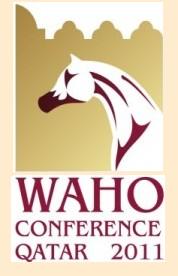 THE WAHO CONFERENCE 2011, DOHA, STATE OF QATAR
A report by Sharon Meyers (Editor, Australian Arabian Horse News) adapted for WAHO by Katrina Murray (Executive Secretary, WAHO). Photographs copyright Sharon Meyers, Monika Savier, Karsten Scherling and Juhaim Parambil.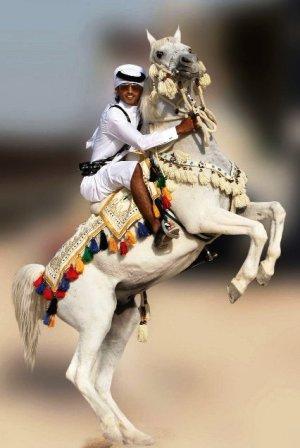 "Progress and development of modern-day Qatar will reflect, in particular, efforts to maintain the heritage of our forefathers through the noble Arabian horse." HH Sheikh Hamad Bin Khalifa Al Thani, Emir of the State of Qatar.
The 2011 World Arabian Horse Organization Conference was held in Doha, Qatar from 1-8 November under the patronage of HH Sheikh Abdullah Bin Khalifa Al Thani, Special Adviser to the Emir. A special thank you from all the WAHO family goes to the Qatar Racing and Equestrian Club (QREC) for being such generous and hospitable hosts. QREC Chairman, HE Sheikh Mohammed Bin Faleh Al Thani, General Director Mr. Sami Jassim Al Boenain, Conference Manager Mrs. Hannie Maasdijk and their team did a superb job of organizing the Conference and ensuring we had a memorable stay in Qatar.
| | | |
| --- | --- | --- |
| Mr. Sami Jassim Al Boenain | HE Sheikh Mohammed Bin Faleh Al Thani | Mrs. Hannie Maasdijk |
Please see the end of this report for a full list of the people to whom we owe our thanks. WAHO encompasses a large and friendly family of Arabian horse enthusiasts worldwide and it is always enjoyable meeting both old and new friends at these unique conferences. Besides keeping up to date with vital information about the breed and WAHO's activities, another fascinating aspect is learning more about the host country while visiting their Arabian horse studs, which greatly enhances everyone's knowledge of the breed. Participants started to gather in Doha from a few days beforehand, many taking some of the specially arranged pre-conference tours, of which more later. The WAHO Executive Committee held two days of meetings, and the World Registrars Meeting also took place on 1st November. Many important issues were discussed at these meetings, and changes formulated to some of WAHO's international rules of registration, to be put to the vote of the General Assembly later in the proceedings.
The main Conference programme for all participants started on the evening of 1st November, with a Welcome Reception and Dinner, hosted by QREC, which was held under the stars at the Doha Golf Club. Mr Sami Jassim Al Boenain gave a warm speech of welcome and the enjoyable evening very much set the scene for the forthcoming days of typical Qatari hospitality that were to follow.
WAHO GENERAL ASSEMBLY, 2nd-4th NOVEMBER
The WAHO General Assembly itself took place in the ballroom of the Ritz-Carlton Hotel. The General Assembly, which is held every two years, is of course the central purpose of the whole event. It is the main business meeting for the WAHO Registering Authority Members, who are the voting delegates of the Organization.
CONFERENCE OPENING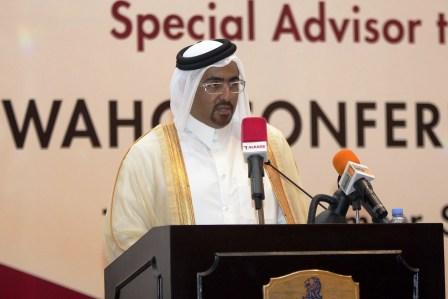 The QREC Chairman, HE Sheikh Mohammed Bin Faleh Al Thani, officially opened the meeting in front of an audience of local VIPs and dignitaries and some 300 delegates and observers from over 40 countries. A beautiful short film, specially made for the occasion by Mark Strickson of Rock Wallaby Productions, was shown to the great appreciation of the audience. As part of the official opening Mrs. Judith Forbis, the renowned author and breeder of Ansata Arabians fame, gave a most interesting talk about the history of the Arabian horse in Qatar, from pre-Islamic times to the present day. This talk was based on research she has done for the forthcoming book "The Heritage of Al Shaqab, A Tribute to His Highness The Emir Sheikh Hamad Bin Khalifa Al Thani, and the Arabian Horses of Al Shaqab and Qatar."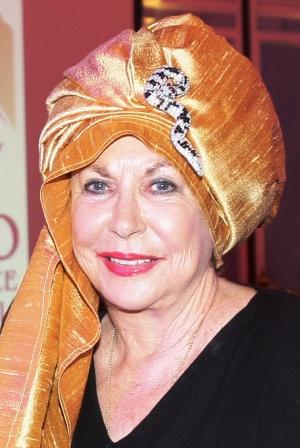 Mrs. Judith Forbis
During this talk Mrs. Forbis said: "Guardianship of the Arabian horse in Qatar has fallen to the Al Thani rulers and other important Qatari families – many of whom descend from the pre-Islamic Beni Tamim Tribe. They were Bedouin of great and noble reputation, famous as camel and horse breeders, and the largest tribal federation that lived in Nejd during the fifth and sixth centuries CE. Eventually they broke up into new tribes spreading out over different districts in order to find pasturage. Some of them, including the Al Thani ancestors and other tribes, eventually migrated to the Qatar peninsula."
Later in her talk Mrs Forbis referred to the Battle of Al Shaqab, which was a turning point for Qatar's independence during the rule of Sheikh Jassim bin Mohammed Al Thani: "When the British became more active in Qatar and the Ottomans imposed high taxes on Sheikh Jassim, he began considering independence from both. When negotiations failed, the Ottoman pasha thought his forces could take Sheikh Jassim by surprise. On 13 March 1893, the well-armoured pasha reached the small fortress of Al Shaqab where the Ottomans set up camp. Sheikh Jassim was not to be tricked, however, and had already gathered around him some three to four thousand supporters from the Arab tribes of Qatar who were well mounted on seasoned Arabian warhorses and camels and armed with Martini-Henry rifles. Sheikh Jassim recorded in his diwan: '…We had to face the tyrant whose injustice had overpowered us. …On us he had imposed a tribute, and to us it meant fierce warring, with brave young men mounting great mares of noble pedigree. …They were ready to sacrifice their lives to achieve their sublime goals and rights'. Riding his noble horse, Faarah, Sheikh Jassim assaulted the Ottomans with his infantry, camel riders, and Bedouin cavalry and routed them – but not without significant loss to his own troops and their courageous Arabian mounts. The bloody battle of Al Shaqab became an important turning point in the region and in Qatar's history, paving the way for Qatar's future independence. Sheikh Jassim is considered the founder of what is known today as the modern State of Qatar but credit must also be given to the courageous Arabian warhorses that carried him and his warriors to victory."
Mrs Forbis concluded with: "Against all odds, the Qataris have pursued and won the freedoms that have eluded many other seekers: freedom from want, freedom from oppression and freedom to rule themselves. Born of the wind, the Arabian horse is alive and well here, honoured in Qatar's heritage, an eternal part of its culture, and a living tribute to the spirit of Qatari knights and their noble steeds that enabled Qatar 'to be free'."
DR. HANS-J. NAGEL, OPENING ADDRESS: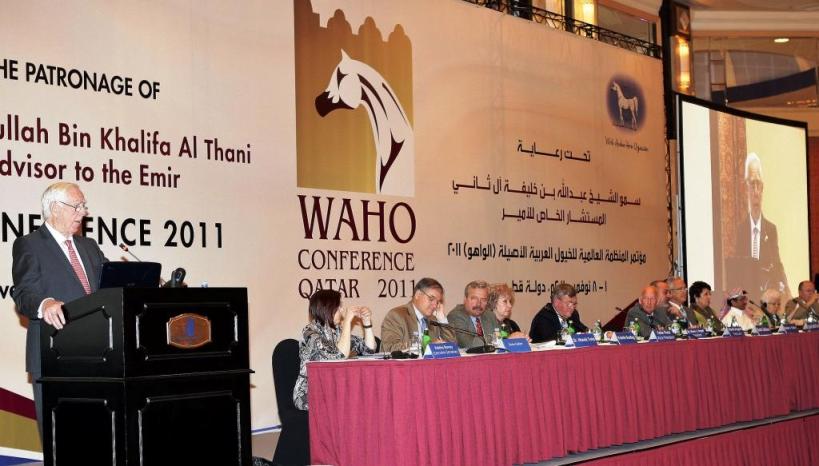 The 2011 WAHO Conference was then officially convened. Dr. Hans-J. Nagel, President of WAHO, gave his opening address in which he reiterated the goals of WAHO and added his profound thanks to the host country, Qatar, for holding the Conference. He mentioned some interesting statistics, stating that although the annual worldwide total of Arabian foals registered has dropped from about 23,000 to 21,000 over the past 15 years, the WAHO Member countries in the Middle East region have together seen an impressive increase in the same period -from about 2,000 to almost 5,000 foals annually.
WAHO EXECUTIVE COMMITTEE: The rest of the General Assembly on this first day was taken up with routine WAHO business. The current Executive Committee members were re-elected as a group for the next 4 years, with Mr. Howard Pike from America, formerly a Consultant to the Executive Committee, added to the full members list. Mrs. Annette Hedley, formerly an Executive Committee member has retired and is now an Emeritus member. The full WAHO Executive Committee now comprises Dr. Hans-J. Nagel, President; Mr. Peter Pond, Vice-President; Ing. Federico Garcia Brum, Secretary; Mr. David Angold, Treasurer; Mr. Sami Suleiman Al Nohait; Mrs. Valerie Bunting; Mrs. Claudia Caraballo De Quentin; Mr. Robert J. Fauls Jr.; Mr. Xavier Guibert; Mr. Basil Jadaan; Mrs. Izabella Pawelec-Zawadzka; Dr. Marek Trela and Mr. Howard Pike.
IN MEMORIAM: At each WAHO Conference those present take time to pay tribute to our WAHO Members who we have been informed have passed away since the last Conference. WAHO feels it is very important to honour these friends and colleagues, who are all greatly missed, with a minute's silence in their memory. The list was unfortunately rather long this time, with the following people fondly remembered: From Egypt, long-time WAHO Executive Committee Member Dr. Ibrahim Zaghloul. From Australia, Mr. Peter Simon. From Bahrain, HH Sheikh Mohammed Bin Sulman Al Khalifa. from The Netherlands, Mr. Jan Van Nes. From Poland, Mr. Wojciech Kowalik. From the Kingdom of Saudi Arabia, HRH Prince Sultan Bin Abdul Aziz Al Saud; From the United Kingdom, Major Pat Maxwell; Miss Margaret Evans; Mrs. Caroline Murray; Mrs. Christine Laurens; Mr. Simon McCorkindale; Mr. Tony Day; Miss Elizabeth Orr Sutcliffe. From the United States of America: Dr. Bert Husband; Mrs. Mary Anne Grimmell; Mrs. Marjory F. Tone; Mr. Ferman Ansel; Mrs. Betty J. Rider and Mr. Patrick Swayze.
AGENDA ITEMS: Moving on with the day's agenda, the delegates approved Volume 1 of the Japanese Arabian Stud Book and Japan, which has been an Applying Member for many years, was voted in as WAHO's latest full Registering Authority Member. It was also approved by vote of the delegates that Australia is to look after Arabian registrations, if requested to do so, in India, South Korea and Taiwan in a caretaker capacity.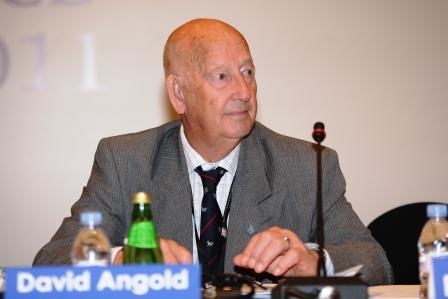 WAHO Treasurer, David Angold, then gave his report, the annual accounts for 2011 were duly adopted, and the firm PKF (UK) LLP were re-appointed as WAHO's Accountants. David Angold also reported that WAHO Pedigree Database should be available next year as a useful research tool. This database of historic pedigrees, which includes inbreeding co-efficients and strains, will provide links to other up-to-date databases and on-line studbooks around the world.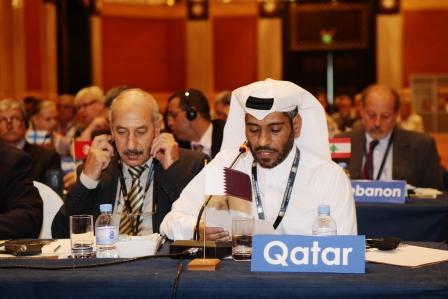 Mr. Abdul Aziz Jassim Al Boenain delivering Qatar's Report
The remainder of the day was taken up with the always interesting reports from the Delegates for each country represented at the meeting. This is the chance for the WAHO Registering Authority Members to give as much information as possible, within a relatively short time frame, about the activities and statistics in their own countries. Although English is the international language of WAHO, it has been customary for many years to provide simultaneous translation services during the General Assembly. This section of the proceedings certainly keeps the translators very busy, and we extend our special thanks to the excellent translation team for their sterling work, which enabled the Arabic, Spanish and Farsi speakers to understand the proceedings.
As an experiment at the request of WAHO, three countries gave their reports in visual format: Saudi Arabia with film footage and Poland and France with photographs or PowerPoint. This innovation was well received and it is hoped more countries will be able to do the same in the future.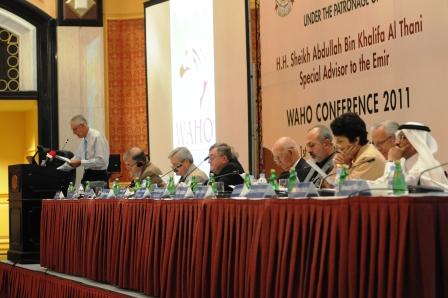 Thursday 3rd November: The half-day session started with a report from Kees Mol on the discussions that took place during the 2011 WAHO World Registrars Meeting on 1st November, of which he is Independent Chairman.
It was clear from the list of Guest Speakers and their topics that this Conference's Agenda was particularly aimed at addressing the various ethical and welfare issues concerning modern reproduction techniques and genetic testing, which are the current hot topics for the breed. Two lectures by prominent equine genetic experts Professor Matthew Binns from the United Kingdom and Mr Michael Bowling from the United States of America were scheduled for this day, with another on Friday by Dr Samantha Brooks also from U.S.A. All proved to be extremely interesting and educational, covering the latest advances in research into the equine genome as well as addressing genetic disorders in the breed and how best to avoid them.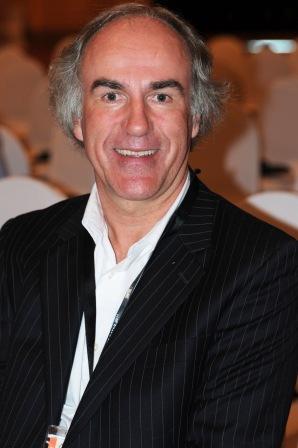 Professor Matthew Binns: 'Advances in Equine Genetic Research and how new information can help breeders.'
Professor Binns, currently based in America at Equine Analysis in Lexington, Kentucky, was the first speaker of the day, making his complex subject easily understood with an accessible combination of wit, wisdom and explanatory slides.
He covered five main areas in his presentation, starting off by talking about the importance of looking at pedigrees from a genetic perspective. He said that breeders have traditionally used pedigrees on which to base their mating plans and on occasions they may over-interpret what can be learned from a pedigree. From a genetic perspective, he explained that only two things are certain when looking at a pedigree, which are that the Y chromosome passes down the tail male (top) line, and that Mitochondrial DNA (MtDNA) passes down the tail female (bottom) line. Both these DNA entities carry a very small number of genes compared to the 20,000 or so genes that are encoded on the other chromosomes, which follow an unpredictable path of random segregation, further complicated by the process of recombination which results in crossing over between maternal and paternal chromosome pairs. These random events ensure that each individual (except for identical twins) is genetically unique and that each egg or sperm produced by an individual is essentially different.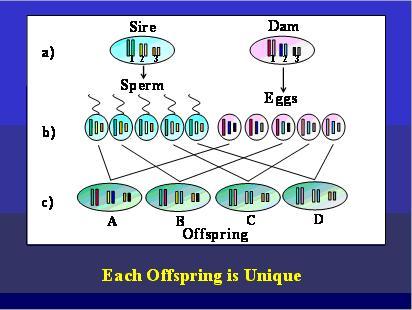 With regard to MtDNA, Professor Binns also said that studies in Thoroughbreds have demonstrated that very early stud book records contained multiple errors, and pedigrees are only truly reliable from the time that parentage was verified by parentage analysis, which was in the mid-1970's for many horse breeds. Another very important point made by Professor Binns was that an ancestor's genetic contribution to their genetic legacy is on average halved with each generation, such that by the time you get to the sixth generation, with 64 different ancestors in that generation, each ancestor is on average only contributing one single chromosome. By that point, several ancestors in this sixth generation will actually be making no genetic contribution at all to the individual concerned.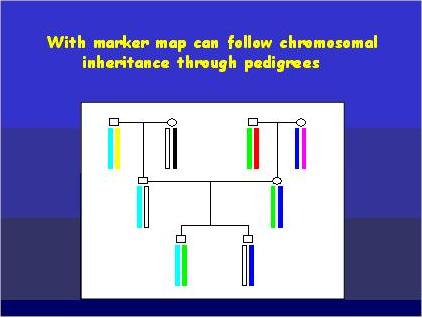 He then moved on to talk about the genetic architecture of breeds, explaining that technological developments in molecular biology have made it relatively cheap and easy to obtain complete genome DNA sequence information for many species, including the horse. This in turn has led to the commercial development of high-throughput tools that enable genetic experts to get information from large numbers of individuals on 50,000 genetic markers per horse. Having accumulated 50 million genetic data points in the Thoroughbred horse for studies into the genetic basis of racing performance in that breed, he said he had also been interested in addressing the question as to whether the Thoroughbred horse in particular was becoming more inbred. Significant changes in the breeding structure of Thoroughbreds were introduced in the 1990's and the previously small 'book' sizes of a stallion covering 40-50 mares changed to popular stallions covering 150-200 mares. This in turn caused a reduction in the number of stallions standing at stud. On analysing the data it was clear that there had been a small but statistically significant increase in inbreeding, with most of the increase post-dating the changes in breeding practices. What was particularly interesting though, he said, was that when the inbreeding co-efficients determined by pedigree analysis were compared to the inbreeding co-efficients determined using DNA data, the two values were surprisingly poorly correlated. Professor Binns concluded this section of his talk by saying that pedigrees are not a good way to estimate inbreeding, or other measures of what is inherited, compared to using DNA itself. His hypothesis for the lack of correlation lay in the observation that within most well-established domestic animal breeds there is a very limited amount of genetic variation present on individual chromosomes, such that often only 4-5 different forms exist. This limited variation overpowers the effects of doubling up on individuals generations back in pedigrees, so that the same combinations that might have been attributed to 4×5 crosses are actually being generated by random associations from unrelated individuals.
Moving on to the genetic relationships between horse breeds Professor Binns said that, as part of the horse genome sequencing effort, multiple breeds were examined using the genetic marker chips, and their relatedness plotted in a number of different ways. This work was carried out by an international collaboration led by Dr McCue at the University of Minneapolis. Professor Binns said he had been particularly interested in the relatedness of Arabian and Thoroughbred horses, given the well known 'Eastern' foundation stallions in the Thoroughbred. Surprisingly, he had found that the two breeds do not look very closely related based on the existing data. One possibility for this is that the Arabian horses used in the analysis do not adequately represent the Arabian horses that contributed to the Thoroughbred horse breed. Whilst attempts were made to include Arabian horses from several different geographic regions, samples from several other pertinent regions were not examined. The consortium doing this work is particularly interested in getting hair samples from Syrian, Iranian and other desert Arabian horse populations. However, the studies did confirm genetic contributions by Arabian horses to several other expected breeds, and also showed that the Arabian horse breed was relatively homogenous, without evidence for "contamination" from other breeds in the samples examined so far.
On the very new subject of genetic markers for racing distance, Professor Binns explained that one particularly interesting result from his studies on Thoroughbred race performance was the identification of genetic markers strongly associated with the optimum race distance of elite individuals. These markers are located close to the myostatin gene, a muscle gene that is known to have an effect on the amount of muscling, and the fibre type composition in several other species. It is common wisdom in Thoroughbreds that sprinters have particularly powerful and well-muscled hindquarters, he said, and it seems that this observation is grounded in fact. He also said that of relevance to Arabian horse people is the observation that whilst the frequency of the sprinting and staying forms of the markers in Thoroughbreds is ~50:50, in Arabian horses about 90% of individuals are homozygous for the stamina form of the gene, as might be expected for a breed so well known for its endurance.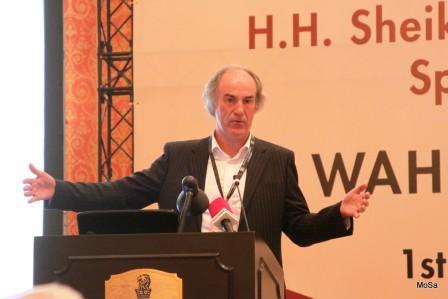 Moving on to complex genetic traits, such as those which produce white leg markings, Professor Binns said that the genetic inheritance of white coat colour markings was studied in Arabian horses in a series of detailed publications by Dr Woolf in the 1990's, who concluded that several genes were involved. Professor Binns explained that a horse with one white leg actually has the same genetic make-up in the single white leg as it has in the three coloured legs. White leg markings results from the absence of pigment producing cells, melanocytes, that migrate during embryonic development. White legs were studied using the same dataset mentioned above for the inbreeding study, as a proof of principle experiment to see if the genetics of a complex trait could be successfully determined in Thoroughbred horses. The analysis of the data led to the identification of four different loci, on three different chromosomes that contributed to white leg markings indicating that the genetic tools scientists now have for horses are powerful enough to study other complex traits such as performance, conformation and genetic diseases.
Professor Binns concluded his talk with the words: "In summary, there has been fantastic progress in horse genetics since I last spoke to a WAHO conference in 2004. The availability of high throughput genetic screening tools for horses opens many doors."
Michael Bowling's excellent educational talk followed on and complemented that of Professor Binns.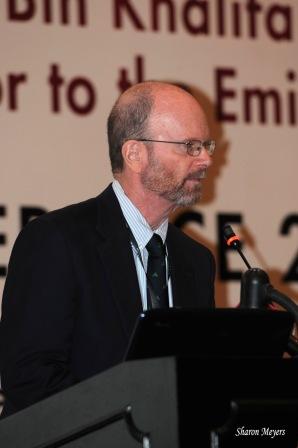 Michael Bowling: "The Paradigm has Shifted, Genetic Testing as a Positive Tool for Breeders"
This was essentially an updated version of the very important presentation he gave to the WAHO Conference in Istanbul in 2002, when the only gene test available to Arabian breeders was that for SCID. A Paradigm Shift is a change in knowledge which profoundly influences our interaction with the world. Mr Bowling's main message was this: "Without gene testing, breeders operate in the dark, and have no effective way of dealing with disease genes. With gene testing, breeders can know where the disease genes are. Gene status becomes simply another fact which is known about the individual animal." He explained that a mutation is a permanent change in the genetic code, in effect a spelling mistake that may change the operating instruction for some body function, and that mutation is the ultimate source of all genetic variation. If a mutation occurs within a gene and isn't repaired by the DNA correction system that recognizes and repairs most mutations, the end result can vary from a desirable trait to a lethal disorder.
After explaining how genes are inherited in pairs, with one copy each from the sire and dam, and that the gene for a variable trait exists in alternative forms called alleles, he made the important point that alleles differ in their DNA base sequence and these differences are ultimately expressed as different versions of the trait. The term 'recessive' means that 2 copies of the allele are needed for trait expression, so horses which have only one copy of the allele are carriers but are otherwise healthy as the trait is not expressed. The allele can be passed down, sometimes for generations, without having the trait expressed. It is only when both parents are carriers and when both pass on a copy of the allele that their foal can express the trait. Many traits are recessive but do not cause genetic disorders, for example the easiest to understand is the chestnut coat colour, which is passed on in this way.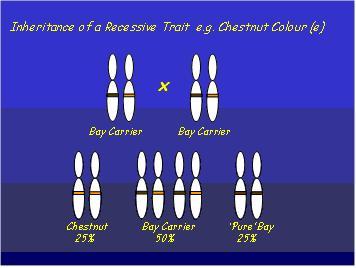 If two bay horses which both carry the chestnut gene are bred together, the chances at each breeding for the offspring to be born chestnut, 'pure' bay or as bay-coloured carriers of the chestnut gene are as shown above.
The genetic disorders for which tests are now available which are of particular interest to Arabian horse breeders are all autosomal recessives, autosomal meaning they are not sex linked. He also spoke about the dangers of narrowing the gene pool: "When a large proportion of breeding programmes concentrate on a single animal, leading to so-called Popular-Sire Syndrome, there will be a loss of genetic diversity. Extensive breeding to one animal will give the gene pool an unbalanced dose of his genes, and this will include whatever detrimental recessives he may carry, to be uncovered in later generations. This can cause future breeding-related genetic disease through what is known as the Founder Effect." He added that differences among foundation individuals may, by accident of opportunity, be transmitted differently to successive generations, this changes the proportions of the alleles in the population, and the effects of genetic drift in small populations can be dramatic.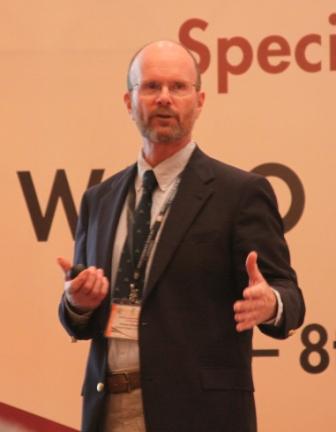 Mr Bowling then discussed in detail each of the genetic disorders found within the Arabian breed, explaining the symptoms and effects on affected foals. Of these the most well known are Severe Combined Immunodeficiency (SCID), Cerebellar Abiotrophy (CA), and Lavender Foal Syndrome (LFS), for which gene tests are now available. He addressed how to work with recessive disorders such as SCID, CA and LFS, saying that with testing available, each individual can be evaluated on its merits. He gave some very sound advice: "Do not breed two carriers together. Decisions on whether to breed from carrier individuals is made on a case-by-case basis. When and as possible, use suitable clear offspring of carriers for breeding to maintain genetic diversity while reducing the incidence of carriers in the breeding population. The primary goal: do not produce affected foals. The secondary goals: reduce the frequency of the mutation in the gene pool over time, without loss of genetic diversity".
On using genetic testing as a positive tool Dr Bowling said, "Every individual of any species probably carries at least one recessive defect; genetic disorders are not unique to Arabians. Testing allows breeders to make informed decisions; tests are a tool for breeders to use for the benefit of the horses and the breed, not a weapon to be used against breeders. Testing allows us to know the status of the horses of today, who are alive and breeding; decisions we make about today's horses determine the breed's future. The gene is not a disease."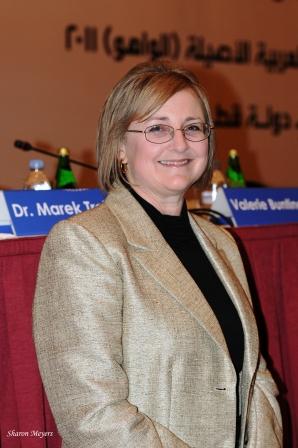 Karen Kasper presented "A Tribute to Living Art"
After lunch, the rest of the day was given over to Al Shaqab, member of the Qatar Foundation, with everyone eagerly anticipating the planned stud visit and dinner, of which more later. Before that, a nice surprise was their special presentation in the WAHO Conference room, with the Qatar Museums Authority and Al Shaqab unveiling beautiful individual portrait sculptures of Al Adeed Al Shaqab, Gazal Al Shaqab and Marwan Al Shaqab. Proudly bred and owned by Al Shaqab Stud, these three famous World Champion stallions are all also sires of champions. They have been immortalised in bronze by the gifted American artist, Karen Kasper, who gave a fascinating slide presentation on how she created these 1/5 of life- scale bronzes and is now producing full life-size statues which will in due course grace the grounds at Al Shaqab. The bronzes that were unveiled at the WAHO Conference will go on display at the National Museum of Qatar. Dr. Nagel, WAHO President, accepted the honour of unveiling the bronzes, together with the artist.
| | |
| --- | --- |
| | |
Sharon Meyers asked Karen to comment about her mammoth project. "The commission to sculpt portraits of Al Shaqab's three World Champion Stallions. I feel fortunate to have known Gazal, Marwan, and Al Adeed since their births and, like many others, have followed their careers as show horses and sires with admiration. It was an unforgettable opportunity to spend time with these legendary stallions and to know them intimately from the perspective of an artist. As a living being, each of these magnificent horses is naturally perfect unto himself – unique in physique, movement, character, and energy. Many sessions of life study, over a period of years and in several different countries, were required to capture the essence of these great stallions. My observations were enriched by recognizing particular features I feel certain were passed down through their sire lines because I had previously sculpted several stallions in their ancestry. The resulting portraits recreate the impressions Gazal, Marwan, and Al Adeed have given me of themselves – as they take form in bronze, from life to art. Words do not come easily to someone who expresses herself through artwork, where no words are needed. It is my hope, however, that these bronzes will speak for me as truthful representations of my experiences with the proud and noble World Champion Stallions of Al Shaqab."
Friday 4th November: On this last day of the WAHO General Assembly, many significant subjects were on the agenda, again continuing the theme of ethics and welfare and how best to address the genetic disorders in the breed. Dr. Nagel gave the meeting an update on the Executive Committee's activities for the past 2 years and plans for the future.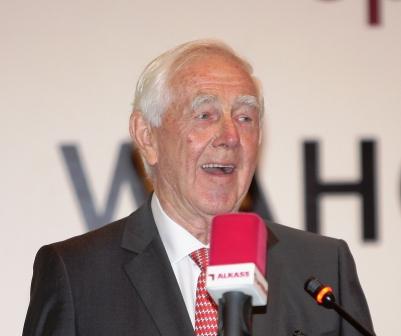 Dr. Hans Nagel
He said that promotion of the breed was very much up to the individual Member countries, according to their cultures and the activities they had available for Arabians. He mentioned the popularity of the WAHO Trophy, awarded annually by each member country to an Arabian they consider to be an outstanding ambassador for the breed. He said that in the future WAHO will be concentrating more on education and on welfare issues, as well as protection of the breed. Included in this speech was a strong recommendation to WAHO's Member Registries to encourage testing for genetic disorders. He also made a strong recommendation to the Registry Members to consider placing a limit on the number of foals per mare per year that can be registered each year. Dr. Nagel said this was being recommended for a number of reasons, including the health and welfare of the mares concerned, although he did acknowledge that there might be legal constraints on some registries who might otherwise wish to place such a limit.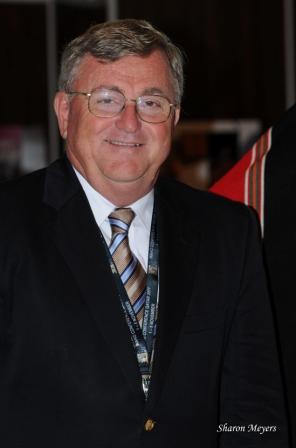 Peter Pond
Peter Pond, WAHO's Vice President, then took the chair to conduct the discussions and voting procedures on updating some of WAHO's mandatory rules on registration, according to a report presented at the meeting. This led to some lively discussion and although not all the decisions had a unanimous affirmative vote, all the proposed changes were passed, as detailed below. This essentially concluded the main business part of the WAHO General Assembly, as the rest of the day was given over to Guest Speakers.
WAHO RULE CHANGES, ADDITIONS AND UPDATES: The most important decisions for updating the WAHO publication 'Requirements for Establishing and Keeping a Studbook' were as follows:
A section of the WAHO Definition in Rule 1 was changed to read: "It is a mandatory WAHO rule that a horse entered in a stud book or register for purebred Arabian horses fully accepted by WAHO must be acceptable as purebred to the Registration Authorities of all WAHO Members and must not be rejected on a pedigree basis, nor on the basis of genetic disorder test results, nor on the basis of phenotype."
A new Rule 20 was added: EXTERNAL FERTILISATION OF OOCYTES FOR EMBRYO TRANSFER
It is a mandatory WAHO rule that any Arabian of any age produced by the post-mortem collection of oocytes must not be registered under any circumstances.
It is a mandatory WAHO rule that any Arabian of any age produced by any method of In Vitro Fertilisation (IVF) must not be registered under any circumstances. Effective from 1st January 2013.
As of January 1, 2014 all exported horses are required to have a legally issued passport. Delegates also confirmed by vote an amendment to existing WAHO rules which now state that the results of genetic disorder tests must not be put on registration certificates or in passports and must not be mentioned in published stud books, whether in print or online. The use of WAHO Semen Collection and Insemination Report forms for Artificial Insemination breedings has been dropped, and the WAHO In Transit Rules have also been dropped. The delegates also voted to make the issuing of retrospective export certificates mandatory, provided certain conditions concerning the re-identification of the subject horse by are met. The delegates also voted to re-confirm Rule 19 on Cloning as it stands, it remains a mandatory WAHO rule that any Arabian of any age produced by cloning and that the foals of any Arabian which was produced by cloning must not be registered under any circumstances. Also re-confirmed by vote was the existing mandatory WAHO rule which prohibits changing the name of a registered horse except under specified conditions which relate to exported horses, when the name in the new country translates as unacceptable for social or religious reasons.
GUEST SPEAKERS, FRIDAY 4th November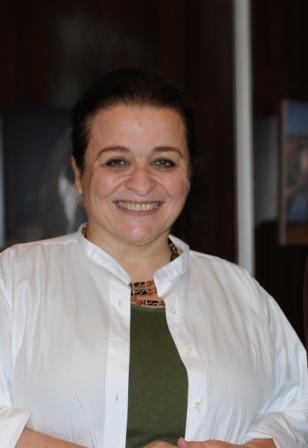 HRH Princess Alia Bint Al Hussein Al Saleh
The first speaker of the day was HRH Princess Alia from Jordan. The full text of this heartfelt talk,
'The Relationship Between Humans and Equines in Today's World'
, which received a well-deserved standing ovation from the audience, is available to read
here (click
to download pdf) and we strongly encourage every Arabian horse enthusiast to read this keynote speech.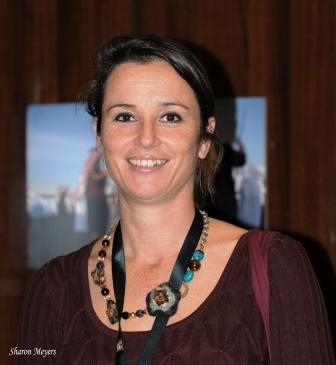 Emma Maxwell 'The Importance of Temperament as Part of Arabian Breed Type'.
Next came Emma Maxwell from the United Kingdom, daughter of the renowned Arabian breeders Pat and Joanna Maxwell. Literally brought up with horses, Emma now does behavioural troubleshooting, working with horses and their owners at home to solve management and handling issues and she is also a very talented equine photographer. Her aim during this talk was, as she put it, "to provide an overview on current thinking about horse temperament, to see how it applies to the Arabian, and whether we can use a more structured way of thinking about horse character as a useful tool in breeding." Emma spoke about how the Arabian was once a war horse, how the breed was raised in Bedouin camps to have bold but kind temperaments. She went on to say, "Part of the legend that has grown around the Arabian is due to his character and historically his admirers have enthused about his outstanding nature, making as much of it as his qualities of beauty and endurance. This abridged quote is from Wilfrid Blunt. 'The single object for which the Kehailan is bred by the Bedouins is service in their wars. The sole practical test is in the raid. What is of at least equal importance with speed, is facility in turning, a light mouth, intelligence and courage. All these qualities are conspicuous in the true Kehailan, and seem inherent in his blood…. The Bedouin camp is a perpetual turmoil of noise: he is bold and cool-headed. From his foalhood the children have crawled among his feet in the tents: he has the temper of a lamb.' Emma commented: "So it would appear that the Arabian has two very different sides to his nature, the courage and the quietness."
Sadly, over recent years there has been a lot of negativity about the breed and Emma stated, "We need to consider the negativity and discern whether it is a real problem or a perception problem and work out whether there is a solution. I think there is a small perception problem because a lot of our visual shorthand for 'type', involves animation and the Arabian is nearly always presented in pictures all snort and flouncing tail." She also made the following observation: "Many breeding choices are made by either large breeders who have little personal contact with every animal in the herd, or by small breeders who use a stallion they found on the Internet." She went on to say, "As the first quote I used explains, the Arabian must be both bold in action and steady back at camp. Some horses are indisputably sweet at home, but as most adult horses need to do rather more that eat, sleep and get out of the way of the wheelbarrow, bedside manner is not the end of the story. A sweet natured horse who falls to bits when asked to do something new in a different environment is not really much of an Arabian and would never have been rated very highly by a Bedouin, a 19th cavalryman or many competitors today. So equally we must assess how a horse responds to a challenging situation. Comparing behaviours in the different situations that a horse is expected to deal with in his domesticated life allows us to build up a picture of character traits and how they vary."
She spoke about a number of studies into equine temperament which have started to create a quantifiable outline of equine character traits, saying: "In the past efforts have been made to record temperament, and many of the most important horses of the last century were bred by large breeding establishments, who kept good records. The annals of Tersk or of Poland included written assessments of temperament features and one can almost trace present characteristics to past ancestors. Written reports are very helpful when written dispassionately, but this kind of overview has only ever been available from the big state run studs. The market potential for a popular stallion in an age of transported semen has meant that contemporary temperament assessments written by private breeders tend to be airbrushed public relations exercises. It is hard for a breeder today to get quality information about the actual temperament of a horse he does not own."
Emma then discussed the following traits in horses: dominance, anxiety, excitability, protection attitude, sociability and sensitivity, plus much more. Talking about dominance Emma said, "Horses who are constantly obsessed by trying to get the better of you and any other horses are extremely tiresome and frequently end up in a physical confrontation…. While dominance is linked to performance it is not necessarily the case that every very dominant horse is talented. I am very suspicious of line breeding to famously strongly dominant horses because I think you end up with horses that are not just egotistical but so antagonistic that they are impossible to get any type of performance from."
Emma also explained that breeders needed to think carefully about these traits, especially the differences between excitability and anxiety, saying: "Every horse has a comfort zone in which he is most at ease and this zone can be expanded by training in small steps, so that over time the rather nervous horse can achieve an awful lot in a relationship with someone he trusts. It is rewarding to the trainer to coax results from an anxious horse, but I found the satisfied glow wore off rapidly when we bred such horses to one another. The row of anxious little offspring, who all needed the same enormous amount of input to get results from, seemed a foolish way to proceed. I would always aim to breed an anxious horse to a secure horse. Conversely you can make the horse more insecure by asking him to learn more than he is ready, or by an inconsistent response to his behaviour which raise his stress levels. I have major reservations about the American system of halter posing because of the extreme level of tension it requires in a horse that is merely standing still. This tension can be most easily achieved by raising his levels of anxiety. Raising a horse's level of anxiety is not a safe thing do to do – it is the opposite of all other forms of horse training because it brings the fight or flight response nearer to the surface. Some recent experiences have also made me wonder if the extreme level of tension required while posing up is causing more inherently anxious horses to be actually be selected for, because they are the ones which can do it. I find that concerning. Extremely anxious horses appear to be the most prone to repetitive behaviours – weaving, fence walking and self mutilation, although stereotypic behaviour probably deserves a category of its own. These behaviours interfere with a horse trainability and should be considered worth breeding away from, or not from at all. Stress is also a causal factor for both laminitis and colic, making anxiety probably my least desirable trait in a horse."
She went on to say: "Anxious and excitable horses are far quicker to reach the flight / fight response. While panic is a normal horse response in evolutionary terms, in the domesticated horse it is a pretty undesirable feature and horses that tense up, glaze over and thunder off, literally at the drop of a hat, come very low on my wanted list. Breeders need to think carefully about the difference between the two traits of excitability and anxiety. Breeding for presence can lead breeders to always favouring excitable horses whether they are of the secure or insecure variety and this, I think, is a mistake. A tense horse may look, at first glance, like a horse with real presence, but it is not a particularly safe or useful horse and would not have had any place as a nomad's horse. Tension is not charisma and the sooner we learn the difference, the better".
Food for thought was the role of the herd having positive repercussions for handling, whereas a solitary lifestyle in a horse's formative years can negatively affect a horse's trainability. Emma ended her talk with the following comment. "Any experience of successive generations of horse breeding will bring you to the conclusion that temperament is heritable, although in the same way as other desired characteristics such as speed or beauty. It is too complex to provide a failsafe formula. However there are breeding practices that followed over time will statistically result in you producing a better foal crop. Being aware of the character traits that a horse can vary in and breeding wisely to avoid extremes seems to be a worthy goal for the good of the Arabian and his future owners and riders."
WAHO thanks Emma Maxwell and Arabian Horse World magazine for allowing us to reproduce the following illustrated text version of Emma's talk, now available to read here (click to download pdf).
QATAR'S WILDLIFE AND NATURAL HISTORY
| | |
| --- | --- |
| Mark Strickson: Life in the Sand | Frances Gillespie: The Wildlife of Qatar |
It was not just horses that featured in the Guest Speaker presentations. Before lunch we also enjoyed video and slideshows about the animals and natural history of Qatar. During the video and slide presentations by Mark Strickson and Frances Gillespie, we learned that Qatar is made up of dry, gravel-strewn plains, coastal flats with immense sand dunes around the Inland Sea and can be unbearably hot in the summer months, sometimes reaching 50 degrees Celsius. Very little surface water is available and is usually only found for a short time after rainfall, when the desert springs to life. When you consider how harsh Qatar's climate is, it really is surprising how many animals and birds live there. In fact it has become an important staging post for migratory birds.
We were charmed by film footage of the Lesser Jerboa, a tiny rodent with semi-transparent ears, long tufted tail and ability to make metre-long leaps – reminiscent of a miniature version of the Australian kangaroo! Qatar has snakes and lizards, including a cute Sand Skink that lives on the inhospitable sand dunes, moving like lightning when threatened and disappearing in the blink of an eye back under the sand. A lovely piece of footage was of the rare Rueppell's Sand Fox, a nocturnal creature that lives in the far south of the country in the sand dunes.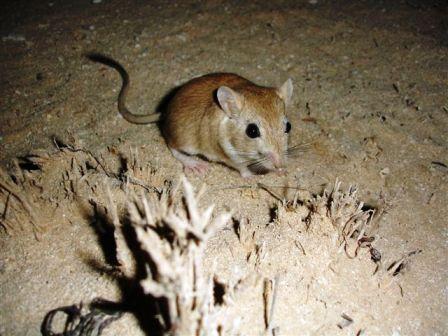 Other creatures found in Qatar are the Cape Hare with its huge ears which act as a cooling system, and tiny rodents such as Sanduvall's Jird and and Cheesman's Gerbil which provide food for the predators such as owls, foxes, snakes and some of the lizards. Of the much larger mammals it was interesting to hear that in recent years the graceful Sand Gazelle, locally known as Reem, has been re-introduced in managed herds. It was also pleasing to know that the delightful Arabian Oryx, Qatar's national animal, is also being preserved and carefully returned to the wild.
For anyone interested in seeing more, clips from several films can be found at this website: www.rockwallabyproductions.com/qatar.html and there are many articles and photos at the website of the Qatar Natural History Group: www.qnhg.org.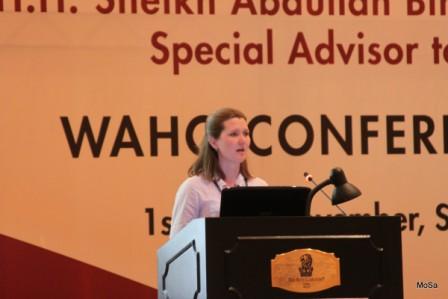 Dr. Samantha Brooks: 'Multipurpose Genes: Tips and Tools for Breeders'
After lunch Dr Brooks of Cornell University in America presented the third of the genetic-themed talks, as well as referencing two new research projects on laminitis and on the population structure and ancestry of the Arabian horse. She spoke about how important the horse genome sequence has been to research and explained that scientists now have the ability to examine most of the genome in close detail. She said that the genome sequence had also enabled the design of the EquineSNP50 genotyping chip, a set of genetic markers scientists can now use to study traits of interest. She said the research on Lavender Foal Syndrome (LFS), in which she was closely involved, which resulted in the identification of the responsible gene and a new test, was scientifically remarkable on two points: "It was the first use of the EquineSNP50 to discover a new allele in the horse, and two – the study used a very small number of horses, just 36 individuals."
Dr. Brooks also referred to the complexity of multi-purpose genes and the importance of understanding how genes work, in particular when considering how to address the problem of genetic disorders. "At the completion of the human genome project we were surprised to learn that a core set of only 20,000 genes could produce the hundreds of thousands of proteins and functions necessary for life. This is accomplished through a remarkably efficient system of using the same gene in different ways at different times or locations. Of the 12 or so positive traits with a currently known genetic cause in the horse, 5 have a second undesirable phenotype attributed to the same allele. This is due to the unexpected consequences to secondary functions of these genes. In the end, keen breeders must keep the secondary effects in mind if they want to select for the positive traits, without encountering unwanted consequences for the health, wellbeing and economic value of their animals.
"As my first example of these "multipurpose" genes I'd like to highlight MC1R, the gene responsible for chestnut coat colour in the horse. MC1R acts as a switch, turning on and off the production of black pigment. In the chestnut allele, a mutation has damaged the function of this switch, preventing the production of black pigment, and revealing only the remaining red pigment in the hair coat. However, MC1R, has an important second function in perception of pain by the central nervous system. Research conducted on people with red hair, a trait caused by the same gene as chestnut in the horse, has shown that redheads perceive painful stimuli more intensely and receive less relief from some specific classes of pain relieving drugs. This effect may also be present in the chestnut horse, although we have not yet had the opportunity to document it scientifically. Horseman's wisdom however, has long attributed a flighty and excitable nature to the chestnut mare and perhaps we can blame this on the biology of her MC1R allele."
Dr. Brooks also referred to the fact that the STX17 gene which produces the attractive grey coat colour in horses and is extremely common in the Arabian breed, also has dual consequences, as it is the same gene which unfortunately can also lead to the development of benign melanoma in the skin. She went on to explain: "If we examine alleles known to cause genetic disorders in the horse we can quickly detect a pattern. Many of these genes are important for the skin and muscle, two key systems in an athletic animal. Some of these alleles are hypothesized to have some hidden benefit to the horse."
Currently Dr Brooks, Dr Doug Antczak and Dr Jason Mezey are organising a new project. Dr Brooks said, "Following the success of this team on the LFS work, we have begun to lay the ground work for a project dedicated to the Arabian horse. In a grant to the Qatar National Research Fund that is in progress, we aim to establish genetic testing capabilities in Qatar through collaboration with our colleagues at the Weill Cornell Medical College here in Education City, Doha. This work will also seek to map the genetic impact on complex traits, most notably equine metabolic syndrome, susceptibility to sarcoid tumours and athletic performance. These traits are not only of importance to the horse, but also key biomedical models for conditions in man like diabetes. Finally, in keeping with the long-standing tradition of pedigree keeping in the Arabian horse, we hope to document the genetic ancestry of this important breed."
Dr. Brooks also mentioned a research project she is involved with on equine body size, saying: "We are primarily interested in skeletal traits in the horse from two angles: its impact on performance and as a biomedical model. Skeletal conformation is a very complex trait influenced by many genes and environmental components." She also spoke about her latest project on the debilitating and often fatal hoof condition called laminitis. "In preliminary work funded by through the generosity of the Arabian Horse Foundation, as well as the Animal Health Foundation, we have already generated preliminary data on the genetics of obesity and laminitis in the Arabian. We chose the Arabian breed as a target because of its hardy nature and importance in the development of many modern breeds of horse. Sample collection is challenging, as we must make significant efforts. Analysis is ongoing but initial results are promising. With continued effort, and funding, I am optimistic that we can gain a better understanding of this frustrating condition."
Dr. Brooks rounded off her talk with the following thoughts: "In conclusion, I like to highlight how these technologies will help our horses. While most of us are familiar with the traditional use of genetic tests to select or eliminate simple traits in breeding stock, I think the future of genetic research may lie in two new areas; first, the use of a genetic profile to predict disease while it is still preventable, and second, the targeting of therapeutic treatments to biological pathways identified through gene mapping. Of course in the end scientists only create the tools, it is up to the owner and breeder to choose how to use them. Hopefully I have provided you with useful information on recent advances in the horse genome project, the concept of multipurpose genes, and our hopes for the future in the Cornell Arabian Horse Project."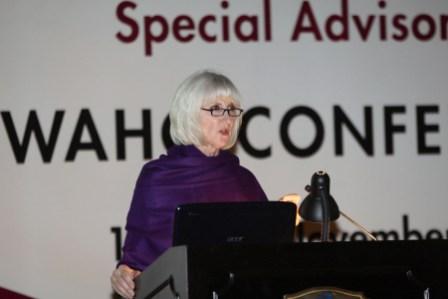 Cynthia Culbertson, The Arabian Horse in Islamic and Orientalist Art.
On a much lighter topic, another wonderful and lavishly illustrated presentation was given by the American historian Cynthia Culbertson, who explained, "The archetype of the Arabian horse first appears 3,500 years ago in Ancient Egypt and, incidentally, art is our reference as to its existence." The slideshow which illustrated Cynthia's talk, including some images never before seen in public, gave examples of early artwork of horses clearly identifiable with Arabian type, including rock art carved thousands of years ago. The primary emphasis of her lecture, however, was the Arabian horse in Islamic art. Cynthia explained, "…Islam spread to an area greater than that of the Roman Empire in a period of under 100 years, and Arabian horses had an essential role in this expansion. Light cavalry was the primary force of the Muslim armies, and the Arabian horse, with its stamina and maneuverability, was essential to their military victories. Islamic art therefore reflects the high esteem accorded these noble horses." Not only did we learn more about the expansion of Islam but also the importance of the horse in the ceramics, metalwork, textiles, glasswork, and paintings of many Islamic dynasties. Images of Islamic art pieces from Egypt, Syria, Iran, India, Spain, Turkey, and several other countries were shown as examples.
We were also shown images from veterinary and horsemanship manuals, including depictions of the horse in the arts of war. Cynthia reminded us that, "The Mamluks had some of best light cavalry ever known, and in archery their rate of fire was the highest in the medieval world. It was the Mamluks who finally halted the Mongol invasion of the Islamic world and stopped its westward progress. Some historians believe that Arabian horses helped ensure this victory. Although the Mongols were superb horsemen, they each had a string of five or six horses and changed them frequently. The Mamluks, under Sultan Baybars, however, were each mounted on a single horse, usually an Arabian or of high percentage Arabian blood, and the stamina of these horses allowed them to continue through the battle, while the Mongols simply ran out of 'horse power'. It must have been an amazing sight in the year 1260 in Palestine when it was said the Mongols dismounted and bowed down before the Mamluk victors."
As we travelled through time viewing Cynthia's glorious examples of Islamic and Orientalist artwork depicting the breed, it was apparent artists have been enchanted by the Arabian's beauty, utility and unique camaraderie with their masters for thousands of years.
Mr. Fernando Saenz, Chile. One of the Delegates from Chile, long-time breeder and owner Fernando Saenz, also stepped up to the lectern.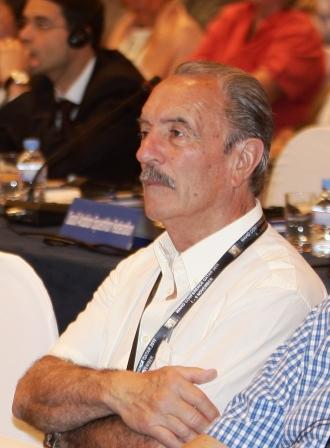 Fernando Saenz
He requested co-operation and assistance into highlighting and progressing research into the debilitating and often fatal condition know in the west as Grass Sickness and in South America as Mal de Seco, which has had devastating consequences for owners and breeders in his country. This disease is also well known in the United Kingdom where the main research centre is in Scotland. More information can be found at this website:
www.equinegrasssickness.co.uk
If anyone reading this article can offer any assistance, please contact the WAHO Office and we will put you in touch with Mr. Saenz in Chile.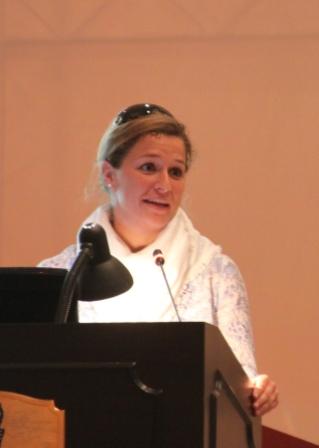 Dr. Christiana Hebel: Conservation of desert animals and the work of the Al Wabra Wildlife Preservation
Veterinarian Dr. Hebel gave a fascinating talk about the breeding programme for rare species
at Al Wabra Wildlife Preservation, owned by HE Sheikh Saoud Bin Mohammed Bin Ali Thani.


A group of Arabian Goitered Gazelles at Al Wabra Wildife Preservation
Many of the WAHO conference guests were lucky to visit this amazing facility during their stay in Qatar, to see first-hand the wonderful creatures being helped back from the brink of extinction. Founded as a hobby farm by his father, Sheikh Saoud is transforming the Al Wabra farm into a state-of-the art breeding and research centre housing endangered animals and birds from more than 100 different countries. Traditionally antelopes and gazelles have been kept here and remain a speciality with 17 different species, some of them critically endangered. There are also many other animals, such as the Nubian Ibex, Laristan Mouflon and the extremely rare Somali Wild Ass, all of which are being bred successfully.

The critically endangered Dama Gazelle

Speke's Gazelle,
also endangered

The Somali Wild Ass, the world's rarest equine
More recently Northeast African Cheetahs and Arabian Sand Cats have been added to the mammals, while in the bird section the Spix's Macaw, almost certainly extinct in the wild, as well as varieties of Birds of Paradise are amongst those being bred at the farm. Al Wabra Wildlife Preservation is also closely involved in international breeding programs for several critically endangered species. For more information, please visit the comprehensive website: http://awwp.alwabra.com
As the afternoon program drew to a close, the general consensus was that the WAHO Conference had been a great success as well as very productive.
GALA DINNER, 4th November: The QREC hosted a lavish and most enjoyable Gala Dinner at The Diplomatic Club, as a fitting conclusion to the central programme of the Conference, although the 4-day programme "Pride of Qatar Days" still lay ahead for those who could stay on in Qatar.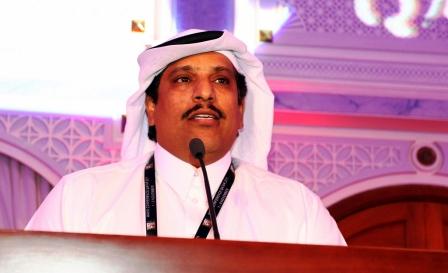 QREC's General Director, Sami Jassim Al Boenain, made a delightful speech to round off the Conference, giving everyone a glimpse into the Club's history and his own background, which earned him a very well deserved round of applause. "I just want to tell you a little bit about the Club. I grew up just down the road from here and started riding when I was 12. Of course things were much simpler then. We had a racetrack and good facilities, but not of the scale that have been built recently. One of the special things about what I call the 'horse people community' in Qatar is that it is so varied. From the very top to the very bottom. I was of course not the only teenager at the Club in those days, there were many more and several became my colleagues here at the Club later on, when a teenage hobby turned into a profession. Of course back then we were jockeys and show-jumpers, endurance riders and so on. And that is what I am trying to tell you. Horses are for everybody here in Qatar. His Highness the Emir, who was a frequent visitor to the Club when he was Crown Prince, brought his children here to learn to ride. Everyone else could do that too. The Racing and Equestrian Club has expanded much over the years and, as you can all see, so have I. Our lives are intertwined. I am very proud of what we have achieved, and I have been very lucky indeed to have been able to meet so many wonderful people, whose lives revolve around Arabian horses too. It is therefore a real pleasure to be able to entertain all of you here in Qatar. Thank you all very much for visiting us. I hope that you have enjoyed last week and trust you will all enjoy the week to come. For the future, come and visit us again and for now, let's eat."
SPECIAL EVENTS, STUD FARM VISITS, AND THE PRIDE OF QATAR DAYS
AN EVENING OF ARABIAN RACING, 2nd November
WAHO is very fortunate in that our hosts always go to great lengths to provide social events that combine pleasure with learning about their Arabian horse activities. This year was no exception, and after the first day's General Assembly session concluded, all the participants looked forward to a sporting evening, hosted by the QREC at their outstanding facilities at Al Rayyan Park. Established in 1975 on the outskirts of Doha, this modern racecourse and training complex is very much state-of-the-art, with both turf and sand tracks overlooked by an imposing modern grand-stand. Two race meetings with 5 to 7 races on the card are held weekly throughout the winter months, with races for both Arabians and Thoroughbreds. Arabian racing has always been a popular activity in Qatar and is extremely competitive with excellent prize money on offer, and many races specifically for Arabians bred locally in Qatar. This particular race-meeting was one of the earliest in their 2011/2012 season, with five races for Arabian horses on the card, run under giant arc-lights that seemed to turn night into day. A gigantic TV screen on the far side of the racecourse, just opposite the grand-stand and parade ring, allowed the race-goers to observe every moment of each race with ease. Throughout the evening, the WAHO guests were free to move around all the VIP areas of the grandstand where there was abundant seating, and several appetising hot buffets were laid out to choose from. As always, the hospitality and generosity of our QREC hosts was outstanding.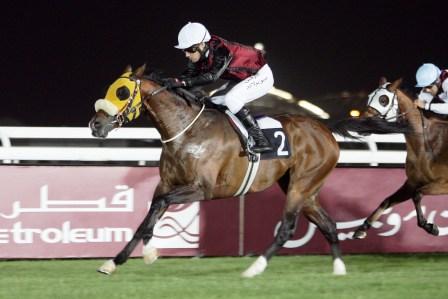 The first race was the Pure Arabian Maiden Plate over 1400 metres on the grass track. This was won in good style by Magik D'Or (FR) (Magic De Piboul/Kamana) for his owner Mr Mohammed Nasser Al Ramzani, steered to victory by jockey Marvin Suerland. The American-bred mare Rich Mistress (TH Richie/Ammante) was 2nd.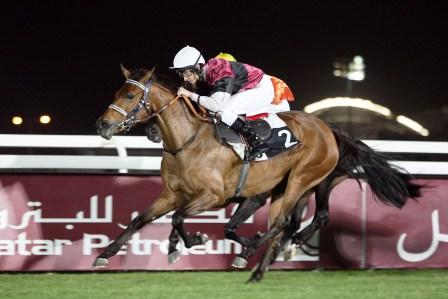 The Local-Bred Pure Arabian Handicap for horses rated 35-60 was run over the same course and distance, providing a great race between the mare Marbat Al Faras (Hafid Du Bac/Redjila) and Al Monahidh (Al Mudaffar/Sabouq). After a close contest the former, with Daren Williams in the saddle, prevailed for her owner Sheikha Mariam Bint Mishal Bin Hamad Al Thani and trainer Georges Mikhailides.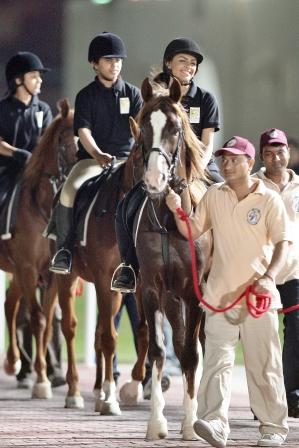 There followed a short demonstration by young riders from the QREC riding school. Their beautifully turned out horses, nearly all of them retired Arabian racehorses, were very well mannered even though most had not seen a parade ring since their racing days and some of them showed signs of remembering where they were. As a safety precaution and due to the young age and inexperience of some of the children, all the horses were led by QREC instructors and grooms.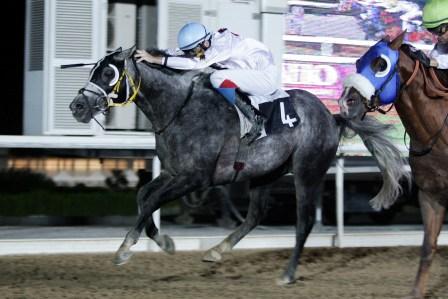 Jelmud (GB) (Amer/Dermech) bred by Umm Qarn Farm and owned by Al Wasmiyah Farm, won the third race in an exciting close finish in the Pure Arabian Handicap for horses rated 50-80, run on the sand track over 1200 metres. Jockey Gerard Avranche gave a power packed ride on the Jassim Al Ghazali trainee, while staving off the spirited challenge of Al Shahania Stud's Harran ASF (GB) (Burning Sand/Aziza d'Aroco).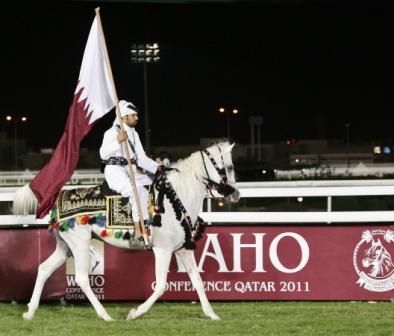 A short demonstration by a small team from the Qatar National Mounted Guard followed, with their Arabian horses in beautiful authentic bridles and saddles and the leading rider proudly carrying the Qatari flag. They split into two sections and trotted and cantered in a circle, then grouped together to make their final display to the strains of Nice to Meet You by Yanni. The parade culminated with the lead rider trotting them up the racetrack and then back in front of the grandstand in a canter. The horses were loving it with their tails carried high and one of them, a delightful grey perhaps remembering past exploits on this very racecourse, went flashing past rather faster than perhaps the rider had intended!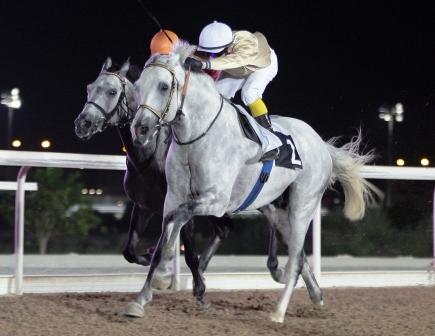 In the Local-Bred Pure Arabian Stakes run on the sand track over 1700 metres, trainer Yousef Bentaher sent out the experienced 8 year-old Arkan Al Naif (Amer/Midjan), owned and bred by Sheikh Nasser Bin Abdullah Bin Nasser Al Thani, to score an exciting victory by just half a length from the 5 year-old Al Nashat (Al Mudaffar/Histoire De Faust), owned by Sheikha Rowdha Bint Mishal Al Thani.
The evening's thrilling finale was the WAHO Cup run over 1600 metres on the emerald green grass track, with a tempting purse of QR 80,000 (approx. euros 16,000) attracting a high class field including several Group winners.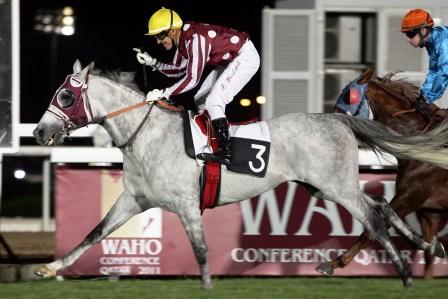 After a close-run race, the winner was Damis (GB) (Amer/Kachia), bred and owned by Umm Qarn, trained by Alban de Mieulle and ridden by David Bouland. Damis sped away from the rest of the pack in the final furlong to overhaul Nil Blanc (FR) (Orient Express/Trabadja) owned and trained by Dhaffi Al Ardi Al Marri, ridden by David Badel, and claim victory. Third was Umm Qarn's Jusoor (GB (Amer/Dermech).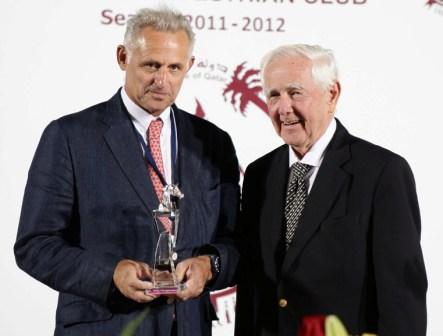 Speaking later, trainer Alban De Mieulle expressed happiness over Damis' performance: "This was an amazing performance by Damis. He was making a comeback after nearly two years and I least expected him to win. But he put in a dazzling display to win here."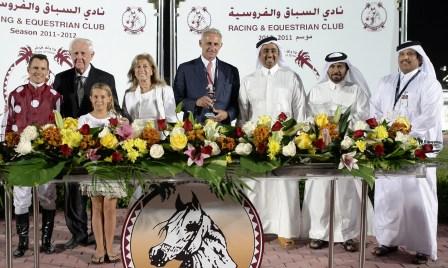 Dr. Hans Nagel presented the WAHO Cup to the winning connections.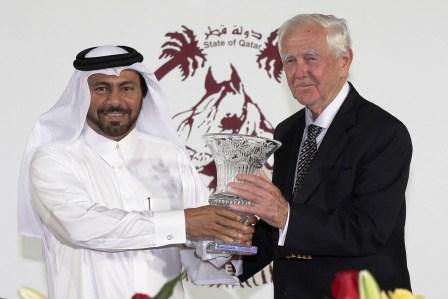 WAHO Cup presentation by Hans Nagel to Saad Mubarak Al Hajri, manager of QREC Media Dept on behalf of the owner.
VISIT TO AL SHAQAB STUD, 3rd November
After Karen Kasper's presentation, everyone boarded buses to travel to Al Shaqab itself, founded in 1992 by HH Sheikh Hamad Bin Khalifa Al Thani, Emir of the State of Qatar. In fact this stud is on the site of the famous Battle of Al Shaqab referred to by Judith Forbis in her talk the day before. We were shown round the extensive equestrian facility, recently re-designed and modernised, which now encompasses a riding academy, Qatar's National Endurance Team's stables and training centre, veterinary facilities and of course its core activity, the Arabian horse breeding and showing section. Al Shaqab, now a Member of the Qatar Foundation, is not just a stud farm. It is an educational resource and a community facility and their mission is to become global leaders in preserving, improving and promoting the Arabian horse breed and maintaining accessibility to the community while setting the highest standard in breeding, showing, equestrian arts and equine welfare. The highlight of our visit was the well-planned parade of their best horses, presented in family groups including some delightful young foals. These groups represented some of their most important foundation broodmares, giving us the chance to see several generations of the Al Shaqab breeding programme.
| | |
| --- | --- |
| Mr. Mohammed Al Sulaiti | |
After the welcome speech by Mr. Mohammed Al Sulaiti, Manager of the Breeding & Show Department, and a sword-wielding rider in traditional dress riding around the arena, the main presentation started with the family of Kajora (Kaborr/Edjora), which now extends to four generations at the stud. Bred by Tom Chauncey Arabians in USA in 1979, and herself a former US National Champion mare, Kajora was imported in 1994 and is probably most famous as the dam of World Champion stallion Gazal Al Shaqab (born 1995, by Anaza El Farid). Now sadly deceased, Kajora certainly left a lasting legacy not just in Qatar, but worldwide.
| | |
| --- | --- |
| Hathfa Al Shaqab | Shama Al Shaqab |
The first of her daughters to enter the arena was the elegant bay Hathfa Al Shaqab by Al Adeed Al Shaqab, a successful show and breeding mare herself and full sister of the impressive stallion Mundher Al Shaqab. The family group that followed included Kajora's granddaughters Shama Al Shaqab (Ashhal Al Rayyan/Negma Al Shaqab by Safir), and the full sisters Hayam Al Shaqab and Helwa Al Shaqab (Marwan Al Shaqab/Hathfa Al Shaqab).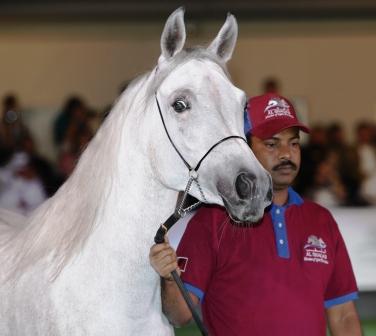 Randa Al Shaqab
There was also her great-granddaughter, Randa Al Shaqab (Al Adeed Al Shaqab/Shama Al Shaqab) and great-grandson Shaker Al Shaqab (Marwan Al Shaqab/Shama Al Shaqab), all of them enchanting the spectators.
Next to be presented was the family of Little Liza Fame (Fame VF/Katahza) bred by Horseshoe Lake Farms. Imported from the USA in 1993, she is of course renowned as the dam of World Champion stallion Marwan Al Shaqab (by Gazal Al Shaqab).
Her family group included Marwan Al Shaqab's two full sisters, the bay mares Rahaf Al Shaqab and Marwa Al Shaqab, as well as Little Liza Fame's chestnut daughter Noor Al Shaqab by Al Adeed Al Shaqab and her bay daughter Cleopatra Al Shaqab by WN Star of Antigua. The second generation was represented by the maternal half-sisters Uhood Al Shaqab by Marwan Al Shaqab and Najla Al Shaqab by El Perfecto, both out of Noor Al Shaqab.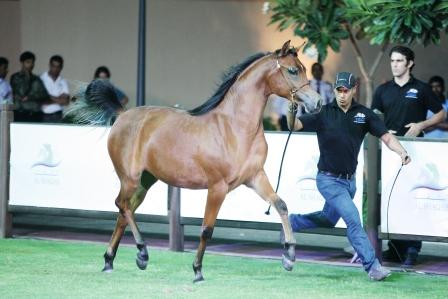 Najla Al Shaqab
Next came the typey and athletic family of the Tersk bred mare Malvina (Balaton/Mirnaia), who looked a lot younger than her 20 years as she powered round the arena.
Imported as a yearling in 1992, she has founded a family of many champions. She was represented first of all by her lovely grey daughter Shahirat Al Shaqab by Al Adeed Al Shaqab. This mare's own three daughters came next, Thorayah Al Shaqab by Ashhal Al Rayyan, Rasha Al Shaqab by Zeer Al Rayyan and Sharifa Al Shaqab by WN Star of Antigua. Malvina's daughter Batalah Al Shaqab by Marwan Al Shaqab followed, accompanied by a delightful filly by Nader Al Shaqab.
The next two families, from Al Shaqab's straight Egyptian program, were all very closely related. A delightful group was presented descending from the outstanding mare Imprialimpharidah (Ansata Imperial/Imperial Phanadah), bred by the Imperial Arabian Stud in USA and imported in 1993.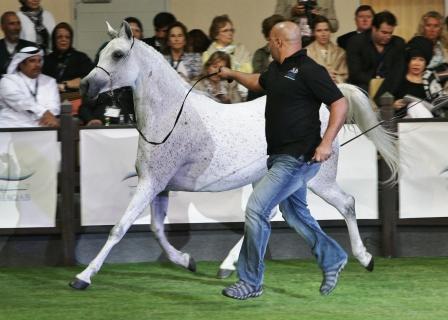 Shorouk Al Shaqab
This group all descended from her outstanding 1995 daughter, Alia Al Shaqab by Ansata Halim Shah. The first mare in was Shorouk Al Shaqab (Ashhal Al Rayyan x Aliah Al Shaqab) followed by Lamia Al Shaqab (Ansata Hejazi x Aliah Al Shaqab), and Wadhha Al Shaqab (Ansata Selman x Shorouk Al Shaqab). The bay yearlings, the colt Lebinon Al Shaqab (Alidaar x Lamiaa Al Shaqab) and the filly Shafalahia Al Shaqab (Al Adeed Al Shaqab x Shorouk Al Shaqab) rounded off this group.
Then came the group founded by the 1994 World Champion mare Imperial Phanilah, full sister of Imprialimpharidah and also imported from USA in 1993. They included her grey daughter Amirat Al Shaqab and chestnut daughter Al Wajbah Al Shaqab, both by Al Adeed Al Shaqab, as well as the full sisters Bint Amirat Al Shaqab and Shalha Al Shaqab (Ansata Selman/Amirat Al Shaqab), along with Maymoon Al Shaqab, their paternal half brother by Ashhal Al Rayaan.
The next generation was represented by the good-moving grey filly Rashida Al Shaqab (Ashhal Al Rayyan/Bint Amirat Al Shaqab) and the chestnut mare, Bint Amirat Al Shaqab by Ansata Selman.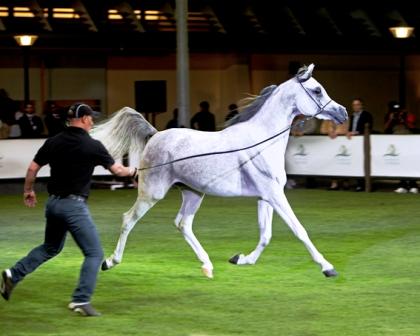 Rashida Al Shaqab
The following group was the straight Egyptian family of Johara Al Shaqab (Imperial Mahzeer/Sahaba) represented by her daughters Amwaj Al Shaqab by Safir, Wahayeb Al Shaqab by Ansata Selman, Yasmin Al Shaqab by Al Adeed Al Shaqab and her full brother, the outstanding young stallion Farhoud Al Shaqab. The next generation was represented by full sisters Wijdan Al Shaqab and Amina Al Shaqab (Al Adeed Al Shaqab/Amwaj Al Shaqab).
The last group was the family of Meseda Al Shaqab (Imperial Mahzeer/Baheyat AlBadeia) through her three enchanting daughters, Noof Al Shaqab, Laian Al Shaqab and Salma Al Shaqab, all by Al Adeed Al Shaqab. The final highlight was the presentation of the promising young stallions Nader Al Shaqab (WN Star of Antigua/Aliaa Al Shaqab by Besson Carol), some of whose foals had joined their mothers for the parade, and Amir Al Shaqab (Gazal Al Shaqab/Amira Madrona by Parys El Jamaal).
Afterwards, we walked from the horse parade area to the vast building which houses the indoor equine swimming pool, where a delicious dinner was awaiting us. On our way we were entranced by a traditional Bedouin tent complete with warming fire, fresh Arabic coffee, and hunting falcons of various different species. Everyone was pleasantly surprised after dinner, when presented on departure with a beautiful cased limited edition book prepared specially for the occasion, entitled 'The World Champion Stallions Bred by Al Shaqab'. All in all it was a most memorable evening.
THE PRIDE OF QATAR DAYS
After the Conference, nearly everyone stayed on for five very special extra days, visiting many of Qatar's premier Arabian studfarms where we were royally entertained. We were fortunate to see the majority of their best breeding horses plus many youngsters and, of course, the Arabian racehorses for which Qatar's breeders are justly famous. A huge thank you must go to the farms' owners and staff for their friendly and generous hospitality. Many people commented on how the horses themselves patiently allowed over a hundred visitors to pat and admire them in their stables – another testimony to the breed's incredible temperament.
Saturday 5th November: The busy day began with a visit to the centre of the country to see Qatar's national animal at the Arabian Oryx Breeding Centre. Initially began as a hobby by the late Sheikh Jassim Bin Hamad Al-Thani, the centre is now run by the Department of Wildlife Conservation of the Ministry of the Environment.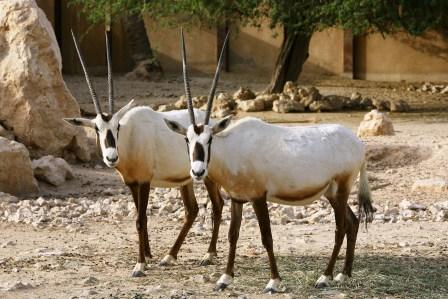 Arabian Oryx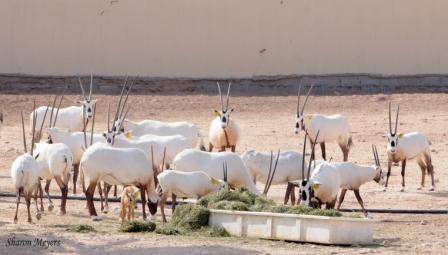 Arabian Oryx
It was fascinating to see these near-mythical creatures first-hand as they have been extinct in the wild since 1970. With their almost iridescent white coats and characteristic long straight horns, they are among the most beautiful of the antelope family and perhaps even the origin of the unicorn legend, because when viewed in profile, the two long straight horns appear to merge into one. The Arabian Oryx is Qatar's national animal and is the symbol of Qatar Airways, one of the supporters of the WAHO Conference 2011.
We then drove on to HE Sheikh Faisal Bin Qasim Bin Faisal Al Thani's nearby Al Samariyah Farm.
| | |
| --- | --- |
| E Sheikh Faisal Bin Qasim Bin Faisal Al Thani | HE Sheikh Hamad Bin Qasim bin Faisal Al Thani with his stallion, Al Dhaby Al Shaqab |
Here we were presented with an excellent group of Arabians exhibited under saddle and in-hand from both Al Samariyah Stud and from Al Gharafa Stud, the latter is owned by Sheikh Faisal's brother HE Sheikh Hamad Bin Qasim Bin Faisal Al Thani. Many of their horses have competed successfully in endurance, racing and at shows both in-hand and under saddle.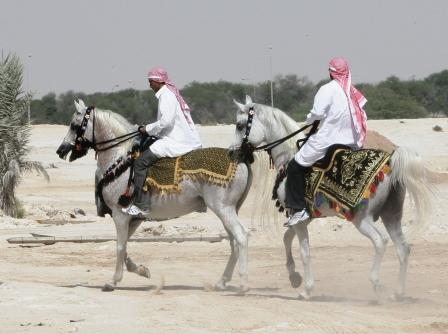 CR Ibn Berlin and Fakhr Al Shaqab
Two fleabitten grey stallions beautifully outfitted in traditional saddlery greeted us: Fahkr Al Shaqab (Pomazok/Starmyst), an ex-racehorse who is now competitive in endurance and the retired endurance stallion, CR Ibn Berlin (BPS Berlin/MC Natalie Jabask).
| | |
| --- | --- |
| RW Thumbelina | Djelfa De Faust and Nuits Du Monteil |
We thoroughly enjoyed the display by children from the riding school that is based here, which included the charming little 19 year old purebred Arabian mare, RW Thumbelina (Bataann/NF Falara) ridden by Elizabeth Laffont. RW Thumbelina is a surviving twin, hence her small size, and is in fact a former Qatar National Ridden Champion Mare when she was still owned by her original importers, Al Shahania Stud. We also really enjoyed the parade of the horses from both farms, which included horses under saddle, and the much admired stallions Ohio (GB) (Ras Al Jadi/AZ Enigma) and Judals Oasis (GB) (Qamar El Dine/TFA Mira), both of whom have had showring success in their native United Kingdom.
Al Gharafa stud's gorgeous grey matriarch, Naama Al Shaqab (Sabiell/Biriusa) impressed with her beauty, queenly carriage and huge ground-covering stride. She has been succesful under saddle both in the Middle East and in Britain. We saw several of her exceptional descendants including her athletic chestnut colt Al Dhaby Al Shaqab by Adnan Al Shaqab, and her lovely 4 year old grand-daughter Eftikhar Al Itihad (Ashhal Al Rayyan/Entesar Al Shaqab by Gazal Al Shaqab). Other mares to attract attention were the elegant grey Ajbah Al Rayyan (Ashhal Al Rayyan/RN Ajeeba) who is in foal to Shagran Al Nasser, the powerful American bred bay Jabask Magenta (BruBet Seradro/MC Madchens Jabask) and also the charming Polish beauty Elmina (Harbin/Elzunia) who we were to see again under saddle later in the week.
| | |
| --- | --- |
| Ajbah Al Rayyan | Jabask Magenta |
After a truly sumptuous lunch which included traditional local delicacies, we visited the remarkable and eclectic Sheikh Faisal Bin Qassim Al Thani Museum at the personal invitation of the owner, who clearly loves the history of his region as much as he does his Arabian horses. Artefacts, weapons, manuscripts, books, coins, saddlery, fossils, cars, artwork and much more enthralled us – all displayed in the many galleries of a purpose-built building designed to look like a traditional fortress.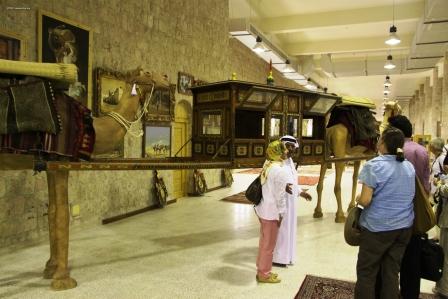 At every twist and turn we discovered another amazing exhibit and the Sheikh himself took a small
group on a personal tour, explaining some of the stories behind his acquisition of the exhibits.
It would have been easy to spend all day there but we soon had to move on to our next adventure – camel racing, which is one of the most popular sports in the Middle East, and Qatar is no exception. As we neared the impressive giant oval camel racetrack, we saw hundreds of racing camels out on exercise, in long 'camel trains' padding along at walk. It seems that an older camel is used as a kind of nanny, with her rider leading one or more younger and much smaller ones alongside.
What a surreal experience it was, during the two races put on specially for our entertainment – which were over long distances of several kilometres – as we followed the galloping camels in a speeding convoy of large WAHO Conference buses, while a group of 4-wheel-drives with their owners and trainers operating the 'robot jockeys' hurtled along the opposite side of the track.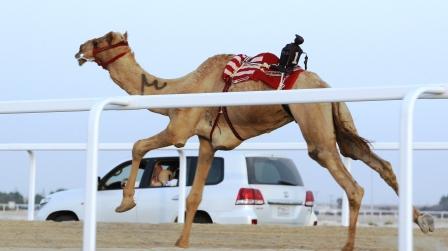 It is not hard to imagine that the camels were equally astounded with their unusual audience!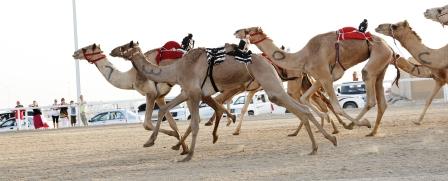 | | |
| --- | --- |
| At the winning post | After the race |
Unfortunately the planned visit to a large camel farm at the kind invitation of HE Sheikh Hamad Bin Qasim Bin Faisal Al Thani, who had also arranged the camel races for us, was curtailed by the fading light, but nevertheless we did manage to catch a glimpse of some gorgeous baby camels before night fell.
Sunday 6th November: This day was the religious festival of Eidh Al-Adha, a very important day in the Islamic calendar and a public holiday. So many people signed up for the two-hour Dhow Cruise that three large boats were needed. It certainly gave us some wonderful views of Doha's skyline and architecture from a different perspective.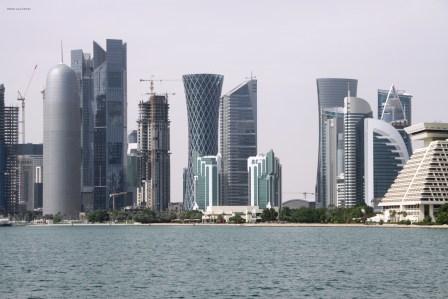 Later that afternoon we boarded our buses for the half-hour drive to Al Naif Stud, founded in 1996 and home to the 160 Arabian horses of HE Sheikh Abdullah Bin Nasser Al Ahmed Al Thani, where his straight Egyptian breeding programme is run alongside a very successful one for racing.
Al Naif Stud has produced numerous world-class horses and we had a delightful evening viewing 19 of the best from their straight Egyptian group. The parade was organized by General Manager Rashid Al Malki together with show trainer Glenn Jacobs, starting off in fine style when the beautiful and feminine mare Thamrath Al Naif (Ansata Nile Echo/J O Sahja) stepped into the arena in all her glory.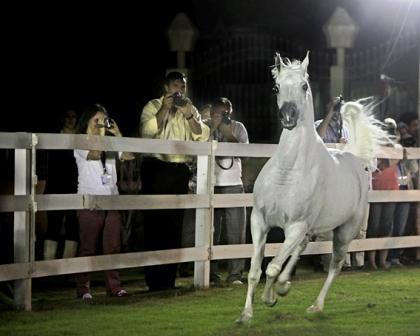 Thamrath Al Naif
Her elegant 2-year old filly by Sinan Al Rayyan also caught the eye. We saw several other charming mother and daughter combinations including Ansata Nile Gypsy (Ansata Hejazi/Ansata Nile Starr) and her pretty 2011 filly Fatemat Al Naif by Ashhal Al Rayyan. Another to impress the spectators was the gorgeous Rayyana Al Naif (Shagran Al Nasser/Hejazia Al Naif). Other highlights included Heylanat Al Naif (by Ansata Selman) whose dam was the 2002 World Junior Champion Mare Johara Al Naif (Ansata Shalim/Al Johara). The glorious Arqah Al Naif (Ashhal Al Rayyan / Simeon Se'ate) also stole many hearts. Also on show was the stud's impressive young stallion Ebtiyaj Al Naif (Ansata Nile Echo/Ansata Aya Nadira).
A thoroughly enjoyable evening, which included tasty snacks and drinks, finished with the presentation of a small selection of horses from the farm's successful racing-breeding programme, which although perhaps not as ethereal as the earlier grey beauties, were impressively athletic and all in wonderful condition.
Monday 7th November: We set off in the morning to visit Al Nasser Stud, one of the oldest established Arabian breeding programmes in Qatar, owned by HE Sheikh Nawaf Bin Nasser Al Thani and managed by Hendrik Mens. It was actually raining quite hard when we arrived – apparently the first 'proper' rain for over a year, and the downpour was so much welcomed by the locals that it failed to dampen anyone's spirits.
Once again, the horses were shown in family groups, representing several generations of the farm's breeding programme, which really helped us appreciate how this has developed over the decades. Sheikh Nawaf inherited his love of horses and knowledge of pedigrees from his late father, and Al Nasser Stud has one of the oldest continuous breeding programmes in the country. As at many of the farms in Qatar, there is an emphasis here on straight Egyptian bloodlines, several of which are founded on horses selected by Sheikh Nawaf from the well known Imperial Stud in America. There is also some judicious crossing with other bloodlines to produce athletic and typey individuals who can excel in any sphere and the good movement of many of the horses presented was especially noted.
Many gorgeous mares and fillies along with the two stallions Shagran Al Nasser (Ansata Selman/Dana Al Nasser) and Fares Al Rayyan (Ansata Hejazi/G Shafaria) took their turn to show off in the large sand arena, enjoying not only the refreshingly cool rain-washed air but also our appreciation. The flea-bitten grey Fares Al Rayyan, full brother to champions such as Ansata Selman and Jalila Al Rayyan, charmed the spectators with his large expressive eyes and showy attitude. The handsome chestnut Shagran Al Nasser put on a flamboyant in-hand display for us. Interestingly his dam Dana Al Nasser (by Mujahid) is a daughter of one of the stud's first imports – Imperial Madanah (Imperial Madheen/Imperial Naffata). As one would expect from his pedigree, Shagran Al Nasser has already sired champion show horses in both Qatar and Europe, including the Qatar National Reserve Champion filly Farida Al Nasser, out of Marha Al Rayyan.
Farida Al Nasser
| | |
| --- | --- |
| Zenubia Al Nasser | Noora Al Nasser |
Amongst the mare families on show was that of Zenubia Al Nasser (Imperial Mahzeer/Imperial Sanama), a former Qatar National champion filly, who is leaving a lasting legacy. Her bay daughter Noora Al Nasser by Al Adeed Al Shaqab impressed with her flamboyant movement, as did Nawal Al Nasser, her 2011 filly by Ashhal Al Rayyan was also much admired. Also powering around the arena was Zenubia Al Nasser's elegant grey yearling, Maisa Al Nasser by Sinan Al Rayyan.
Another youngster who seemed to enjoy showing off her paces was the pretty grey yearling, Konouz Al Nasser by Ansata Shalim out of the well known broodmare Konouz (Imperial Mahzeer/Imperial Kaliya).
The important group founded by Imperial Madanah was represented through the female line by offspring of her two best daughters, Leen Al Nasser by Alidaar and Dana Al Nasser by Mujahid. On show were Leen Al Nasser's daughters Dalal Al Nasser by Ansata Nile Pasha, Falha Al Nasser by Ansata Hejazi and Madanah Al Nasser by Ansata Sokar, along with Dana Al Nasser's elegant daughter Selma Al Nasser, by Ansata Selman.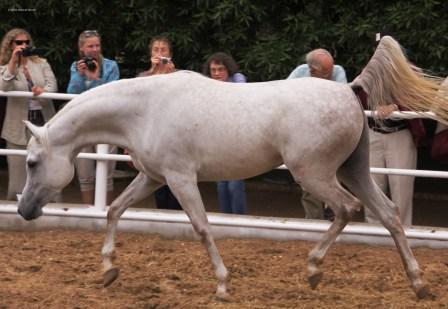 Selma Al Nasser
Another of Al Nasser's matriarchs is the wonderful bay Aliah Al Nasser (Imperial Mahzeer/Dyn Aliyah), whose eye-catching daughter Remal Al Nasser, by Ashhal Al Rayyan, was the 2008 Qatar National Champion Mare.