WAHO Conference
1ST NOVEMBER – 8TH NOVEMBER 2011 With optional Pre and Post
Conference Tours on 30th & 31st October and 9th & 10th November
VENUE: THE RITZ-CARLTON HOTEL, WEST BAY LAGOON, DOHA
Photographs copyright Sharon Meyers, Juhaim Parambil, Emma Maxwell, Monika Savier and Karsten Scherling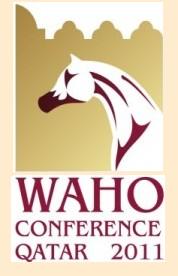 THE WAHO CONFERENCE 2011, DOHA, STATE OF QATAR
A report by Sharon Meyers (Editor, Australian Arabian Horse News) adapted for WAHO by Katrina Murray (Executive Secretary, WAHO). Photographs copyright Sharon Meyers, Monika Savier, Karsten Scherling and Juhaim Parambil.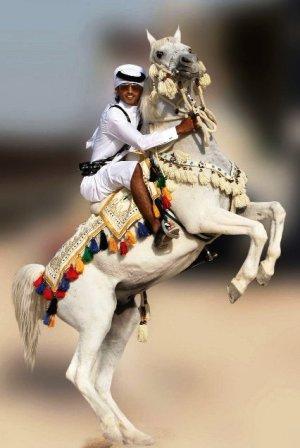 "Progress and development of modern-day Qatar will reflect, in particular, efforts to maintain the heritage of our forefathers through the noble Arabian horse." HH Sheikh Hamad Bin Khalifa Al Thani, Emir of the State of Qatar.
The 2011 World Arabian Horse Organization Conference was held in Doha, Qatar from 1-8 November under the patronage of HH Sheikh Abdullah Bin Khalifa Al Thani, Special Adviser to the Emir. A special thank you from all the WAHO family goes to the Qatar Racing and Equestrian Club (QREC) for being such generous and hospitable hosts. QREC Chairman, HE Sheikh Mohammed Bin Faleh Al Thani, General Director Mr. Sami Jassim Al Boenain, Conference Manager Mrs. Hannie Maasdijk and their team did a superb job of organizing the Conference and ensuring we had a memorable stay in Qatar.
| | | |
| --- | --- | --- |
| Mr. Sami Jassim Al Boenain | HE Sheikh Mohammed Bin Faleh Al Thani | Mrs. Hannie Maasdijk |
Please see the end of this report for a full list of the people to whom we owe our thanks. WAHO encompasses a large and friendly family of Arabian horse enthusiasts worldwide and it is always enjoyable meeting both old and new friends at these unique conferences. Besides keeping up to date with vital information about the breed and WAHO's activities, another fascinating aspect is learning more about the host country while visiting their Arabian horse studs, which greatly enhances everyone's knowledge of the breed. Participants started to gather in Doha from a few days beforehand, many taking some of the specially arranged pre-conference tours, of which more later. The WAHO Executive Committee held two days of meetings, and the World Registrars Meeting also took place on 1st November. Many important issues were discussed at these meetings, and changes formulated to some of WAHO's international rules of registration, to be put to the vote of the General Assembly later in the proceedings.
The main Conference programme for all participants started on the evening of 1st November, with a Welcome Reception and Dinner, hosted by QREC, which was held under the stars at the Doha Golf Club. Mr Sami Jassim Al Boenain gave a warm speech of welcome and the enjoyable evening very much set the scene for the forthcoming days of typical Qatari hospitality that were to follow.
WAHO GENERAL ASSEMBLY, 2nd-4th NOVEMBER
The WAHO General Assembly itself took place in the ballroom of the Ritz-Carlton Hotel. The General Assembly, which is held every two years, is of course the central purpose of the whole event. It is the main business meeting for the WAHO Registering Authority Members, who are the voting delegates of the Organization.
CONFERENCE OPENING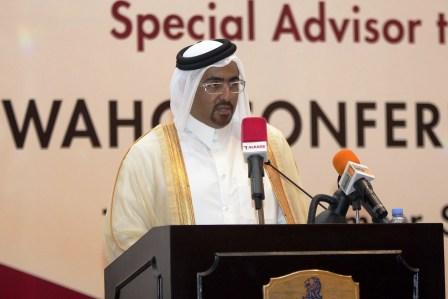 The QREC Chairman, HE Sheikh Mohammed Bin Faleh Al Thani, officially opened the meeting in front of an audience of local VIPs and dignitaries and some 300 delegates and observers from over 40 countries. A beautiful short film, specially made for the occasion by Mark Strickson of Rock Wallaby Productions, was shown to the great appreciation of the audience. As part of the official opening Mrs. Judith Forbis, the renowned author and breeder of Ansata Arabians fame, gave a most interesting talk about the history of the Arabian horse in Qatar, from pre-Islamic times to the present day. This talk was based on research she has done for the forthcoming book "The Heritage of Al Shaqab, A Tribute to His Highness The Emir Sheikh Hamad Bin Khalifa Al Thani, and the Arabian Horses of Al Shaqab and Qatar."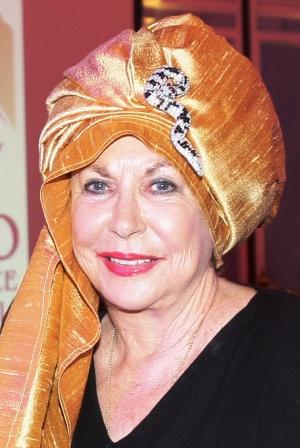 Mrs. Judith Forbis
During this talk Mrs. Forbis said: "Guardianship of the Arabian horse in Qatar has fallen to the Al Thani rulers and other important Qatari families – many of whom descend from the pre-Islamic Beni Tamim Tribe. They were Bedouin of great and noble reputation, famous as camel and horse breeders, and the largest tribal federation that lived in Nejd during the fifth and sixth centuries CE. Eventually they broke up into new tribes spreading out over different districts in order to find pasturage. Some of them, including the Al Thani ancestors and other tribes, eventually migrated to the Qatar peninsula."
Later in her talk Mrs Forbis referred to the Battle of Al Shaqab, which was a turning point for Qatar's independence during the rule of Sheikh Jassim bin Mohammed Al Thani: "When the British became more active in Qatar and the Ottomans imposed high taxes on Sheikh Jassim, he began considering independence from both. When negotiations failed, the Ottoman pasha thought his forces could take Sheikh Jassim by surprise. On 13 March 1893, the well-armoured pasha reached the small fortress of Al Shaqab where the Ottomans set up camp. Sheikh Jassim was not to be tricked, however, and had already gathered around him some three to four thousand supporters from the Arab tribes of Qatar who were well mounted on seasoned Arabian warhorses and camels and armed with Martini-Henry rifles. Sheikh Jassim recorded in his diwan: '…We had to face the tyrant whose injustice had overpowered us. …On us he had imposed a tribute, and to us it meant fierce warring, with brave young men mounting great mares of noble pedigree. …They were ready to sacrifice their lives to achieve their sublime goals and rights'. Riding his noble horse, Faarah, Sheikh Jassim assaulted the Ottomans with his infantry, camel riders, and Bedouin cavalry and routed them – but not without significant loss to his own troops and their courageous Arabian mounts. The bloody battle of Al Shaqab became an important turning point in the region and in Qatar's history, paving the way for Qatar's future independence. Sheikh Jassim is considered the founder of what is known today as the modern State of Qatar but credit must also be given to the courageous Arabian warhorses that carried him and his warriors to victory."
Mrs Forbis concluded with: "Against all odds, the Qataris have pursued and won the freedoms that have eluded many other seekers: freedom from want, freedom from oppression and freedom to rule themselves. Born of the wind, the Arabian horse is alive and well here, honoured in Qatar's heritage, an eternal part of its culture, and a living tribute to the spirit of Qatari knights and their noble steeds that enabled Qatar 'to be free'."
DR. HANS-J. NAGEL, OPENING ADDRESS: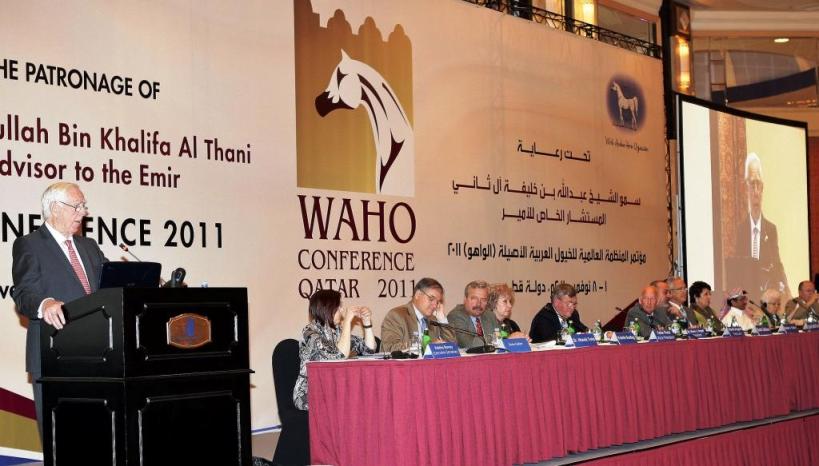 The 2011 WAHO Conference was then officially convened. Dr. Hans-J. Nagel, President of WAHO, gave his opening address in which he reiterated the goals of WAHO and added his profound thanks to the host country, Qatar, for holding the Conference. He mentioned some interesting statistics, stating that although the annual worldwide total of Arabian foals registered has dropped from about 23,000 to 21,000 over the past 15 years, the WAHO Member countries in the Middle East region have together seen an impressive increase in the same period -from about 2,000 to almost 5,000 foals annually.
WAHO EXECUTIVE COMMITTEE: The rest of the General Assembly on this first day was taken up with routine WAHO business. The current Executive Committee members were re-elected as a group for the next 4 years, with Mr. Howard Pike from America, formerly a Consultant to the Executive Committee, added to the full members list. Mrs. Annette Hedley, formerly an Executive Committee member has retired and is now an Emeritus member. The full WAHO Executive Committee now comprises Dr. Hans-J. Nagel, President; Mr. Peter Pond, Vice-President; Ing. Federico Garcia Brum, Secretary; Mr. David Angold, Treasurer; Mr. Sami Suleiman Al Nohait; Mrs. Valerie Bunting; Mrs. Claudia Caraballo De Quentin; Mr. Robert J. Fauls Jr.; Mr. Xavier Guibert; Mr. Basil Jadaan; Mrs. Izabella Pawelec-Zawadzka; Dr. Marek Trela and Mr. Howard Pike.
IN MEMORIAM: At each WAHO Conference those present take time to pay tribute to our WAHO Members who we have been informed have passed away since the last Conference. WAHO feels it is very important to honour these friends and colleagues, who are all greatly missed, with a minute's silence in their memory. The list was unfortunately rather long this time, with the following people fondly remembered: From Egypt, long-time WAHO Executive Committee Member Dr. Ibrahim Zaghloul. From Australia, Mr. Peter Simon. From Bahrain, HH Sheikh Mohammed Bin Sulman Al Khalifa. from The Netherlands, Mr. Jan Van Nes. From Poland, Mr. Wojciech Kowalik. From the Kingdom of Saudi Arabia, HRH Prince Sultan Bin Abdul Aziz Al Saud; From the United Kingdom, Major Pat Maxwell; Miss Margaret Evans; Mrs. Caroline Murray; Mrs. Christine Laurens; Mr. Simon McCorkindale; Mr. Tony Day; Miss Elizabeth Orr Sutcliffe. From the United States of America: Dr. Bert Husband; Mrs. Mary Anne Grimmell; Mrs. Marjory F. Tone; Mr. Ferman Ansel; Mrs. Betty J. Rider and Mr. Patrick Swayze.
AGENDA ITEMS: Moving on with the day's agenda, the delegates approved Volume 1 of the Japanese Arabian Stud Book and Japan, which has been an Applying Member for many years, was voted in as WAHO's latest full Registering Authority Member. It was also approved by vote of the delegates that Australia is to look after Arabian registrations, if requested to do so, in India, South Korea and Taiwan in a caretaker capacity.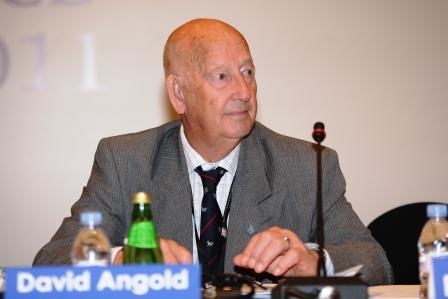 WAHO Treasurer, David Angold, then gave his report, the annual accounts for 2011 were duly adopted, and the firm PKF (UK) LLP were re-appointed as WAHO's Accountants. David Angold also reported that WAHO Pedigree Database should be available next year as a useful research tool. This database of historic pedigrees, which includes inbreeding co-efficients and strains, will provide links to other up-to-date databases and on-line studbooks around the world.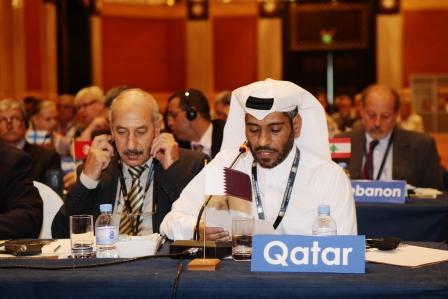 Mr. Abdul Aziz Jassim Al Boenain delivering Qatar's Report
The remainder of the day was taken up with the always interesting reports from the Delegates for each country represented at the meeting. This is the chance for the WAHO Registering Authority Members to give as much information as possible, within a relatively short time frame, about the activities and statistics in their own countries. Although English is the international language of WAHO, it has been customary for many years to provide simultaneous translation services during the General Assembly. This section of the proceedings certainly keeps the translators very busy, and we extend our special thanks to the excellent translation team for their sterling work, which enabled the Arabic, Spanish and Farsi speakers to understand the proceedings.
As an experiment at the request of WAHO, three countries gave their reports in visual format: Saudi Arabia with film footage and Poland and France with photographs or PowerPoint. This innovation was well received and it is hoped more countries will be able to do the same in the future.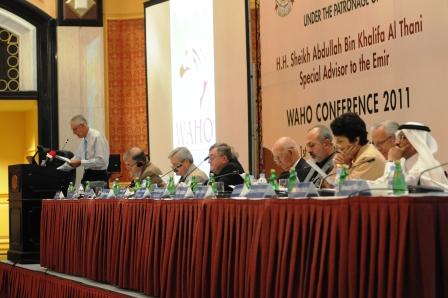 Thursday 3rd November: The half-day session started with a report from Kees Mol on the discussions that took place during the 2011 WAHO World Registrars Meeting on 1st November, of which he is Independent Chairman.
It was clear from the list of Guest Speakers and their topics that this Conference's Agenda was particularly aimed at addressing the various ethical and welfare issues concerning modern reproduction techniques and genetic testing, which are the current hot topics for the breed. Two lectures by prominent equine genetic experts Professor Matthew Binns from the United Kingdom and Mr Michael Bowling from the United States of America were scheduled for this day, with another on Friday by Dr Samantha Brooks also from U.S.A. All proved to be extremely interesting and educational, covering the latest advances in research into the equine genome as well as addressing genetic disorders in the breed and how best to avoid them.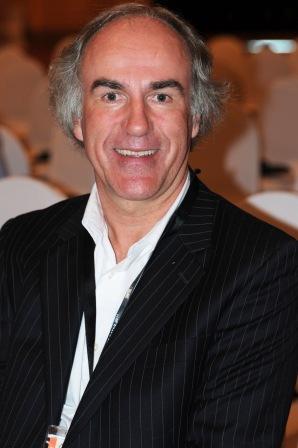 Professor Matthew Binns: 'Advances in Equine Genetic Research and how new information can help breeders.'
Professor Binns, currently based in America at Equine Analysis in Lexington, Kentucky, was the first speaker of the day, making his complex subject easily understood with an accessible combination of wit, wisdom and explanatory slides.
He covered five main areas in his presentation, starting off by talking about the importance of looking at pedigrees from a genetic perspective. He said that breeders have traditionally used pedigrees on which to base their mating plans and on occasions they may over-interpret what can be learned from a pedigree. From a genetic perspective, he explained that only two things are certain when looking at a pedigree, which are that the Y chromosome passes down the tail male (top) line, and that Mitochondrial DNA (MtDNA) passes down the tail female (bottom) line. Both these DNA entities carry a very small number of genes compared to the 20,000 or so genes that are encoded on the other chromosomes, which follow an unpredictable path of random segregation, further complicated by the process of recombination which results in crossing over between maternal and paternal chromosome pairs. These random events ensure that each individual (except for identical twins) is genetically unique and that each egg or sperm produced by an individual is essentially different.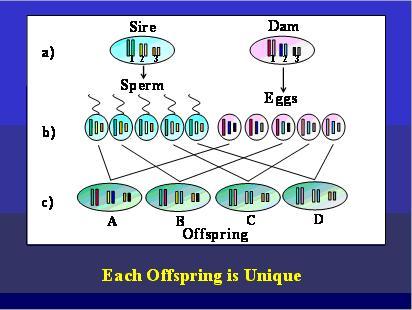 With regard to MtDNA, Professor Binns also said that studies in Thoroughbreds have demonstrated that very early stud book records contained multiple errors, and pedigrees are only truly reliable from the time that parentage was verified by parentage analysis, which was in the mid-1970's for many horse breeds. Another very important point made by Professor Binns was that an ancestor's genetic contribution to their genetic legacy is on average halved with each generation, such that by the time you get to the sixth generation, with 64 different ancestors in that generation, each ancestor is on average only contributing one single chromosome. By that point, several ancestors in this sixth generation will actually be making no genetic contribution at all to the individual concerned.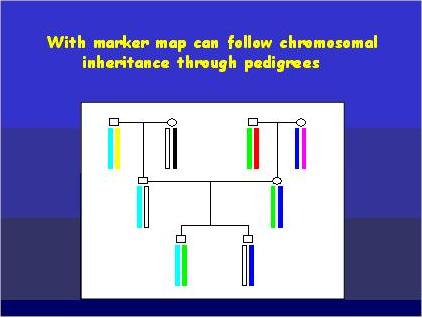 He then moved on to talk about the genetic architecture of breeds, explaining that technological developments in molecular biology have made it relatively cheap and easy to obtain complete genome DNA sequence information for many species, including the horse. This in turn has led to the commercial development of high-throughput tools that enable genetic experts to get information from large numbers of individuals on 50,000 genetic markers per horse. Having accumulated 50 million genetic data points in the Thoroughbred horse for studies into the genetic basis of racing performance in that breed, he said he had also been interested in addressing the question as to whether the Thoroughbred horse in particular was becoming more inbred. Significant changes in the breeding structure of Thoroughbreds were introduced in the 1990's and the previously small 'book' sizes of a stallion covering 40-50 mares changed to popular stallions covering 150-200 mares. This in turn caused a reduction in the number of stallions standing at stud. On analysing the data it was clear that there had been a small but statistically significant increase in inbreeding, with most of the increase post-dating the changes in breeding practices. What was particularly interesting though, he said, was that when the inbreeding co-efficients determined by pedigree analysis were compared to the inbreeding co-efficients determined using DNA data, the two values were surprisingly poorly correlated. Professor Binns concluded this section of his talk by saying that pedigrees are not a good way to estimate inbreeding, or other measures of what is inherited, compared to using DNA itself. His hypothesis for the lack of correlation lay in the observation that within most well-established domestic animal breeds there is a very limited amount of genetic variation present on individual chromosomes, such that often only 4-5 different forms exist. This limited variation overpowers the effects of doubling up on individuals generations back in pedigrees, so that the same combinations that might have been attributed to 4×5 crosses are actually being generated by random associations from unrelated individuals.
Moving on to the genetic relationships between horse breeds Professor Binns said that, as part of the horse genome sequencing effort, multiple breeds were examined using the genetic marker chips, and their relatedness plotted in a number of different ways. This work was carried out by an international collaboration led by Dr McCue at the University of Minneapolis. Professor Binns said he had been particularly interested in the relatedness of Arabian and Thoroughbred horses, given the well known 'Eastern' foundation stallions in the Thoroughbred. Surprisingly, he had found that the two breeds do not look very closely related based on the existing data. One possibility for this is that the Arabian horses used in the analysis do not adequately represent the Arabian horses that contributed to the Thoroughbred horse breed. Whilst attempts were made to include Arabian horses from several