Z'TADORE AL MAURY, Chestnut mare, *1996 (Tidjani / Zid Htatousel).
Breeder: Renee Laure Koch. Owner: Simona Garatti.
Strain: Not Recorded (Aissa, 1870).
ANICA is pleased to announce that Italy's top endurance mare, Z'Tadore Al Maury has been selected as Italy's 2007 WAHO Trophy winner. The award was made at a special ceremony in front of a large and enthusiastic audience at the 2007 European Championships in Verona.
This mare has not only been very successful in advanced three-star FEI endurance competitions, including distances of 160 kilometres, she has also won coveted Best Condition awards which is a tribute to her rider.
(Note – although this mare was born in France, and the WAHO Trophy should normally only be awarded to a horse bred and still domiciled in the country where the trophy is presented, an exception has been made in this case, because the award has already been made in a public ceremony.)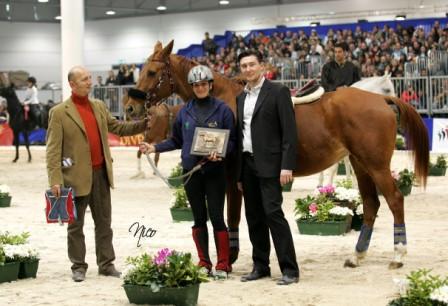 Dr. Giampaolo Teobaldelli and Mr. Moser Massimiliano,
members of ANICA's Sport Endurance Commission,
present the 2007 WAHO trophy to Simona Garatti, owner and rider of Z'Tadore Al Maury.