ZANTOS, Chestnut gelding, *1987, (Zaana / Blue Chap).
Breeder: Guri Hårstad. Owner: Bjoerg A. Hals.
Strain: Kehailan Rodan (Rodania 1869).
The Norwegian Arab Horse Society (NAHF) are pleased to announce that their winner of the 2005 WAHO Trophy is the 18 year-old chestnut gelding, Zantos. A small horse at only 145cm, but a great horse nonetheless, Zantos and his owner Bjoerg A. Hals have been the most winning combination in western riding disciplines in Norway for the last three years. Zantos has now retired from top level competing, and is going to be the schoolmaster for Bjoerg's daughter, although maybe he will take part in some competitions with her in the future.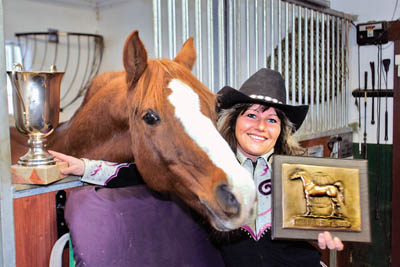 Western riding is not yet a very big discipline in Norway, but Zantos has become an icon in western riding and he has shown us all that an Arabian horse can reach the top in riding competitions. He is a great ambassador for the Arabian breed in Norway and is a very worthy winner of the first WAHO Trophy.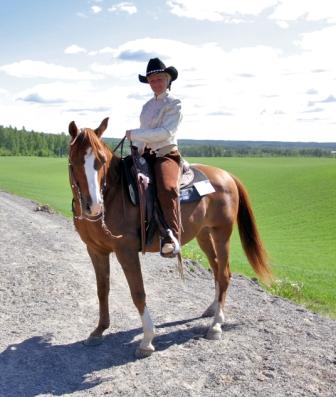 Zantos, 2005 WAHO Trophy winner for Norway,
resplendent in his western riding finery.