SIDI OBSESSION, Grey Mare, *2000 (Magical CAF x Harka)
Breeder and owner: Mr. A.W.A. Maritz.
Strain: Not Recorded (Family of Verana, 1934).
The Arab Horse Society of South Africa is proud to announce the winner of their 2009 WAHO Trophy.
Text by Zandri Reynolds. The saying goes that only from true greatness come greatness! The WAHO Trophy certainly was intended for such great individuals. When one looks at a pedigree with horses in it such as Ansata Ibn Halima, Salaa el Din, Moniet el Nefous, El Shaklan, Estopa, Ali Jamaal, Ruminaja Ali, Bey Shah, Bask and Marsianin, one expects some degree of greatness and Sidi Obsession is no exception to that rule. Her sire was imported from USA, and her dam, bred by the Maxwells, was imported from UK. She was born in the stables of world renowned breeder, showman and judge Jack Maritz. Her name indicates that at her birth, Jack already held high expectations from this exquisite mare.
In her young life, Sidi Obsession has never failed to live up to that high expectation resting on her shoulders from birth. At her debut show, the South African National Championships, she was paced 4th in Fillies under 6 months, ever since has never looked back and went on to earn herself many rosettes, amongst them Champion Foal, twice Junior Champion mare, numerous Res. Junior Champion Mare, Senior Champion Mare, twice Res. Senior Champion Mare and Supreme Champion Mare.
Coming from the Maritz's stables it came as no surprise that this beautiful mare, with her extreme type and beautiful, smooth body, was put under saddle. Most of the Maritz's Halter Champions goes on to be even more versatile under saddle Champions. Sidi Obsession is no exception and just like most of her stable mates excels in a wide variety of riding disciplines. In the short 3 years under saddle she has already won over 40 riding classes in Riding Horse, Show Hack, Hunter Pleasure, Country Pleasure, Costume and English Pleasure, with just as many placings as well!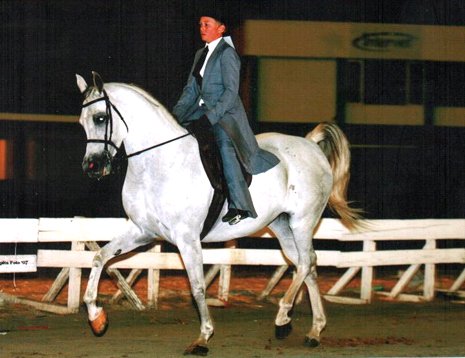 Sidi Obsession ridden by Jackie Maritz Jr.
What makes this mare's achievement even more remarkable is that she competes equally well, both in Open riding classes with her owner, Jack sr. aboard and in Children's riding classes, with young Jackie jr., only 12 years old, aboard. Together Sidi Obsession and young Jackie makes a mean team, hard to beat and regularly takes the Child Victor Ludorum Trophy home with their many wins. Aboard Sidi Obsession, young Jackie is finding all the confidence and experience that will make him a truly great horseman just like his father, Fanie, his brother, Fanie jr and his uncle, Jack sr.
This young mare is an outstanding example of an Arabian horse, she has already been an outstanding ambassador for the Arabian breed and without a doubt will remain such a great ambassador throughout her life. Sidi Obession has all the class and qualities to compete in any country in the world, what a huge privilege that this proudly South African mare graces our show ring, that she will contribute greatly to the future of South African Arabians and that her genetics will carry on in South Africa. Any person sitting next to a show ring, will give anything to own such an exceptional individual. Any parent would give a blank cheque to have their child aboard such a trusting mare, her kind nature makes her any child's dream horse. Sidi Obsession has already produced two stunning foals that are bound to follow in their great dam's footsteps and one day might even follow in her tradition to win the very prestigious WAHO trophy.