NIL NIKINIKEE, Chestnut filly, *2009 (QR Marc / Nil Nana).
Breeder and owner: The Aesbacher Family, Nile Arabians.
Strain: Kehaileh Rodanieh (Rodania, 1869)
At the 2011 Swiss National Stock Show the 2-year old QR Marc daughter Nil Nikinikee bred and owned by Nile Arabians of the Aeschbacher family was titled "Best in Show" and "Best bred Mare in Switzerland". With the highest score of all Swiss bred horses (except foals), Nil Nikinikee won the WAHO Trophy 2011.
Already as a yearling the unbeaten filly Nil Nikinikee was honored "Best in Show", "Best bred Mare in Switzerland" and got the highest score of all horses at the Swiss National Stock Show in 2010. Nil Nikinikee is representing the famous N-Line of Nile Arabians in its 5th generation. Her first dam, Nil Nana, 2003 by Extreme is unbeaten in the show ring and won the Swiss National Junior Championships in 2004. Her second dam, the Swiss Elite Mare Nil Nouza, 1994 by Gips was honored two times "Best in Show" and won the WAHO Trophy in 2005. Her third dam Nil Nubia, 1990 by Versal and her fourth dam Nil Najada, 1985 by Ansata Halim Shah are both Swiss Elite Mares, International Champions and producer of Champions.
Also outside of the show ring the N-Line is represented with many winners in the endurance sport and in racing. In 2009 and 2010 Nil Ishan Ibn Al Sakbe, 2006 (Al Sakbe x Nil Incipit) was Champion Race Horse of Switzerland. Nil Khaznah, 1998 (Kubinec x Nil Nouza), won the Endurance Arabian World Wide Trophy in Germany 2010.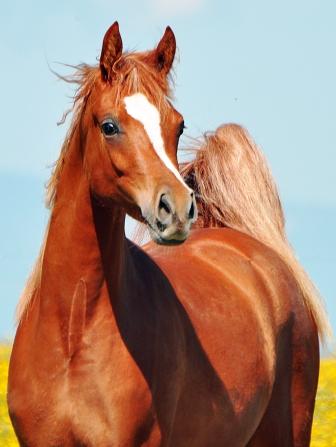 Nil Nikinikee
Photo Credit : Franja Schmid