KHWARENO KAMAAL SHAH  Chestnut Stallion, 2010. (Jerico Namutoni / Khwareno Corina)
Breeder: C.A. Hull  Owner: G. Stafford  Strain: Kehailan Rodan (Rodania, 1869)
The Arab Horse Society of Zimbabwe are delighted to announce the winner of their 2022 WAHO Trophy is the stallion Khwareno Kamaal Shah.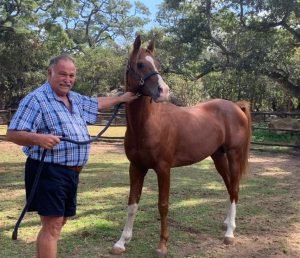 Citation from the Secretary, Matthew Harwin:
Khwareno Kamaal Shah was bred and born at the locally renowned Khwareno Stud which is considered a 'founding' or 'pioneer' stud in Zimbabwe having its purebred Arabian breeding program being established in the 1970s. Kamaal is awarded the WAHO trophy as we believe him to be a true ambassador for the 'Zimbabwean Arabian' having won the 21 kilometre Lake Chivero Endurance Challenge across rigid African bush terrain up mountains and through rivers. As Kamaal is a stallion, he was required to start the race last behind all other competitors and horses. With his incredible performance, he was able to overtake his fellow competitors and finish the race in first place. Khwareno Kamaal Shah descends from original Zimbabwean foundation bloodlines on his dam line with imported blood being infused through his South African born sire. He is a great example of the type of horse our nation can produce.