KASSANDRA, Chestnut mare, *1999 (Naizamar x Louma Kate) Breeder: Reto Hellrigl. Owner: Patricia Schilliger. Strain: Shuweymah Sabbah (Cherifa, 1869)
Written by the proud owner: Patricia Schilliger
In summer of 1999 on a holiday trip to Santa Maria (Grisons) it was the first time that I saw this 3-months old foal. This fearless and cheeky fox-coloured foal really soon had captured my heart. Three months later my mother could probably not bear my moaning any longer and we brought Kassandra to our Home. If I had at this time already known that I wanted to compete in endurance sports, I would have bought another horse, because Kasi is not out of a performance breed. Luckily I did not search for such a horse at this time and had a lucky strike with that exceptional Mare.
In 2006 we gained our first experiences on two short distance endurance rides of 30 kilometers. In the following year, Kassandra had a brilliant performance. We started in five endurance races between 45 and 90 kilometers of which she won three of them and took third place the other two times. With her really low pulse, she ran mostly to the top places in Switzerland.
Kassandra was really pleased to run, so we dared to compete on our first foreign endurance ride. It did not all work fine from the beginning. Kassandra and I had to learn very much and gain a lot of experience. But then, the efforts paid off!
At the international endurance ride CEI* in Limmatal over 85 kilometers and at the CEI** in Germany over 120 kilometers Kassandra won the best condition prize for her good condition after the race. Several rides over 120 kilometers followed with international competitors in France, Italy and Germany. Kassandra became a well and routine athlete and was really cute and engaged.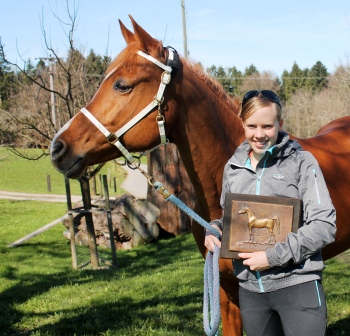 Photo: Kassandra and Patricia Schilliger
In June last year, we took our chances for the first ride over 160 kilometers in France. This race was a selection ride to world championship for diverse countries and it had therefore some superior horses in the field. Already on the first loop we found a group of three French riders with which Kassandra felt very comfortable. Kasi is a strong minded fighter and ran her first 160 kilometers without any problems. We finished this race on the 10th place and with an average speed of 17.825 km/h. At the final vet control, the veterinarian congratulated us and said Kasi was looking great. I was so proud of my speedy little mouse. She had run her first 160 kilometer race at a very good speed and still looked that great!
With the performance in that race, we were qualified for the world championship in Euston Park (GB) for Switzerland. On the world championship we had really good experiences that were not to compare easily with other rides. It was not so common for us to start with 146 competitors in a mass start. But Kassandra was just great. After each vetgate, she started every loop joyfully, and with an average speed of 18.96 km/h and the finishing place as 28th rider, she was the fastest horse from Switzerland. With that performance she became the record holder of Swiss speed in 160 kilometer races.
This is the story about a small Arabian foal which no one ever imagined would turn out this way. And the story is not finished yet…