ZIRYAB, Grey gelding, *2004 (Dalia Halim / Zizi).
Breeder: Hovi Matti. Owner: Sari Kumpulainen.
Strain: Hamdani Simri (Selma)
The Finnish Arab Horse Society is delighted to award the WAHO Trophy to Ziryab. This lovely young gelding has already achieved success in Western riding classes and has also done well at halter, being awarded a gold medal with 85.83 points at the Society's SAHYN show in 2009.
His owner says that Ziryab, or "Repe" as he is called at home, is a very sensitive horse that is always willing to please. He has a lively temperament and "fire in the soul" but his reaction to new things is calm and thoughtful. It is very nice to spend time with Repe and learn new things.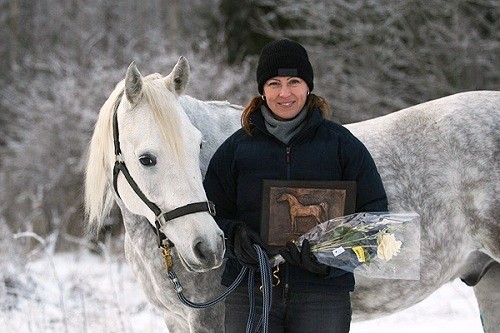 Ziryab and Sari Kumpulainen with WAHO Trophy