EF GEORGE, Chestnut stallion, *1997 (Cyran HCF / Mahaba)
Breeder: Mr. Jose Villar, El Festejo Stud. Owner: Mr. Armagni, Blue Heaven Stud.
Strain: Not Recorded, family of 541 Siglavy XVI through O'Bajan V-6).
EF George gained the highest points over the last three years in all the riding events with his rider Marcelo Guinovart. He also gave demonstrations of "mansedumbre" on several occasions. He is also a breeding stallion with several excellent progeny. Mr. Lucini and his horse EF George were presented with the Trophy by WAHO Secretary, Federico Garcia Brum, at a specially arranged and well-received prize-giving ceremony. This took place during the International Week of the Arabian Horse in Punta del Este in January, 2006.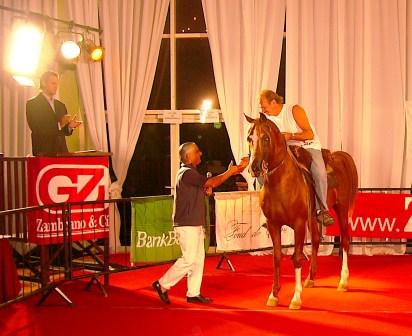 The WAHO 2005 Trophy was awarded by Mr. Federico Garcia Brum, Secretary of WAHO,
to Mr. Lucini and E.F. George at a special presentation ceremony.