DJAHMAL IBN KENDAL, Grey gelding, *1996 (Ass-Kendal/N.A. Akiyda). Breeder: Henry Misson. Owner: Thierry Polet. Strain: Kehailan Moradi (Sahara, ca. 1840)
Dear Friends of the Arabian horse
The Board of the Belgian Arabian Horse Registry (BAPS) has decided to award the "WAHO TROPHY 2012" for the most deserving purebred Arabian horse to AMIKA, the name by which the Arabian gelding DJAHMAL IBN KENDAL is better known to our country's young television viewers. He is truly an outstanding ambassador for the breed.
AMIKA (DJAHMAL IBN KENDAL) plays the starring role in a Flemish television series for young people carrying the same name, "AMIKA", which was produced by the well-known STUDIO 100 production company. The TV programme is aimed at children aged 8 and up. In it AMIKA features as a riding-school horse. Together with Merel, a young girl with whom the Arabian gelding has a special bond of friendship, AMIKA goes through all kinds of adventures full of suspense, humour and romance. In all, 156 episodes of the series were aired by KETNET, the Flemish television network for kids, in the years 2008 – 2011. The series was a huge success, not only in Belgium, but also in many countries abroad (in Holland, Germany, Italy, Poland, etc.). At present a repeat of the series is running in Belgium, on KETNET again. In addition to DVD and CD releases of the popular programme, all kinds of associated items such as books, games, stationery articles, etc. were marketed, all bearing the image of AMIKA, the good old Arabian horse cherished by so many children.
AMIKA, a.k.a. DJAHMAL IBN KENDAL, has definitely attracted viewers' attention to the purebred Arabian horse. The TV series starring him can be seen as an exceptionally positive means of promoting our Belgian breeding of Arabian horses. Therefore, the BAPS Board has decided to award the WAHO 2012 TROPHY to DJAHMAL IBN KENDAL.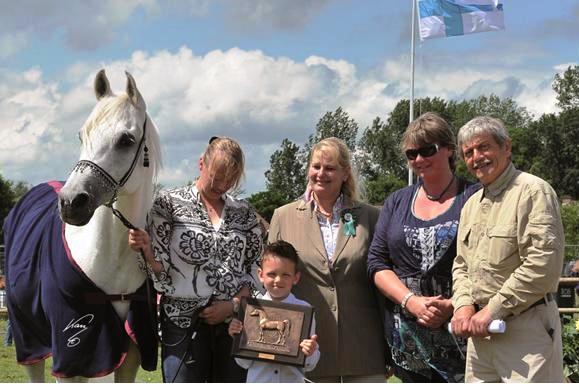 Left to right: Amika; Kelly Polet; Thierry Polet (holding Trophy);
Helen Hennekens-Van Nes; Ilse Verbruggen; Winand Bijnens.
(Photo credit: Jan Kan)