CHALDORAN MIR YAZD  Grey stallion, 2000. (Barfin / Azizeh)
Breeder S. Zia Vakil Saadat  Owner: Mr. Zarabieh
Strain: Nesmani (Nesmani S. Karam)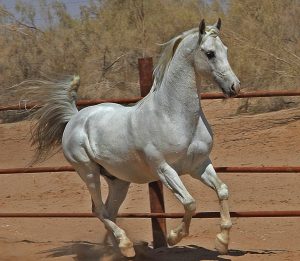 Chaldoran Mir Yazd began a very successful racing career at 3 years old. He never lost a single race and after retiring from the racetrack at 8 years of age, he continued as an endurance horse. Chaldoran was also used at stud and his offspring followed the same path of their sire. At 22, he still has the same spirit of his youth, with outstanding sound legs.
His dam Azizeh, comes from a well-known family belonging to the Nesman strain bred by Majid Bakhtiar, from the Bakhtiari tribe.
Chaldoran was chosen as he represents the best of Iranian bloodlines, a blend of Egyptian blood with our Asil mares, with correct conformation, strong body & a wonderful disposition. And it is these traits that allow versatility in performance disciplines.