BoA.S. EMERAYA  Bay Mare, 2017. (Emerald J / BoA.S. Naganya)
Breeder & owner: Bolero Arabian Stud, Ruth Wenzel. Strain: Kehaileh Moradi (Sahara, ca. 1840)
The Swiss Arab Horse Society are pleased to award the 2021 WAHO Trophy to the mare BoA.S. Emeraya for her achievement in the show ring.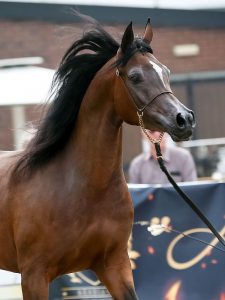 Words from her owner Ruth Wenzel
Bo.A.S. Emeraya was born at Bolero Arabians Stud in Switzerland in July 2017. Her dam, Bo.A.S. Naganya by Nagadir, also born in Switzerland is a daughter of the beautiful Russian mare, Ananya, who herself comes from a long line of very successful race horses, Ananya herself competed very successfully in races and shows in her younger years.
The wonderful grandmother Ananya comes from pure Russian lines. In her pedigree she carries the names of the great stallions of Tersk Stud, such as Narav Ibn Aswan, Aswan, Nazeer and Moment and her daughter, Bo. A.S. Naganya, has the great Kilmandscharo as her great-grandfather through her father Nagadir.
Bo.A.S. Emerayas fascinating pedigree with well-known 'movers' through her sire Emerald J, grand sire QR Marc, the unforgettable Emandoria, Marwan Al Shaqab and Gazal Al Shaqab, she has ancestry that can all fly over the ground! Her lineage showed on her 3rd show in Lier, Netherlands where she went through the whole round at a flying trot in one piece, which earned her the well-deserved score of 20 and the award for "Best Movement" in the class.
Bo.A.S. Emeraya has brought Polish bloodlines to Bolero Arabians Stud. Interestingly, Emerald J's Polish ancestry on his dam's side goes back in the 4th generation to the legendary Egyptian-born stallion Aswan, who was later used very successfully in Tersk, Russia, producing up to twenty foals a year. Her dam, Bo.A.S. Naganya, tops this, however, as her pedigree shows Aswan five times, twice in the dam line and three times in the sire line.
Bo.A.S. Emeraya sparkles in the ring and the most important she has a stunning and charming character.