BARIQ AL AMAL, Chestnut stallion, *1994 (Baahir / Al Sachra Bint Amal).
Breeder: Ariely-Ofer Arabians. Owner: Mr. Ofer Braaz.
Strain: Seglawi Jedran of Ibn Soudan (Ghazieh)
The Israel Arab Horse Registry is proud to announce the winner of their 2007 WAHO Trophy, which has been awarded to the stallion Bariq Al Amal. He is by the American import Baahir, and out of Al Sachra Bint Amal, imported from Germany, making him 'Straight Egyptian' in pedigree. Ofer Braaz purchased Bariq Al Amal for his Braaz Arabians Stud at Michmoret at 9 months old and remains his proud owner until today.
A gifted athlete, Bariq began his career as a successful show-jumping horse, competing extensively against Hanoverians, Anglo-Arabs and other warmbloods all over Israel for several seasons, being remembered by sport enthusiasts for easily clearing fences up to 1m 80cms. In 1999 Bariq won his first Reserve Championship title at halter at the Winter Show at Givat Hayim and in 2000 he came back to win the Championship title at the same show.
It was also in the year 2000 that flat-racing for purebred Arabians in Israel was first organized. It was immediately obvious that as a race horse Bariq had found his natural calling. From his very first race he dominated the Israeli track and was named Race Horse of the Year both in 2000 and 2001. In July of 2001 Bariq Al Amal was shipped to Europe – the first Israeli-bred horse to compete in recognized Arabian races overseas. He took two first places in Holland, both were races of 1800 meters or more. Bariq also competed in the prestigious Qatar Derby Day in Belgium where he raced against some of Europe's best, and took fourth place in very stiff competition. In Israel he is still rated 3 or 4 seconds faster than the best middle-distance track horses running today, and his numbers compare well to the best Arabian race horses in the world. He has run 1400 meters in one minute and 33 and one half seconds and 1800 meters in 2 minutes and 4 seconds.
Bariq remains one of Israel's most popular sires with over 70 registered purebred foals through the 2006 breeding season. Like all of Al Sachra Bint Amal's breeding sons, he is an excellent sire of race horses and his progeny dominate the Israeli racing scene. His son, Wazir El Kheil [ex FA Mahfina], bred by Ofer Braaz, has successfully competed both in-hand and as a race horse, winning the title of Reserve Champion Stallion of Israel as well as still holding the Israeli track record for 900 meters. This year alone both the Champion and Reserve Champion Stallions at the Israeli Breeders' Cup were direct Bariq sons, and in the colts' section Bariq sons won both first and third places. The two best racing fillies of 2007 were also sired by Bariq. In the 2006 Breeders' Cup both the best racing Filly and the best racing Mare were Bariq daughters. In fact, last year, apart from Phantom Oneil, Bariq's maternal half-brother, all of the Breeders Cup winners were by sired Bariq.
For all of these accomplishments it is a great privilege for the Israel Arab Horse Registry to present to Bariq the 2007 WAHO trophy for making such an important and lasting contribution to the Arabian breed in our country.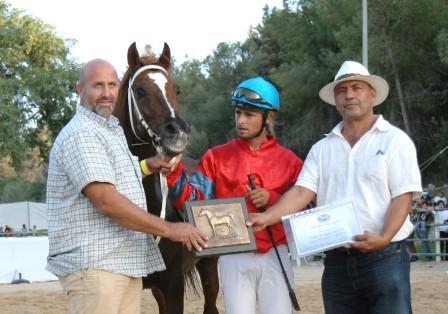 L-R: Ofer Braaz, owner of Bariq Al Amal; Ofer's son and race-rider Alec Braaz,
and Israel Arab Horse Society Council member, Hamud Hamudli.