BAFRAN EL SHACHAD (Bafran Ibn Libura), bay stallion, *1985 (Bafran El Sharai / Libura).
Breeder: Mrs Ursula Stucki. Owner: Mrs Steffi Bürgin.
Strain: Seglawi Mukhalladi (Merjane, 1866)
"Shachi", as he is affectionately called by his owner Mrs Steffi Bürgin, needs no introduction in Switzerland. This 26 year-old stallion is well-known by the majority of the Arab horse community, and the Swiss Arab Horse Society is delighted to award him their 2010 WAHO Trophy and tell the rest of the world about this great old horse.
1991 he won the stallion performance test I for pure-bred Arabians in Frauenfeld. In the same year he also was successful in the stallion performance test II against warmbloods. Over the next 20 years, Shachi has taken part in about 450 sport events, among them 340 times in dressage, 62 times in western disciplines, 22 times in three-day eventing, 17 times in jumping, 8 times in endurance, 7 times in driving and to finish the list, once in a flat race. In most cases he competed with warmbloods and got top classifications! He was also successful in the Arabian show classes with two gold medals, and in 2002 he was honoured as the best Swiss-bred purebred Arabian with a mark of 9.7 out of 10 for his trot! A true all-rounder and a well-deserved winner of this prestigious award!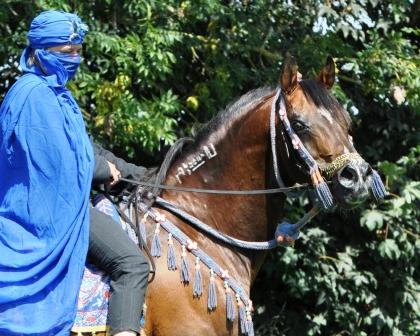 Bafran El Shahad. Photo credit Franja Schmid