ARC BLACK SHEIKH, Black stallion, 1997 (Artistic Rebony/Jarda Anne MRB).
Breeder: Alevamento Arcobaleno. Owner: Adriana Belmonte.
Strain: Seglawi Jedran (Urfah, 1898).
ANICA is pleased to announce that the beautiful 10-year old black stallion ARC Black Sheikh has been selected as Italy's 2006 WAHO Trophy winner. The award was made at a special ceremony in front of a large and enthusiastic audience at the 2007 European Championships in Verona.
This horse is really a great champion in the difficult discipline of carriage driving, a sport at which Arabians can excel if given the opportunity. He has won events in open competitions organised by the Italian National Sport Federation (FEI) and he also won the gold medal in Austria at the 2006 ECAHO European Arabian Sports Championships. He is also in the Italian National Team for carriage driving, which is a great accolade for this superb horse and his connections.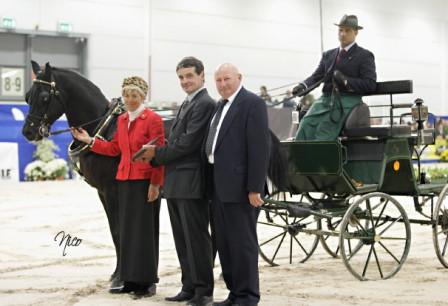 Mr. Giancarlo Buzzi, owner of Italy's 2005 WAHO Trophy winner, and Mr. Ivo Ludi, ANICA Council Member, presenting the 2006 WAHO trophy to ARC Black Sheikh's owner Mrs. Adriana Belmonte.