ANTHAL, Bay Stallion, *1983 (Komplekt/Olympia Dennenoord by Sadat).
Breeder: Liberty Arabians. Owner: Abigail Ligthert, Arabian Fantasie Stud.
Strain: Kehailan Ajuz (Gazella).
The Dutch Arabian Stud Book Authority is pleased to announce their 2008 WAHO Trophy winner. Anthal is a Dutch 1st Premium licensed breeding stallion, and an "Elite producer", a studbook breeding status that is for the most part achieved by the breeding, show and sports achievements of his offspring. Anthal's pedigree combines well known horses from the famous state studs of Tersk and Marbach. He is a multiple National and International Showchampion and has been ridden to the Dutch dressage level M. For more than 20 years the pride and joy of owner Abigail Ligthert, he is the horse which started "Arabian Fantasie", one of the biggest show and breeding stables in the Netherlands. At 25 years of age he is still looking as strong and as healthy as ever!
Accomplishments:
1st place & 1st premium Dutch stallion licensing 1991
2nd place Int-B-show Wells, Austria 1992
1st place & Reserve Champion Int. A-show Aarhus, Denmark 1992
1st place & Reserve Dutch National Champion 1992
Top 5 All Nations Cup Aachen, Germany 1992
1st place European Championships 1992
1st place & 1st premium Dutch stallion licensing 1992
3rd place World Championships Paris, France 1992
1st place & Regional Champion 1993
1st place & Dutch National Champion 1993
Honorary Champion Dutch National Championships 1993
Best in Show Dutch National Championships 1993
1st place, 1st premium and Reserve Champion Dutch stallion licensing 1993
1st place, Champion and Best of Show – Int.B-show Aarhus, Denmark 1994
1st place & highest points Senior Stallions Int.Show Luxemburg 1994
1st place, 1st premium and Champion Dutch stallion licensing 1994
Reserve Dutch National Champion 1995 & 1996
Ex-equo 1st place European Championships 1998
1st place Dutch National Championships 2002
ECAHO one star stallion
M-Dressage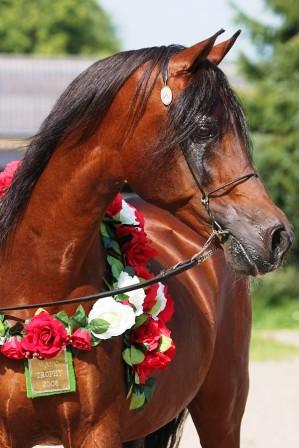 The WAHO Trophy was presented to Abigail Ligthert by Mrs. Marianne Dijkman, Vice-Chairwoman of the Dutch Registry, in a special public award ceremony at the Dutch Arabian National Show on the 31rd of August 2008.
A popular and proud winner of the WAHO trophy, this gentle stallion is now retired from active breeding and will continue to enjoy the love and care of his owner at the Arabian Fantasie Stud.