ANGHAM AL BADER, Grey mare, *2001 (Hassan / Somah).
Breeder and Owner: Mr. Saleh Khaddam Srouji.
Strain: Shweimet Sabbah.
The Syrian Arab Horse Breeders Society has informed WAHO that they have awarded their WAHO Trophy for 2005. They decided in advance to award it to the best horse at their 2005 Syrian National Championships Show. The Trophy was presented at the Show in a special award ceremony.
The lovely youg mare Angham Al Bader is the result of several generations of breeding by Mr. Srouji at his stud farm in Damascus, she traces exclusively to Syrian Bedouin-bred horses from all the well known strains. Her antecedents were bred by the Anezeh, Iqaidat, Shammar, Jboor, Ruala, Weld Ali and Tai tribes. Her sire, Hassan, also bred by Mr. Srouji, is a well known stallion in Syria, he is of the Hamdani Ibn Ghorab strain renowned for passing on his exceptional movement and tail carriage. Interestingly, he is also the sire of Angham Al Bader's dam, Somah.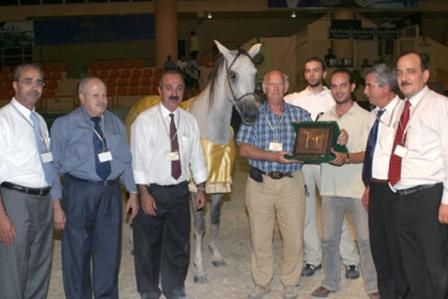 L-R: Mr. Mohammad Ghayath Shama; Mr. Hisham Ghoraib; Mr. Basil Jadaan, President of the Syrian Arab Horse Association; David Angold, WAHO Treasurer; Mr. Zakwan Khadam Srouji and Mr. Sohail Zbebi representing the owner and breeder; Mr. Amir Mardini, Syrian Arab Horse Association; Mr. Mohammad Al Wadi, Director, Arabian Horse Office at the Ministry of Agriculture.