AL-SHOJA, Chestnut Stallion, 1994 (Fallak-Al-Aflak / Ghadam Kheir)
Breeder: Mrs. Mary Leila Gharagozlou, Rockbestan Stud
Owner: Mr. Mohamad Asayesh
Strain: Hamdani Simri Al-e Kassir (Al-Sabah)
The 2016 winner of Iran's WAHO Trophy was awarded to the veteran stallion, Al-Shoja. He was bred by Mrs. Mary Gharagozlou from several generations of the breeding programme of herself and her husband Mr. Majid Bakhtiar. Al-Shoja is a superb example of Iranian breeding at its finest, as his pedigree is all from old Iranian bloodlines.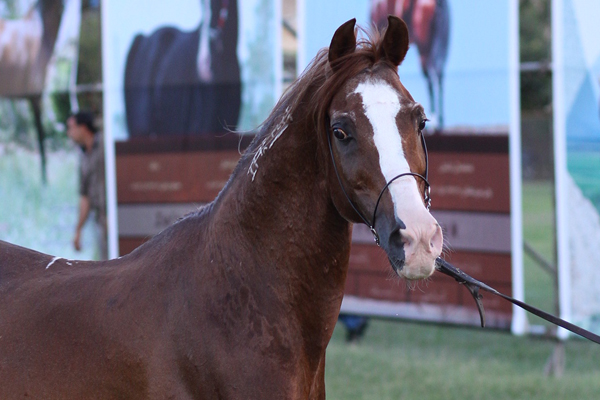 These horses were bred to be athletic, hardy, sound and long lived, and Al-Shoja certainly lives up to all these criteria. He was an endurance champion in his own right, and has been the sire of many outstanding foals.
The Trophy was presented by Mr. Basil Jadaan, WAHO Executive Committee Member, to the proud owner Mr. Mohamad Asayesh, at a popular award ceremony during the 2017 Arabian Horse Show in Yazd.
Al-Shoja, looking very well for his age, was delighted to be applauded by the crowds during his WAHO Trophy presentation.