OMAKA AMEERA  Bay Mare, 2009.  (Lexington Tequila / Taralea Trafeiya).  Breeder:  Peter Goulter.  Owner:  Sandy Stanway.  Strain:  Kehaileh Rodanieh (Rodania, 1869)
The New Zealand Arabian Horse Society is very pleased to announce that the winner of their 2021 WAHO Trophy is the lovely mare Omaka Ameera.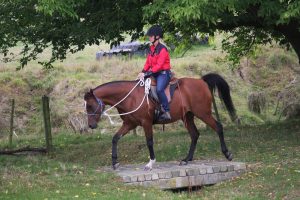 Citation by the owner
:  Omaka Ameera is not only a well performed Arabian horse but she is an incredible ambassador for the Arabian Breed.  Known at home as Trinity, she is trained to a very high standard using natural horsemanship techniques and is very advanced both under saddle and at liberty (when she is free with no restraints of any kind) which are demonstrated in the various public displays that I do.
When at liberty Trinity follows my very subtle instructions to complete many tasks including transitions between all gaits, moving forwards, backwards, sideways and circling. Of particular note is that she will complete a backwards circle around me on command, when completely at liberty, one of only a few horses globally who can do this in public. She also works as a member of my multiple horse liberty demonstration team.
Under saddle Trinity is my key horse, whom I ride when doing my multiple horse ridden demonstrations. I work up to two additional horses whilst riding her, with them at liberty following my instructions and sometimes whilst they are online.  Trinity not only tolerates me having multiple ropes and whips waving around the place, she is also a superb leader for the other horses.  Trinity allows me to stand up on her as part of these demonstrations, and her most recent achievement is her remaining standing still whilst I am mounted on her and instruct a horse next to her to lie down (this is incredibly hard to do).
Some recent events she has competed in:
2020 International Liberty Horse Association Championship Show (USA/Virtual)

Reserve Champion – Advanced Obstacle class
3rd place Bridle-less Class

2020 New Zealand Arabian National Championships Show Costume (Top Three)
2020 New Zealand Arabian National Championships Working Arabian (Reserve Champion)
2020 Intermediate Cowboy Challenge (Pleasant Point)
2020 Canterbury Working Equitation show
2020 Le Cust teams multidisciplinary event
2020 Registered Level 1 Dressage – multiple events (North Canterbury Equestrian Group)
2020 Flying Horse Arabians in Dressage Series (3rd in mature rider, 5th in Bronze purebred)
2020 Brumby Farm Virtual Tournament (5th professionals division – out of 100 people from 8 countries)
2019 South Island Arabian Championships (Reserve Champion Mare)
2019 South Island Arabian Championships (Versatility Class Winner)
2018 Equidays South Island Top Talent Competition, both ridden and at Liberty in front of 1000 people, and in full Arabian Costume (Runner-up – to the Wilson Sisters)
She has also performed in the following:
2020 Celebration of Natural Horsemanship – performing in front of over 100 people
2020 Swannanoa Primary school pet day demonstration – 500 people
2019 Celebration of Natural Horsemanship – performing in front of over 100 people
Equidays 2019 – night show in front of 2500 people
Equidays 2019 – Clinic horse – demonstrating advanced Liberty in front of hundreds of people
Trinity also regularly hacks out at the forest or beach, including often ponying young horses for their first time at those locations to give them much needed experience. She has helped numerous people with their riding journeys, from those new to riding, needing to regain confidence, more advanced riding techniques, to just giving kids pony rides.
Trinity has also starred in a Facebook video that I made called "20 Ways to Trailer Load a Horse".  It shows Trinity loading onto a horse float in 20 different ways, relaxed and happy and being an incredible partner for me. This video has had over 11,000 views.
Trinity is a great advertisement for the Arabian horse and in my view is the best possible ambassador for the breed.
Sandy Stanway