NAGELJ Z Grey Stallion 2011 (Muranas Jassehr / Nachta) Breeder & Owner: Marjan Zupančič Strain: Kehailan Moradi (Sahara)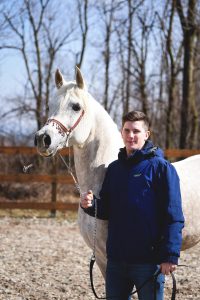 Since 2008 breeder Marjan Zupančič has been on the search for the quality purebred Arabian mare and in 2010 he has found Nachta. Nachta arrived from Belgium to Slovenia in 2007 and Marjan did not hesitate to buy her in 2010 from fellow breeder Bojan Zagorc.
Since Marjan has previously reserved the breeding of Muranas Jassehr in 2008, Nachta was sent to Germany in May 2010 and in April 2011 Nachta delivered a magnificent colt on Marjan's farm. Marjan and his wife Darja named him NAGELJ Z and put high hopes in the newborn colt. Nagelj Z developed into a great young stallion and was licensed in 2014 at the stallion licensing in Slovenia. His progeny has proudly carried the sire's name into the show world – his colt JASMIN Z (Nagelj Z x Yamala Z) being the most successful:
Barcelona (Spain) 2018: 2nd place in class of 2 years old stallions
–           Forli (Italy) 2018: 2nd place in class of 2 years old stallions
–           Barcelona (Spain) 2019: class winner in junior stallion class and gold champion in junior stallion class
–           Verona (Italy) 2019 – European championship:4th place in class of 3 years old colts class
–           Treviso (Italy) 2020: gold champion in the senior stallion class and class winne
NAGELJ Z has been producing progeny in excellent type, of proportionate size and great personality. He is an ambassador for the Slovenian Arabian Horse breeding.