ARAHI TAHI.  Chestnut Gelding, 2004.  (Ranaarb / Arahi Amiria).  Breeder: The Arahi Family Trust.  Owner: Natasha Guest.  Strain:  Dahman Um Amr of Ibn Hemsi (Dahma, 1876)
The New Zealand Arabian Horse Society is pleased to announced that the winner of their 2020 WAHO Trophy is the talented all-rounder, Arahi Tahi.  This handsome gelding, who is of 100% Crabbet bloodlines, is the epitome of the versatile Arabian, competing not only in events traditionally dominated by Arabian horses such as Endurance up to FEI level, Competitive Trail Riding and Arabian Showing, but also consistently placing in the Cowboy Challenge and Versatile Ranch Horse arena where Arabians are not seen as the go-to breed.  He is definitely an outstanding ambassador for the breed in New Zealand.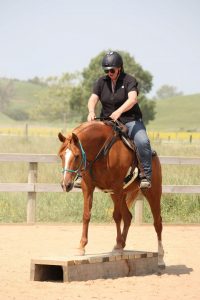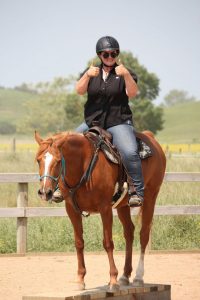 Arahi Tahi and Natasha Guest negotiating an obstacle successfully in a Cowboy Challenge event.
Citation written by his owner, Natasha Guest:
The first time I saw Arahi Tahi he was 5 years old and I thought he was perfectly average.  He was grazing on our property and although he was pretty enough, with correct movement, smooth trot and a nice enough face, he was a bit nervy and he looked just like my old horse Pal. However, where Pal had this incredible presence about him bordering on arrogance, Tahi seemed happier in the rear of the pack, standing as still as possible, a whisper of air sending him snorting off to the far end of the paddock, never managing to muster up the courage to come over.
"Would you like to ride him?" came the query. I was thinking of taking on a project horse. Currently competing endurance on my Mum's opinionated competitive mare, I was thinking of getting a second horse to bring on and sell. Due to Mum's horse's strong willed yet unconfident nature I had been taking lessons in natural horsemanship – I was by no means an expert, but it had given me some confidence in dealing with young horses. "He's perfectly sane. Jody Hartstone broke him in. She said there was nothing wrong with him he just pushed back a little. But I'm sure you can handle him. If not just give him back… and we'll pay you for your time?". It seemed a good deal and some extra cash would be appreciated so I agreed.  Tahi was already grazing at our property so we began the process of making friends.
Initially his "looky-loo" nature worried his nervous rider and I decided a "slow and steady" approach to bringing him on was necessary. Lots of groundwork and lots of long slow walks down the race or in the arena with friends. He began to realise that this riding caper was actually quite fun and started to relax and enjoy himself. Riding became an adventure and he became easier and easier to catch, as humans represented something fun (and they often had treats in their pockets too!).  He could still scuttle out from underneath me at the slightest movement from a moth and I can't count the times I hit the deck. Ever the gentleman, however, he would always wait for me if I came off and was most apologetic, gently putting his nose to my shoulder if I didn't get up fast enough. I never had to walk home.  I felt safe on his back (despite the issue with moths!) and at that time I decided to buy him myself. A price was agreed upon and Arahi Tahi officially became my horse.
Endurance
As our partnership grew so did the confidence in each other and gradually we stepped out of the safety of the arena/raceway and began getting the process of graduating through the endurance grades. Our first outing was at the infamous "Mary's Rules" ride in Morrinsville held at Christmas each year. A fun relaxed outing where you can opt to go out as many times as you like around the 8km course, I headed out on Tahi for a quiet ride with my friend Tania on her new horse, Arahi Abidan (Danny) and just for fun we brought Tania's young daughter on our 28-year-old RDA pony, Sergeant. Tania and I jokingly pleading for a shot of whiskey to calm our nerves before riding but were denied this request, so it was deep breaths and soft contact all the way round. However we needn't have bothered. Danny, being slightly older, had done much of this before and was a perfect gentleman, Tahi followed suit. Coming back to me quickly when frightened he relaxed and walked freely about the course taking leadership and confidence from myself and Danny as the need arose. And as 28-year-old Sergeant went flying about the course in stereotypical "old man" style, Tahi barely blinked, mostly happy to quietly stroll about course in his own company. I realised then that I had my "forever horse".
Tahi quickly became the "go to" horse for new and inexperienced riders. At just 6 years old he carried a nervous 14 year old round her first endurance ride, countless other newbies also took up the reins over the years and last year aged 14, he carried my 3.5 year old nephew round his first ever 4km lead rein event. He walked at snail's pace as groups of horses flew past on their own events.
A flurry of endurance events followed that first one, quickly I became to rely on Tahi to get me through when my own nerves took over. When I was scared he came straight back to me, listening intently until I was ready to go forward. One time in a competitive 40km event I was in a group of 10 horses cantering up and down hills when I looked down and saw that his renegade boot had twisted and was almost off his foot. I leapt off and righted it and it was then that I realised two things. Firstly, I wasn't holding on to the reins and secondly the rest of the horses had thundered past and left us, disappearing over the hill we were alone. Tahi stood rock still and watched them go, waiting patiently for permission to follow. And another day we overnighted next to an active railway track, that night the train came through and 30 odd Arabs flew to the other side of the paddock tails high and snorting. All except one. He, who is scared of moths, stood in his pen, desperately looking around for what could have set off his new friends.
As a youngster we decided on entering a couple of local A&P shows, just for the exposure. It was an eye-opening experience. There were horses in carts, kids shooting down inflatable slides, donkeys, miniature horses and small children in all directions. Tahi barely blinked, even when the man on stilts came past and the rest of the ring went flying tails-high to the opposite side of the arena. He went home with the Reserve Champion in hand that day and a few weeks later went home with another reserve champion in hand and a champion under saddle as well.
His endurance career continued to be the main focus but with his ultra-chill nature and my desire to not take myself too seriously, we started to enter some "different" types of events, fancy dress day at the local adult riding group, Hoofball, more A&P shows, more outings at Mary's day and even a Le Trek competition.
In 2015 we started to take our endurance career more seriously and aimed to compete in the 100km 1* event at the ESNZ National Çhampionships held at Taupo, however the start of my ongoing health issues would nearly put a stop to his campaign. Fortunately, 15 year old Rebecca was on hand to step in and rode him round the 100km course. At loops 1, 2 and 3 they were sitting even with the leaders however at loop 4 a group decision was made that Rebecca would back off and we would accept the runner up position. He easily cruised about the rest of the course and the blue sash was obtained and treasured.
With our plans for long distance competition going astray, Tahi and I began competing in Competitive Trail Riding. Tahi's calm nature meant that CTR riding was a breeze and he regularly dominated the placings. Including placing 4th out of a competitive field of 12 at the 2017 ESNZ CTR Intermediate Championships. We began introducing many riders to this sport and Tahi developed a name for himself as the cruisey horse to ride with if you needed to get your young horse to chill. We also accompanied many a child around the course while worried parents waited back at base. Tahi's easy going nature meant it was easy to keep an eye on our young charges and many of those kids are still riding today.
As his rider's health issues continued to take over, it was at this stage that we stumbled upon an up and coming sport that quickly caught our attention.
Cowboy Challenge
Cowboy Challenge is a western based sport that promotes partnership and excellence in horsemanship. Horse and rider combinations compete over a course of 13 obstacles as outlined in the New Zealand Cowboy Challenge Rulebook. A score is awarded per obstacle based on the horse's handling of the obstacles as well as their approach and departure. Bonus points are awarded for horsemanship and speed. After the first round, the Top 10 horses will go into round two and compete for the top six placings that are on offer. In order to succeed in this sport horses must be well mannered, soft, athletic and work with their rider to solve the problems put in front of them. The obstacles faced are based on what combinations might find while out riding the trails and range from performance based movements (such as sliding stops, side-passes, performing a western rollback or spin) and also negotiating obstacles (such as dropping down a steep bank, riding through a tunnel, pulling an object behind the horse, walking over a tarp, roping a cow or even firing a gun).
Tahi's introduction to Cowboy Challenge came at a New Zealand Cowboy Challenge Association Points Approved Challenge being held at Lakes Ranch, Rotorua, over Labour Weekend in 2016. Looking completely out of place, decked out in brightly coloured biothane endurance tack with a Leon Liversage enduro-light saddle and myself wearing tights and a short-sleeved endurance shirt with "Waitomo Endurance" blazoned across the front, a little Arab gelding and his rider nervously lined up amongst 13 fancy quarter horses and their traditional leather gear. After round one he was sitting in second place and once the scores were tallied for round two we were placed third overall and a new addiction was born. Since that date he has entered several more points approved Cowboy Challenges and numerous local Challenges, consistently placing in the top 6, only on one occasion has he missed out on a second round. He stands out on the Cowboy Challenge field, a field dominated by solid looking quarter horses and stationbred types, his dainty Arab movement and high tail carriage draw attention, however he consistently holds his own.
After our very first season of serious competition under the NZCCA rules, Tahi and I gained the necessary 15 graded points to qualify from the Rookie system and compete at Intermediate level. We placed 4th in New Zealand for the Rookie Points Buckle at the end of the 2018-2019 season. Our 2019-2020 season was our first season competing at Intermediate level and it has been a daunting yet rewarding experience. September 2019 was our first competition and we were up against a tough line up. When his rider's nerves took over, Tahi calmly and quietly tackled each obstacle, gaining confidence and enthusiasm for the course as we went around. After round 1 we were announced first, and nerves took over as we headed into round 2. A few small mistakes at the first 2 obstacles, but we quickly found our rhythm and we cruised around to take out first place, the red sash taking pride of place on our wall of fame. Tahi will continue to compete at Intermediate level throughout the 2019-2020 season, and the intention is for a young rider to take up the reins in 2020-21 in the youth division alongside myself competing intermediate.
Versatile Ranch Horse
VRH Huntly is a competition where horses compete across a number of western based disciplines, starting with cattle work (team penning and team sorting) before competing over a cowboy challenge course, then barrel racing and pole bending.  A horse needs to be patient, confident and as the name suggests, versatile.
Tahi consistently scores in the cattle work classes as he calmly and confidently moves about, sorting his chosen cattle. His athleticism comes in to play when he has to sort them, and he actively and calmly rises to the occasion. Barrel racing and pole bending are easily completed, and he regularly finishes the day in the top 5 overall. Also featuring at Versatile Ranch Horse is the Mounted Shooting days which has fast become a favourite discipline.
Mounted Shooting:
Tahi and I were first introduced to Mounted Shooting via friends that we met at the Versatile Ranch Horse days. I was keen to know more and so headed down to the Mounted Shooting "Have a Go" day held at Kihikihi in early 2019.
Mounted Shooting is a new sport to New Zealand shores. Riders compete over a set pattern to race against the clock while firing a single action revolver at stationary targets (namely helium balloons). The small gun produces an explosion of tiny shrapnel which, if aimed correctly (!) causes the balloon to burst. While there is no actual bullet there is a burst of smoke and noise and even the most confident horse can react negatively.
On our first day we attended with my friend on her big paint mare. A few other nervous looking faces were also in attendance alongside some experienced shooters riding their up and coming horses. We were all asked to hang back behind the instructor. He would fire some warning shots into the air while we did what needed to do to keep our horses calm. Fuelled with nerves I gripped my saddle horn. The first shot rang out. Horses shot in all directions as riders quickly got them under control ready for the next one. Except mine. Tahi figured out where the shot was coming from and while the initial bang made him pay attention, his feet did not move. We followed our leader about the course with shots being fired into the air. Tahi becoming more and more inquisitive leading the rest of the newcomers tightly bunched in behind him. Our instructor turned to a more experienced rider "the little Arab has got it sussed. His rider looks terrified (!) but he's fine."  I was sent off with John and handed a gun. Our trainer was correct, Tahi by this stage was bored but I was slightly white knuckled and fuelled with anxious anticipation. I was shown how to hold the gun correctly and given a basic pattern to ride while firing blanks at the target. I took aim, gripped my saddle horn and fired. And again nothing happened. Tahi barely blinked and the members of our group were all so impressed with his chilled-out attitude. I was given a loaded gun and we were sent out to get stuck in. Tahi gently trotted amongst the patterns, barely bothered by the explosions or the other horses. We were ready for our first run.
A mock competition was held that afternoon with the attendees, Tahi easily won it. Although still only confident enough to walk and trot he easily carried me where we needed to be, patiently waiting while I took aim. Tahi and I had found another sport we enjoyed. A second competition followed a few months later at a Versatile Ranch Horse club day. Again, entered in the rookie ranks we won our heats and were even able to push up the pace and try a few canters. As more competitions are planned, our goal for this season is to partake in each.
Arahi Tahi is the epitome of the versatile Arabian, competing not only in events traditionally dominated by Arabian horses such as Endurance, CTR and Arabian Showing, but also consistently placing in the Cowboy Challenge and Versatile Ranch Horse arena where Arabians are not seen as the go-to breed. He is an absolute pleasure to do anything with and he has taught me so much. Described by a friend of mine as an "old soul" the label suits him well. He comes right down to a rider's level, walking like Grandma's horse for kids and nervous adults, while easily finding the accelerator for more confident riders. He is a fantastic ambassador for the breed. We get comments wherever we go about his calm and sensible nature. We are always looking for the next opportunity to demonstrate the versatility, loyalty and intelligence of the Arabian breed. Moving in to the next season I hope to do more Cowboy Challenge Competition with him as well as compete with Distance Riding New Zealand, Cowboy Mounted Shooting, Versatile Ranch Horse as well as taking part in our first Extreme Cowboy Race.
A full placings list applies as below:
Cowboy Challenge – Rookie Competition
Lakes Ranch, October 2016, NZCCA Points Approved                              3rd (9 entries)
Tauranga A&P Show, January 2018, Club Event                                        3rd (11 entries)
Piopio, March 2018, NZCCA Points Approved                                           5th (19 entries)
Versatile Ranch Horse, June 2018, Club Event                                            1st (24 entries)
Rangitoto, September 2018, NZCCA Points Approved                               2nd (16 entries)
Equidays, October 2018, Demo competition                                                3rd (18 entries)
Maihihi, November 2018, NZCCA Points Approved                                  6th (22 entries)
Versatile Ranch Horse, February 2019, Club Event                                    2nd (~15 entries)
Matangi, March 2019, NZCCA Points Approved                                        4th (11 entries)
Helensville, March 2019, NZCCA Points Approved                                   2nd (15 entries)
Versatile Ranch Horse, April 2019, Club Event                                          1st (20 entries)
Versatile Ranch Horse, May 2019, Club Event                                            2nd (20 entries)
2019 Rookie Horse & Rider Points                                                              4th Nationwide
Cowboy Challenge – Intermediate Competition
Rangitoto, October 2019, NZCCA Points Approved                                   1st (3 entries)
Endurance, Competitive Trail & Ride to Time Events
Endurance:
Ruahine North Island Championships, 60km, January 2012                       4th
Waikato Club Ride, Pukeatua, 80km, October 2012                                    4th
Waitomo Club Ride, Kawerau, 40km, September 2013                              2nd
Waitomo Club Ride, Kawerau, 40km, September 2014                              2nd
Waikato Club Ride, Counties, 40km, November 2014                                1st
Wairarapa North Island Championships, 60km, January 2015                    5th
Kohuratahi Club Ride, Taumarunui, 40km Junior, March 2015                  2nd
ESNZ National Championships, Junior Youth 1* 100km, April 2015        2nd
Waikato FEI Ride, Kuratau, 40km, November 2015                                   1st
Waitomo Endurance Club – Distance Horse of the Year 2015
Waitomo Endurance Club – Senior Horse & Rider Points Prize 2017
Waitomo Endurance Club – Junior Horse & Rider Points Prize 2019
2000km qualified kilometres of Endurance, CTR & RTT to date
Competitive Trail Riding
Waitomo Club Ride, Pukeatua, 20km Novice, November 2015                  3rd
Waikato, Thornton Beach, 20km Intermediate, September 2016                2nd
Waikato, Hikumutu, 25km Intermediate, October 2016                              1st
Waitomo, Mahoenui, 32km Open, February 2017                                       3rd
Waitomo, Taumarunui, 40km Intermediate, April 2017                              1st
ESNZ National Championships CTR, 40km Intermediate, April 2017       4th
Best Timed Rider National Championships 2015
Best Presented Combination National Championships 2015
RADRS, Eltham, 20km Experienced Novice, January 2018                       3rd
Ride To Time
Kawerau, 20km, September 2017                                                                 5th
Kuratau, 20km, January 2018                                                                       2nd
Makahiwi Challenge, 60km Team Challenge, April 2019                           3rd
Kuratau, 20km, January 2019                                                                       2nd
Waitetuna, 30km, April 2019                                                                       2nd =