ZOHREH MOJADAM.  Grey Mare, 1988. (Raad / Etrik).  Breeder: Haji Sheikh Abdollah Mojadami.  Owner:  Haji Jamshid Heidari.  Strain:  Kehaileh (Koheile Samer)
The 2020 WAHO Trophy winner selected for Iran is the exceptional broodmare, the 32-year old Zohreh Mojadam.  She belongs to an old Khusistani family, and is a celebrated mare, both in her own right and because she has made such a great contribution to keeping these important old Iranian bloodlines going, with her many excellent descendants.
Her name Zohreh means Venus, it is interesting to note that she was named as a filly by the late Mary Gharagozlou, thus giving her an even stronger connection to the traditions, history and heritage of Iranian Arabian horses.
Although she was retired from breeding in 2014, her very kind owner, Haji Jamshid Heidari, still treasures this lovely old mare.  Of course at 32 years she is showing her age, as this recent photo show, but her quality and wonderful kind temperament still shine through.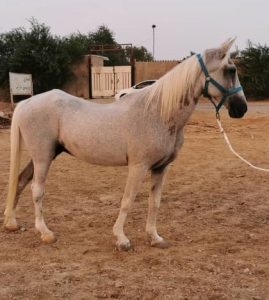 Photo:  Zohreh Mojadam, informal photo at 32 years of age