YAKIMA, Chestnut mare, *1991 (Nizjni/Yakouta II).
Owner and Breeder: Kuijf Family, Forelocks Arabians.
Strain: Not Recorded (Milordka, 1816)
The WAHO trophy 2010 for the Netherlands was awarded during the National Championship show 2010 in Ermelo the Netherlands to Yakima, the outstanding broodmare of Forelocks Arabians.
The trophy was given to the owners of Forelocks Arabians, Mr. & Mrs. Kuijf by Mrs. Toto Modderman and Mr. Berend Blaak on behalf of the WAHO trophy committee of the Netherlands in honor of their mare Yakima for creating her own legacy in producing the successful "Y" line for Forelocks Arabians, a family which is now into several generations and which can be found in many countries around the world.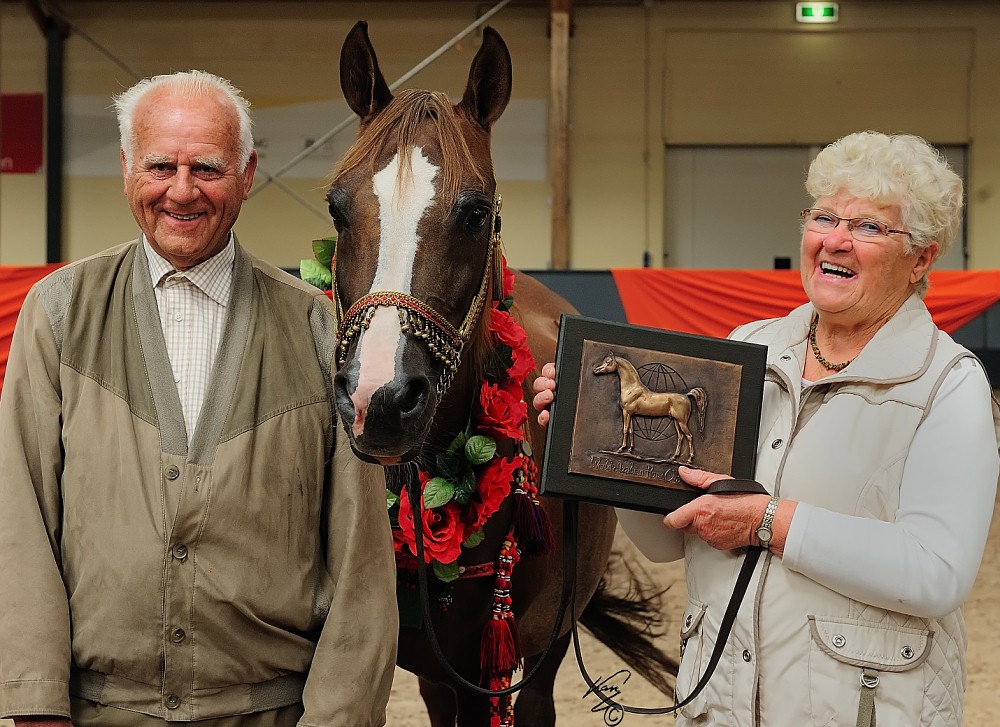 Yakima with her owner-breeders, Mr. Adriaan Kuijf and Mrs. Henny Kuijf- van der Zwet, at the WAHO Trophy presentation ceremony.
1991 YAKIMA -* STAR *ELITE mare (Nizjni x Yakouta II) – 1991
Direct offspring in NL
Grand Offspring in NL
1995 Yarra – *Star *Elite – mare (by Abakan)
1999 Yamesco stallion
2001 Yaris stallion
2002 Yakchina 'F' mare
2003 Yokosuka 'F' mare
2005 Yes 'F' stallion
2006 Yarnec 'F' stallion
2007 You-Tou 'F' mare
2008 Yokidoki 'F' stallion
2009 Marjolie HDM mare
1996 Yavar stallion (Abakan)
1997 Yallas stallion (Menes)
1998 Yulia mare (Elton)
1999 Yannah mare (Elton)
2000 Chatar Aamar gelding (Elton)
2001 Yourka mare (Elton)
2006 Youp 'F' stallion
2007 Yonorr 'F' gelding
2008 Yolina 'F' mare
2002 Ymea 'F' mare (Elton)
2003 Ytadella 'F' mare (Psytadel)
2007 Ystan 'F' gelding
2008 La Macarena HDM mare
2005 Yzy 'F' mare *Ster (Psytadel)
2010 Yusty 'F' mare
2006 Younique 'F' mare (SA Movin'Star)
2007 Yack 'F' stallion (Honorrs)
2008 Yulius 'F' stallion (Valerio Ibn Eternity)
2009 Yta Donna 'F' mare (Psytadel)
2010 Forelock's Yessy mare (Psytadel)