WILLOWVALE SAARFARI, Grey Stallion, 1995 (Eastwinds Axiom (AU) / Dellmount Ardys)
Breeder: Noel Evans. Owner: Jenny Klemra
Strain: Dahman Um Amer of Ibn Hemsi (Dahma, 1876)
The New Zealand Arabian Horse Breeders Society has awarded their 2018 WAHO Trophy to the 20-year old grey stallion, Willowvale Saarfari. It is worth mentioning that he is by the same sire as New Zealand's 2006 WAHO Trophy winner, Willowvale Picasso, and that his daughter Zaha Magic, whose dam is New Zealand's 2007 WAHO Trophy winner Bushland Gai Sharee, has twice been National Champion Ridden Mare. The Trophy Presentation will be made at the NZAHBS AGM in May 2018.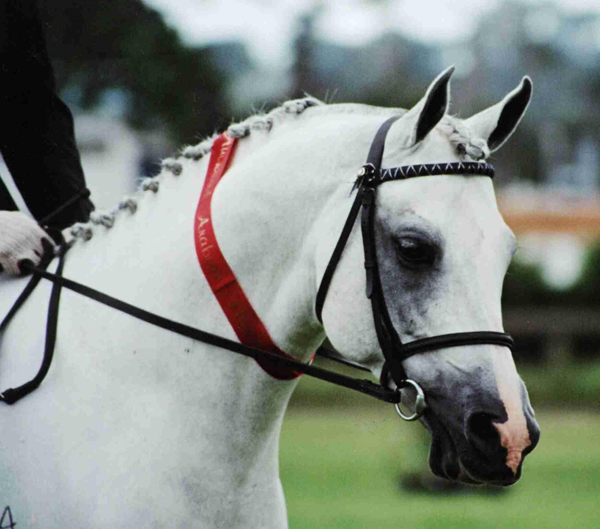 The following Citation is provided by his Owner, Jenny Klemra:
With the purchase of Willowvale Saarfari, our 'perfect stallion' had arrived. In 1996 he won the New Zealand National Supreme Champion Purebred title at the age of 14 months. Little did I realise that at that time he would soon be grazing in our paddock and become an important part of Golden Shelter Arabians. Willowvale Saarfari was purpose bred by the late Noel and Gaynor Evans of Willowvale Arabians being of the 'golden cross' – with his Spanish, Crabbet and Egyptian bloodlines. Saarfari's bloodlines on both sides of his pedigree need no introduction, they are world renowned in both type and performance – with El Shaklan on his sire's side and Ralvon Pilgrim on his dam's side he was always destined to be a star.
Saarfari has excelled in both ridden and halter classes, his show record is overflowing with major awards. Winning nine New Zealand National titles, he is Roll of Merit at Halter and Elite Roll of Merit in Performance. I cannot put into words what Saarfari has brought to Golden Shelter Arabians – with his wonderful progeny and the people we have met through him which has brought us to where we are today. He is more than we could have wished for and to us he epitomizes what the Arabian is all about. He has taken us on the most amazing journey.
Show Record – some of Willowvale Saarfari's achievements:
National Junior Champion
National Supreme Champion
Twice National Reserve Champion Stallion
Twice National Champion Costume
National Top Five Costume
Twice National Champion Ridden Purebred
National Reserve Champion Ridden Purebred
National Top Five Ridden Purebred
Three times Supreme Champion Taranaki All Arabian Show
Supreme Champion Royal Easter Show
North Island All Breeds Show Champion Stallion of Show
Champion Stallion Horse of the Year Show
Champion Ridden Purebred Horse of the Year Show
Three Times Champion Purebred Under Saddle Taranaki All Arabian Show
Champion Ridden Horse of Show Taranaki All Breeds Show
Champion North Island Ridden Purebred
Champion Ridden Purebred Auckland Arabian Spectacular
NZAHBS Roll of Merit – Halter
NZAHBS Roll of Merit – Ridden 2004
NZAHBS Elite Roll of Merit 2004
Progeny – some results of his progeny's achievements:
Golden Shelter Esperanza (Manton Mushoni) – Open Eventer & multiple wins 1.20m Show Jumping
Golden Shelter Davaaron (Court In Bed) – Multi National Champion/Reserve Inhand & Ridden, four times Supreme Champion North Island Championships
Zaha Magic (Bushland Gai Sharee * New Zealand's 2007 WAHO Trophy winner) – Twice National Champion Ridden Mare, Champion/Reserve Ridden Mare Auckland All Arabian
Golden Shelter A'armira (War Princess) – Open Eventer/Show Jumper, NZPCA Dressage Team Whangarei
Hadif Cogito Ergo Sum (High-Tail It) – National Top Five Filly, Multi Champion/Reserve
Paragon Ayisha Sa'ar (Cyden Hannah) – National Top Five Filly, Multi Champion/Reserve
Paragon Saaruukh (Cyden Hannah) – National Top Five Colt, Champion Junior Taranaki All Arabian
Golden Shelter Omar Shaarfiq (Waimeha Mallenie) – National Reserve Junior Gelding
Golden Shelter Maarjestyk (War Princess) – Multi Supreme/Champion/Reserve
Ratanui Moonlight Candi (Four Winds Shiraya) – Supreme Champion
Golden Shelter Saysha'ar (Sayidah) – Champion Junior, Reserve Champion, Top Five Purebred
Golden Shelter Na'arilah (Echolands Samantha) – Supreme/Champion/Reserve Mare Taranaki All Arabian
Omaka Silver Angel (Del Mar Aqua Angelia) – National Reserve Champion Ridden Mare, Reserve Champion Ridden South Island Championships
Shaarif PA (Cyden Hannah) – National Champion Junior Gelding
Lotus Blue Moon (Rademon Khadija) – three times National Endurance Champion