UNIKAT, Grey stallion, *1989 (Hamadan / El Hamza)
Breeder and Owner: National Stud Farm Topolcianky.
Strain: Obeyan (Karima).
The historic and beautiful National Stud of Topolcianky, founded in 1921, was the proud recipient of the 2005 WAHO Trophy for their 16 year old chief sire, Unikat. The award was made on 10th November, following the decision of a special commission of the Ministry of Agriculture of the Slovak Republic. The number of purebred Arabians in Slovakia is relatively small, and at present they do not take part in racing.
Unikat was selected for the WAHO Trophy due to his excellent pedigree, conformation and superb and correct movement both under saddle and in hand. Tracing exclusively to horses imported to Slovakia from Egypt in the early 1970s, this fine and much-admired stallion has inherited the exceptional qualities of his ancestors and is making an important contribution to the National Stud.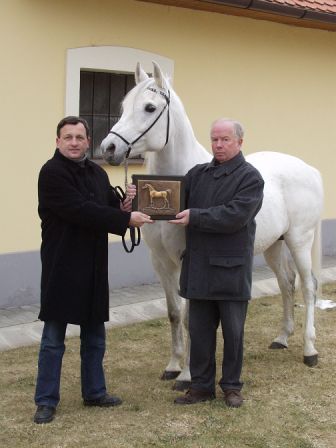 Trophy presentation to Mr. Juraj Kovalcik by Mr. Solar Dusan at Topolcianky State Stud.
The golden yellow of the stud farm buildings, situated next to the famous 15th century Manor House, made a fine setting for the ceremony. The WAHO Trophy was presented to Mr. Juraj Kovalcik, Manager of Topolcianky National Stud, by Mr. Solar Dusan, for many years the country's delegate to WAHO. More information about Topolcianky can be found at their website, www.nztopolcianky.sk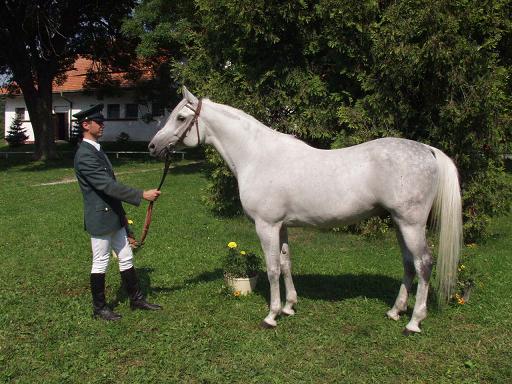 Unikat, 2005 WAHO Trophy winner, as a young stallion.