UKAWANGO, Dark bay stallion, 1994 (Aleppo / Ulianka)
Breeder: J. & S. Konopáskovi, Stáj Watani, Owner: Pustoralek o.s.
Strain: Obeyan (Karima)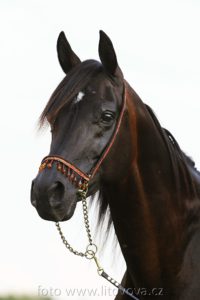 Ukawango was awarded ACHPAK's 2013 WAHO Trophy in recognition of his own outstanding results in a sports career and also for his importance as a sire in the Czech Republic. He has sired over 20 registered foals, most of them have proved to be very successful in the sport of endurance at the top level.
As a young horse, Ukawango participated in flat racing both at home and abroad. At home in the 1999 season he achieved excellent results, winning and being well placed. In 2001 he took part in an international race over 1800 metres in Austria, the first horse from the Czech Republic to do so. He took 4th place from 12 starters, attracting a lot of good attention with this result in what was a very fast race.
Ukawango also participated several times in the National Shows organized by ACHPAK ČR and in 1999 he took the title of the Senior Reserve Champion Stallion at the 1st National Show in Písek.
As a sire, he has been of great importance to the Arabian breed in the Czech Republic. We wish Ukawango a long and peaceful retirement and we wish his owners much continued joy in his company.