SHEBA, Grey mare, *1991 (Pomar / Soannja).
Breeder: Scanarab OY. Owner: Ursula Turtiainen.
Strain: Not recorded, family of Milordka (ca. 1810).
The Finnish Arabian Horse Society has awarded their 2011 WAHO Trophy to the 20-year old broodmare Sheba, who is of predominantly Polish bloodlines.
This outstanding and elegant mare is the only Finnish-born mare in Finland that is AB graded for her offspring. Among others, these include:
Shalomon (Finland's WAHO Trophy winner in 2006) – breeding stallion, also licensed to produce riding ponies in Sweden and warmbloods & riding ponies in Finland.
Shaaga – broodmare, B graded for her offspring, and with excellent show results in her own right.
Sharongramm – excellent results in international ECAHO shows.
Sheba herself is also a successful show mare and was awarded the 2000 Finnish Champion Mare title with gold medal points. She is a very well deserved winner of the 2011 WAHO Trophy for Finland.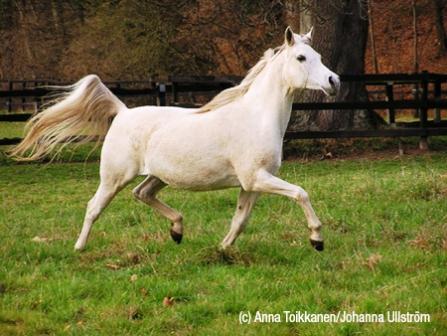 Sheba, Finland WAHO Trophy Winner 2011

Sheba with her owner and breeder, Ursula Turtiainen