PRINCE CHARMING FF, Grey gelding, 2007 (Brumarbas Future / Bremervale Charmed)
Breeders & Owners: Doyle & Kate Dertell, Future Farms
Strain: Managhi Sebeyli (Beni-Kaled, 1918).
The Arabian Horse Society of Australia has awarded their 2018 WAHO Trophy to Prince CharmingFF – the horse that can do it all!
Prince Charming FF is a 11 year old Purebred Arabian gelding sired by BruMarBas Future (Imp USA) and out of the beautiful Bremervale Charmed – making him a maternal brother to superstars Crave FF and Sir Charmed FF. Bred and owned by Future Farms, Prince has taken on all before him in every discipline he has attempted.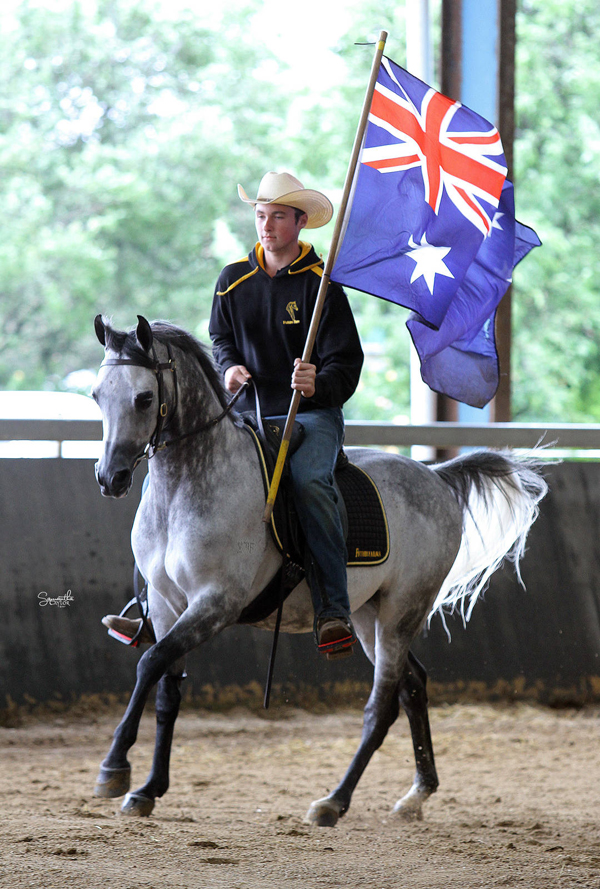 Prince was sold into a partnership between Terri Love of Temar Arabians and Future Farms as a weanling colt, and this partnership showed Prince initially in halter as a colt, then under saddle and halter as a stallion. During this time, Prince won championships at State, National, National Capital, East Coast and Australian National Championships in both led and ridden as an entire. His first filly was also shown not long before he was gelded and was named Gold Champion at the Australasian Breeders Cup.
By the age of 6 Prince had won just about every championship as an entire shown horse on offer, and with our son Kody Dertell riding him at home since Prince was 4, it was decided that Prince would be gelded and come out and do it all again as a gelding. Not long after he was gelded, we sold Terri Love's half share in Prince Charming to Helen and Andy Hardwick of Al Sahrae Arabians, and Prince not only came out as a show gelding, he also had a new purpose and that was to teach Brittney and Evan Hardwick to ride. Brittney also was showing Prince in hand at the shows alongside Kody – he was proving to be the best youth and amateur horse teaching them both the ropes!
In late 2016, Al Sahrae sold their half share to Future Farms and to this day the Dertell family still own Prince Charming FF outright. Since this time, Prince has successfully competed in flat racing (winning multiple starts), is an open book endurance horse, has won in halter, saddle, dressage, open Galloway hack classes, western, show hunter, Bridle path hack, working stock horse, freestyle, sporting, working hunters, leading rein and various fancy dress events. He also has carried the flag and done the official opening at multiple shows as well as at home at our open days and functions. Prince also has been the Arabian representative at multiple Equitana festivals where he loves to be petted all day and eat ice creams with kids that come to visit!
To have a can do temperament and attitude to life is one thing, though to have incredible type and style as he does, Prince Charming FF really is the horse that can do it all! He is the true ambassador for Arabian Horses in Australia.