POULAIN KOSSACK, Bay Stallion, *2006 (Nougatin / Pengalia Kossack).
Breeder: The Kossack Stud. Owner: Mr. Huub Ottermans.
Strain: Hamdani Simri (Selma)
The Dutch WAHO TROPHY 2011 is awarded to the very successful racehorse, Poulain Kossack, bred by the Kossack Stud and proudly trained and owned by Mr. Huub Otermans.
Poulain Kossack has an impressive racing record, starting as a 3-year old and staying sound and enthusiastic for his racing over the next years. From 14 races he has won 4, and been placed 9 times, taking nearly 60,000 euros in prize money during his career to date. His main successes include:
Winner Doha Cup, Hamburg Germany 2009
Winner Futurity Cup, Duindigt Holland 2009
Winner North European Derby, Duindigt, Holland 2010
2nd in the President of the UAE Cup group II, Baden Baden, Germany 2011
Winner of the HH Sheikh Zayed Bin Sultan Al Nayyan listed cup, Duindigt, Holland 2011
2nd in the HH Sheikh Zayed Bin Sultan Al Nayyan listed cup, Hoppegarten, Germany 2011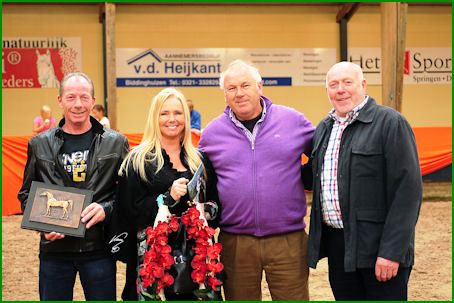 WAHO Trophy Presentation
L-R: Mr. Huub Ottermans; Mrs. Linda Ottemans; Robbie Den Hartog Jr.; Mr. Bérend Blaak.
The WAHO Trophy was presented to the owner Mr. Huub Otermans by Mr. Bérend Blaak, President of the Dutch Society and member of the Dutch WAHO Trophy Award Committee. Also present was the breeder, Mr. Robbie den Hartog Jr. of the Kossack Stud. The presentation was made during the ECAHO Dutch National Championship Show 2011, Poulain Kossack himself was in training at the time of the presentation and could not appear at the ceremony.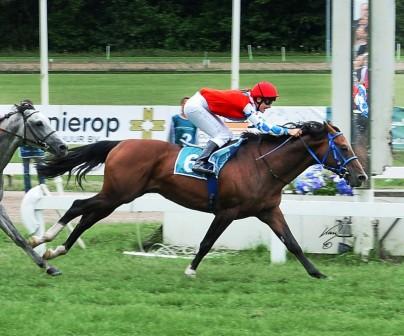 Poulain Kossack winning the North European Derby in 2011