ORFEO, Bay gelding, *1989 (Pedant / Opala).
Breeder: Mrs. Scohier-Geets, Fages Des Iviers. Owner: Mr. Leonard Liesens.
Strain: Kehailan Moradi (Sahara, ca. 1840).
BAPS is pleased to announce their 2010 WAHO Trophy winner is the remarkable endurance horse, Orfeo. The story of this small bay gelding's career starts in the spring of 1997, when top rider Pierre Arould told Leo Liesens about this good Pedant son being for sale. Despite Orfeo throwing Leo off several times, he went ahead and bought him and soon forged a successful partnership.
In 1998, after a successful completion of a 160km ride in Gottingen, Germany, the pair represented Belgium at the Endurance World Championships in Dubai where Orfeo asserted himself as the top Belgian horse. In 19999 Orfeo won his first international 160km ride at Ermeloo in Holland, beating one of the best French riders, Jack Begaud himself. During the same year, Orfeo clinched 7th place at the European Championships in Badajoz, Spain. In 2000, back from another successful trip to Dubai, Orfeo won the Belgian Championships on 160km. The same year, he completed in 8th place at his second Endurance World Championships after a gruelling sprint on the racetrack. But afterwards the veterinarians diagnosed a tendonitis and there was the chance Orfeo would never compete again. However, after three years of good care and a slow rehabilitation, Orfeo came back in 2003 and won a 130 km in Belgium. Then in August 2003 he won one of the most prestigious races in France, the CEI*** at Compiegne. In 2005, he returned for the fourth time to Dubai, representing Belgium for the Endurance World Championships once more, where he led the Belgian Squad to the Team Bronze Medal. He was part of the Belgian team twice more, in 2005 at the European Championships in Compiegne where they won Team Gold, and in 2006 at the World Championships in Aachen.
In total, Orfeo took part in 4 World Championships and 2 European Championships, which is a record. He won three CEI*** and one CEI**. He completed eight 160km races which represents a record in Belgium. He finished his career in a blaze of glory – by completing his last 120km at the age of 20 years – in 2009 by the personal inviation of Sheikh Mohammed bin Rashid Al Maktoum at Euston Park in England. And now, retired from competition, Orfeo is delighting his co-owner Maddy by bringing her every day to the "Zonienwoud/Foret de Soignes" near Brussels.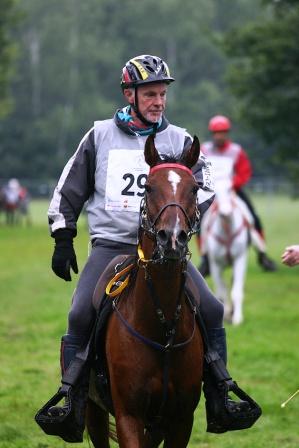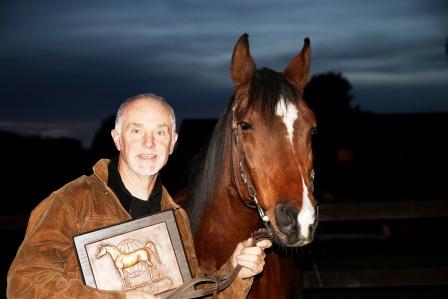 Orfeo with his owner/rider, Leo Liesens