MARA, Grey mare, *2001 (Anchar / Mumia).
Breeder: Khrenovoe Stud. Owner: Akylbai Stud.
Strain: Kehaileh Moradi (Sahara).
The President of Kazakhstan Association of Purebred Arabians, Mr. Atamkulov, has informed WAHO that the Association has determined the best Arabian horse in Kazakhstan to receive the 2005 WAHO Trophy. The award has been given in the athletic discipline of racing. Although normally the WAHO Trophy should only be awarded to horses born in the country giving the prize, an exception has been made in this case, since Kazakhstan is a relatively new Member of WAHO. Mara was born in Russia at the Khrenovoe stud in 2001. At the age of two years she was bought by the stud-farm "Akylbai" and was brought into Kazakhstan.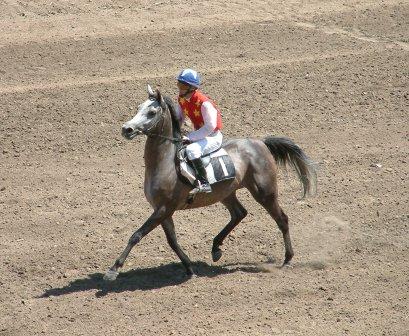 Mara on her way to the start. Her excellent race record made her Kazakhstan's choice as their 2005 WAHO trophy winner.
Mara raced at two to four years and showed the highest results: In 2003 she raced five times, was the winner of four races and was second in the chief prize for the horses of two years. In 2004 Mara raced nine times, winning eight races, including the major prizes of The Oaks and the Derby. In 2005 Mara raced six times, and was the winner of five races. The Kazakhstan Association of Purebred Arabians is delighted to award their 2005 WAHO Trophy to this wonderful Arabian mare.