KALHARABI JANIE   Chestnut Mare, 2012.  (FS Simply Illustrious / Danon Jawwaad).  Breeder & Owner: George Wessels.  Strain:  Kehaileh Rodanieh (Rodania, 1869)
The Arab Horse Breeders Society of Namibia is pleased to announce that the winner of their 2020 WAHO Trophy is the mare Kalharabi Janie, a top mare of the Kalharabi stud of Mr George Wessels.  She has proved her outstanding quality as an endurance horse in the Namib dunes of Walvisbay and has been awarded the WAHO Trophy in recognition of her excellent career in endurance.
Citation from the owner:  "We are very proud of Kalharabi Janie as she achieved 2nd place at the 2019 Walvisbay Endurance Championship in the Standard Weight division.  Walvisbay Endurance Championship is the toughest endurance course in Southern Africa and a good test for mental and physical performance of horses.
There was only a difference of a split second from the winner's time as the race ended with a finishing sprint between three Standard Weight horses. Janie also received the Best Condition Award in the Standard Weight category. The award is decided by a panel of vets that judges the horse's physical appearance and soundness together with the results of the ride throughout. She was an absolute stunner after the gruelling ride and awed everyone with her energetic strong performance.
She then also astonished by winning against all winners of Best Condition Awards the 'Best of the Best' Award. That was also the first time ever that she did the distance of 120 km.
The first and second (Kalharabi Janie) place horses' overall time of the ride was also the fastest time of completion of all categories that took part in the ride.
After all, we just love her determined spirit and loving temperament that makes her not only an outstanding athlete but a horse that is permanently engraved in our hearts."
It is worth noting that her dam, Danon Jawaad, is also a successful endurance competitor, and that this is the fourth time since 2005 that horses bred by Kalharabi Stud have won the WAHO Trophy, which is a very notable achievement.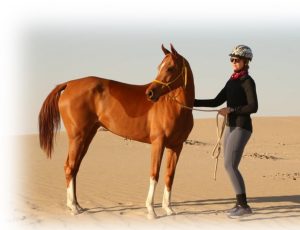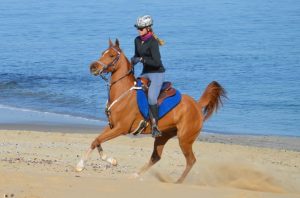 Above – Kalharabi Janie in competition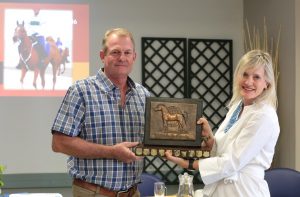 Trophy presentation:  L-R:  Mr. George Wessels, breeder and owner, Dr Barbara Scholz, President of the Arab Horse Breeders Society of Namibia.