JUPITER, Grey stallion, *1996 (Kfir / Rash Idyll).
Breeder and owner: Sabra Arabians, Kibbutz Givat Haim Ihud.
Strain: Kehailan Rodan (Rodania 1869).
The Israel Arab Horse Registry has announced that their winner of the WAHO Trophy for 2005 is the grey stallion Jupiter, bred at Sabra Arabians, Kibbutz Givat Haim Ihud, where he stands at stud today as well. The owner of his dam, who was imported from Great Britain, is Brenda Sperling. Today he is owned by Sabra Arabians. Sabra Arabians are the main breeders of Crabbet bloodlines today in Israel.
Jupiter was awarded the WAHO Trophy for being an excellent ambassador of his breed, showing the versatility of the Arabian under saddle in competing successfully against non-Arabians in dressage and showjumping. He is being shown to the public under saddle at various other ridden events as well.
Jupiter received his award at the Israeli National Championships Show. It was presented by the Chairman of the Israel Arab Horse Registry, Mr. Micha Regev to Mr.Yftah Lev-Ron from Sabra Arabians. Jupiter's rider at this special occasion was Noa Bergman.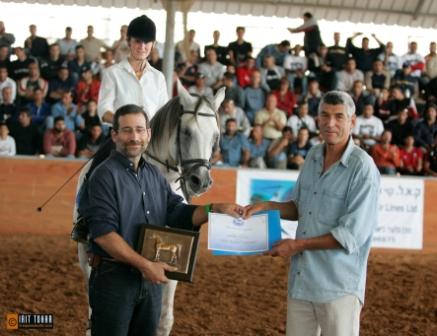 Mr. Micha Regev, Chairman of the Israel Arab Horse Society,
presents the WAHO Trophy to Mr. Yftah Lev-Ron from Sabra Arabians.
Jupiter's rider at this special occasion is Noa Bergman