IMAD, Grey stallion, *1985 (Golden Cavalier/Ivory Wings).
Breeder: Mrs. Jane Kadri. Owner: Mrs. Diana Whittome.
Strain: Kehailan Dajani (Dajania, 1876).
The Arab Horse Society awarded their 2007 WAHO Trophy to the 22-year old stallion, Imad. From a very high percentage Crabbet pedigree, and with a charming temperament, Imad has proved himself in the showring both in-hand and under saddle. An AHS Premium stallion, performance tested Class One, among many other successes he took several major ridden titles including AHS Overall Ridden National Champion and the very prestigious Ridden Arabian of the Year at the Horse of the Year Show. Just as important, his progeny have had great success in a number of ridden disciplines including endurance and ridden show classes, among them the 2007 UKIAHS ridden champion, Storm Gold, ridden champions Silent Storm, Sarafish, Canzonetta, Imadia and Sorrento, and the advanced endurance winners Imagien, Totem Blue and Ptolemaeus.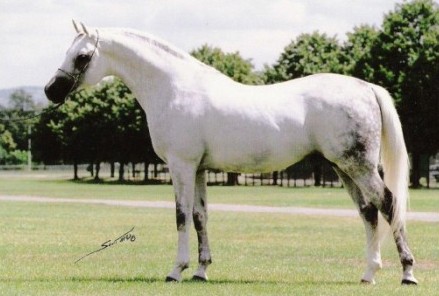 IMAD – Photo credit: Scott Trees