GÜLILAH GÜLEH-GÜLEH, Bay mare, *1984 (Ashari / Gülilah Gülmek).
Breeder: Mrs. H. Aschenborn and Children. Owner: Mrs. H. Aschenborn and F. & G. Uijs.
Strain: Seglawieh Al Abd (Wadduda 1899).
The Arab Horse Breeders Society of Namibia is proud to announce the winner of their WAHO Trophy for 2005.
The Gülilah Stud was founded by Mrs. Aschenborn and her daughter, Mrs. Uijs, in 1968 in Pretoria, South Africa, and moved to Orumbo North in Namibia in 1980. Vlinkfontein Galli Girl was the foundation mare of the stud, and is the grand-dam of Gülilah Güleh Güleh. Her dam, Gülilah Gülmek, died only recently at the ripe age of 31, having given the farm 16 foals.
The aim of the breeding programme was to produce beautiful Arabians which were both beloved family members and versatile all rounders. Gülilah Güleh Güleh, representing the third breeding generation of the stud, and still in the ownership of her breeders, is exactly that. A sweet-natured friend to the family's children who played with her, rode her and showed her, she could switch on all the characteristics of a fiery drinker of the wind in the showring. As a broodmare she shows all the desirable qualities of a good mother. This charming mare had an excellent show career with innumerable show wins and championships. She is the dam of 12 foals of outstanding quality, some of which are successful endurance horses, others have been show winners, and many have entered the breeding programmes at several stud farms in Namibia. Gülilah Güleh Güleh has certainly done more than her fair share to contribute to the improvement of the Arabian horses of Namibia.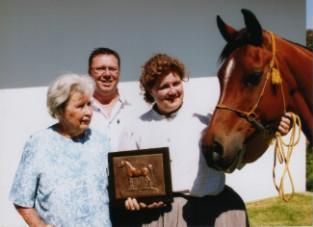 L-R: Owner Mr. Mokveld with WAHO Trophy; Amal; Trainer Mr. Chris van Schalkwijk
& Mrs. Hannie Wehkamp, President of the AVS.
(Photo copyright Jan Kan).