FAKIR IBN BUKEFAL, Grey stallion, 2014 (Bukefal / Fatima S)
Breeder: Lucija Gubanek, Owner: Peter Pozar
Strain: Kehailan Al-Shaykhan (60 Adjuze, 1876)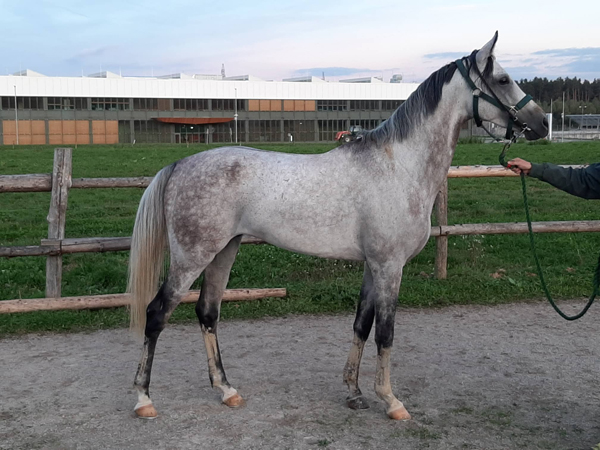 Slovenia is pleased to announce the winner of their 2020 WAHO Trophy.
When in 2014 Fatima S delivered a long legged colt by the 'Straight Russian' stallion Bukefal (Almonito/Moriachka), nobody dared to predict that the colt will one day be the fastest Arabian in Slovenia.
His dam Fatima S is by the pure Crabbet WAHO Trophy winner Golden Crown (Naxif/Luanda) and out 9 Farag II, the beautiful and elegant queen of Babolna.
The talented Fakir Ibn Bukefal won his first race (1400m) on 27.7.2019 in Imeno, Slovenia with several lengths advantage. In Zagreb, Croatia, on 19.10.2019 he dominated the international race (1800m).
Fakir's owner will continue racing the talented stallion in 2020 in the international races. Fakir Ibn Bukefal is also a breeding stallion, that will surely contribute to the Slovenian breeding in the future.