DENTOR BINT LALAGE, Liver chestnut mare, *1998 (Sidi Crossfire/Sidi Lalage).
Breeder: Dr. J.H. Van Rooyen. Owner: Captain A.B. Parker, rider Amy Parker.
Strain: Kehaileh Rodanieh (Rodania, 1869).
The Arab Horse Society of South Africa is pleased to announce their winner of the 2007 WAHO Trophy.
The lovely mare Dentor Bint Lalage (Sidi Crossfire x Sidi Lalage) is 10 years old and was bred by Dr. J.H. Van Rooyen. She has excelled under saddle in the show ring for many years especially in Hunter Pleasure, Child/Junior Riding Horse, and Show Hack classes. She has won several championship titles at major Shows, most notably including two Champion Show Hack titles in 2006 and another two in 2007, ridden by Amy Parker. She has also achieved success in dressage competitions.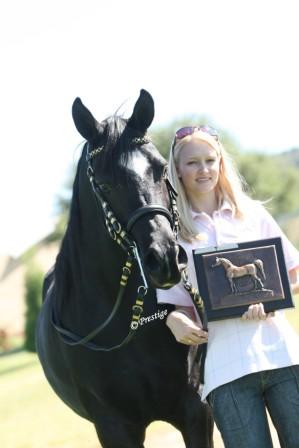 Amy Parker with Dentor Bint Lalage.