CONCHITA D.A., Grey Mare, 2015 (AF Albahar / Schiva D.A.)
Breeder: Johan Verstrepen, Dijkhoeve Arabians, Owner: Peter Deckers
Strain: Hamdanieh Simrieh (Selma)
Citation by Nelly Philippot-Hermanne, President AHRCB (Arabian Horse Racing Club of Belgium)
The WAHO Trophy is a proof of appreciation the World Arabian Horse Organization gives yearly to each Stud-book Authority Member of WAHO to hand out to a pure-bred Arabian horse born in the country, still belonging to an owner of the country, that was considered that year as the best ambassador of the breed by its results or as a prospect. As the Arab horse has three main qualities; beauty (valued in the show-ring), speed (proven by flat racing) and endurance (wherein he dominates all other breeds), there are many nominees coming from the different breeding directions. This explains why 2018 is only the second time that the Executive of the Belgian Registry (BAPS-SBCA) has awarded the WAHO Trophy to a horse (prospect in this case) in our sport of racing. To encourage this activity, Belgium's WAHO Trophy 2018 was awarded to a young mare named Conchita DA.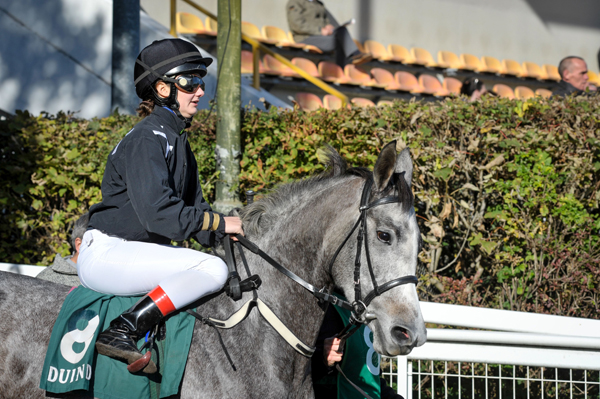 Born at Dijkhoeve Arabians of Johan Verstrepen at Itegem, her dam Schiva D.A was also Belgian bred at the same stud and also was performing well for Johan, her breeder-owner-trainer in the races at that time: Schiva D.A. raced some twelve races at age 3 and 4. When 3-years old (in 2005) Schiva D.A. secured a fourth place in Newbury (GB) and in Duindigt (NL), she won two races and placed in the money several times. At age 4, she was second in Belgium and was then retired to stud to become a broodmare for Johan. The sire AF Albahar was born in the United Arab Emirates in 2004 and never raced himself, but he already has many good offspring, among them several Group PA-horses. The future will prove that the effort of importing semen of superior racing-stallions to introduce new bloodlines in the Dijkhoeve Stud, was worth it.
Conchita D.A. changed hands as a young mare and moved to the stables of Peter Deckers, a friend of Johan. She was progressively prepared and trained there by Anne Engels, the "morning-rider" at Peter's training center. The filly matured quickly and showed her will to race. She was first entered in a race in the Netherlands (Duindigt) on 8th of July, when she was merely 3 years old in a race over 1.800m. The strong field was very international with horses from the Netherlands, France and Sweden. Despite being a beginner, Conchita D.A. managed in this very tough race a good 5th place. All the more worthy, as the distance was a little too long for Conchita D.A. and the track rather hard which caused her slight sore shins.
After a long resting period, Conchita D.A. was again entered on October the 10th, this time in Ghlin, where she ended the race in second position. Again she was the only 3-years old to compete against older horses. Most of the starters were of very good bloodlines and had far more racing experience. On top, Anna Van den Troost, her regular jockey, had to be replaced by another jockey, who had to carry 1 kg overweight. The start was not so lucky, but fortunately the French jockey was a good one and he managed to make the best out of it and rode Conchita D.A. to a brilliant second place! Her next race was again in Duindigt where she raced nearly the whole distance in the lead and managed to cross the finish in second position again.
As Conchita D.A. did very well and was in top-condition during the autumn, Peter and Anne decided to race her once more, this time with horses of her own age and over a distance that fitted her better. The team of Anne and Anna went to Toulouse for a 1.400 m-race for fillies only, in the heart of Arab racing country. There were quite a few very strong contenders that had already proven that they were of Group PA-level. Conchita D.A. raced brilliantly and finished second! Beating French horses in France … just do it!!
At Peter Deckers training stable, the other top-race-horse is JAMAS D.A., also bred at Dijkhoeve Arabians and she is also a grey daughter of AF Albahar. Jamas D.A. has yet a longer career with several wins and interesting places in Group PA and Listed-races. In between, by the way, she is now labelled "Black type" thanks to her very exciting second place in a group II-race in Duindigt (The Netherlands) in September 2018. Both mares are very look-alike and the breeder as well as another trainer and even the "usual" jockey of Jamas D.A. mix them up now and then!
Let's hope that CONCHITA D.A. 's further evolution will be as good as Jamas D.A., or, who knows, even better in view of what she showed till now! Anyway, already now CONCHITA D.A. and her whole team are very good ambassadors for the Belgian breeding of Arabian race-horses in Belgium and abroad!!