BREMERVALE CHARMED.  Black/Bay mare, 2001. (Desperado / Bremervale Spellbound).  Breeder: Jill Toft.  Owner: Doyle & Kate Dertell.  Strain: Managhieh Sebeylieh (Beni-Kaled, 1918)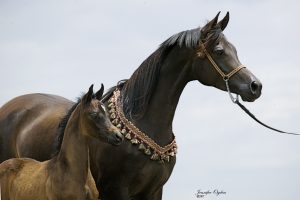 The Arabian Horse Society of Australia is pleased to announce their 2021 WAHO Trophy has been awarded to the broodmare, Bremervale Charmed, who is herself the dam of two previous WAHO Trophy winners.
Citation from her owners:
Bremervale Charmed has been an incredible mare for us here at Future Farms. We purchased her as an 8 month old foal from Bremervale Stud 19 years ago and what she has created for us is incredible.
As a show horse, Charmed was a State, National, East Coast and Australian Champion winner. To make it even more special, she was Doyle's first Australian Champion purebred breeding stock winner as a 2year old and our son Kody's first Australian Championship purebred winner shown by a youth, when Kody was 5 years old. Not just a beautiful show horse, Charmed has proven herself as an incredible broodmare.
Although we have always joked she is the Princess forever on the farm, as she has never produced a filly, her 7 male progeny include:
Crave FF – Multi State, National, East Coast and Australian Championship winner both in-hand and ridden. WAHO trophy winner in 2017.
Prince Charming FF – Multi State, National, East Coast and Australian championship winner both In-hand and ridden, he has been a very successful endurance horse and racehorse, open hack and dressage winner. WAHO trophy winner in 2018.
Cava FF – Multi championship show horse, who mainly competed as a very successful flat race and endurance horse, including state championship wins.
Sir Charmed FF – National, East Coast and Australasian Breeders Cup Champion, Scottsdale
Reserve Champion, Las Vegas World Cup Reserve Champion and Bronze Supreme Male.
Cratos FF – Multi A and AA class championship winner.
Cards FF – Multi A class supreme and Reserve National Stud Show Champion.
Cartier FF – Multi Championship winner before Covid and waiting to come out and be shown this season
Charmed now has over 200 grandchildren in Australia alone, and her legacy shines through in most of our FF horses, both purebred and derivative. Her ability to produce incredible type on all her progeny, with correct structure, good heart rates and superb minds has created a super successful family of horses spanning the world in so many disciplines.