Arfaja Alexi  Grey stallion, 2001 (Arfaja Robard/Arfaja Alicia)
Breeder: Ronald William Ryan  Owner: Fiona Jane Seymore
Strain: Kehailan Rodan (Rodania, 1869)
The Arabian Horse Society of Australia is delighted to award the 2022 WAHO Trophy to the stallion Arfaja Alexi.
Words by Jane Seymore, owner.
 Arfaja Alexi is a Pure Crabbet Arabian Stallion, he is the grandson of the celebrated stallion Rasham (Greylight / Sparkle). Rasham was the Australian National Halter Champion stallion in 1985 and the only Crabbet stallion to win this award.
In 2003, we purchased Arfaja Alexi as a rising 2 year old colt and our journey for the past 19 years with this outstanding stallion has been nothing short of remarkable. In 2010 Alexi started his liberty training with the world renowned Double Dan Horsemanship team. In 2011 Alexi made his liberty debut at Equitana in Sydney as part of the Arabian Horse Breeders Alliance Showcase. The crowd pleasing highlight was when he was lying on the ground eating grass as Dan Steers cracked a stock whip over his head.
After his success at Equitana, Alexi moved into the exciting world of advertising and has graced the covers of International Magazines, used in fashion photoshoots for social media, and has been featured twice in the Tuito Arabi Magazine.
Due to Alexi's sharp intelligence and extraordinary work ethic, it was a natural progression into the show ring. In 2013 Alexi started his show career competing in both Arabian and open show rings. It was on his first outing that he achieved the NSW State Champion title in both led and ridden classes.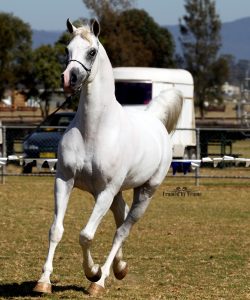 Alexi excelled at Open Pony Dressage and for the following 3 years, he represented the Arabian Horse at the highly competitive NSW Dressage State Championships. No matter the class or conditions, Alexi gave his all.
Some of his highlights have included: 
2013:  NSW State Titles, Champion Ridden Arabian Stallion
2015:   East Coast, Champion Arabian Show Hunter Stallion
2016:  Crabbet Arabian Performance Show, Champion Ridden Arabian Stallion
2017:· NSW Triple Crown, Champion Dressage Novice
East Coast, Champion Arabian Dressage Novice
National Stud Show, Champion Dressage Novice
NSW State Titles, Champion Dressage Novice
Manning Valley Regional, Champion Dressage Novice
Hunter Valley, Champion Dressage Novice
As a sire, his progeny so far are of the highest quality and possess all of his best attributes. Alexi is a charismatic, athletic, and classic true-to-type Arabian Stallion. He loves human companionship and forms strong bonds with those in his life. Alexi is a true showman and we are proud of all of his achievements throughout his career. I feel very privileged to be his owner and involved with this extraordinary Arabian Ambassador.