ALMINA. Bay mare, 2001. (Furiat / Amina)
Breeder & owned: Mr. Zbigniew Górski. Strain: Kehaileh Dajanieh (Mlecha, 1840)
The 2022 WAHO Trophy has been awarded to the mare Almina for being an outstanding representative of the Arabian breed.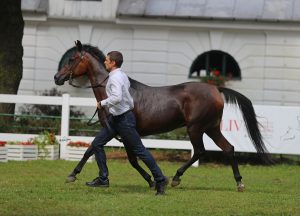 Almina is the second generation of females born at the stud of Mr. Zbigniew Górski, one of the first private breeders of Arabian racing horses. Almina is the granddaughter of the first mare purchased by him and the foundress of his racing-oriented stud – the mare Aktorka.
Almina herself raced six times over one season (2 second places, 2 third places and 2 Fourth places), but she is most importantly a superb dam of excellent racing horses. She produced eight foals, all of which raced. The best include:
stallion ARASH by Akim De Ducor (FR) – currently a breeding sire
– raced 46 times, over 8 seasons
– won 10 times, incl.: Europejczyk St., Białka St., Sambor St., Criterium St., Comet St., Ofir St.
stallion ALSAHR by Mared Al Sahra (GB)
– raced 11 times, over 2 seasons
– won 4 times, incl.: Janów Podlaski (Produce) St., Derby St.
mare AFRAH by Nougatin (FR)
– raced 20 times, over 3 seasons
– won 3 times, incl.: Polish Arabian Horse Breeders Association St., Oaks St.
mare ALMIZA by Munjiz (FR)
– raced 22 times, over 3 seasons
– won 4 times, incl.: Bask St.
mare AL KARA by Wachlarz (PL)
– raced 12 times, over 2 seasons
– won 3 times, incl.: Sasanka St.
mare ALKORA by Dahess (GB)
– raced 15 times, over 2 seasons
– won 2 times