ALI MONISCIONE, Chestnut Colt, *2007 (Psytadel/Alianna Moniscione).
Owners and Breeders: Azienda Agricola Buzzi, Mr. Giancarlo Buzzi and Family.
Strain: Seglawi Jedran of Ibn Soudan (Ghazieh).
ANICA's Board of Council together with ANICA's Sport Commission have selected the outstanding yearling colt, Ali Moniscione, as the winner of Italy's 2008 WAHO Trophy.
Born and bred in Italy, out of a mare also born and bred in Italy by the Buzzi Family, this young horse has already represented his country with great success in the international Show ring. His results in 2008 so far include:
European Champion Colt
All Nations Cup – Reserve Champion Colt
Italian National Champion Colt
Italian National Show – title of 'Most beautiful horse bred and born in Italy'
The Trophy was presented at the Italian National Championships Show in Verona, and it was very nice that Daniele Serioli came specially to hand over the Trophy to the Buzzi Family on this important occasion. Daniele was representing his mother Melania Serioli who is the owner of last year's winner, they were away competing for Italy at the World Endurance Championships in Malaysia. It is interesting to note that Ali Moniscione's dam is the maternal half-sister to the 2005 WAHO Trophy winner for Italy, also bred by the Buzzi Family.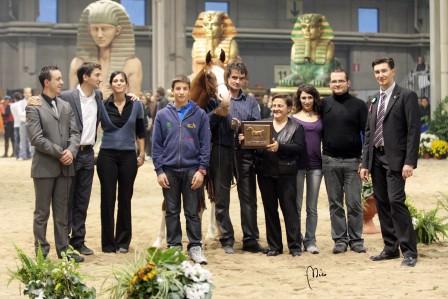 Photo L – R: Representing the team which prepares and presents Ali Moniscione at the Shows: Diego Zoppellaro; Paolo Capecci and Susy Capecci. Representing Italy's 2007 winner to hand over the Trophy: Daniele Serioli. Representing the family of the owners and breeders: Giancarlo Buzzi, Rosanna Buzzi, Cristian Buzzi and his girlfriend Paola. Representing ANICA's Sport Commission: Mr. Massimiliano Moser. (Photo credit: Nicoletta Abelli)